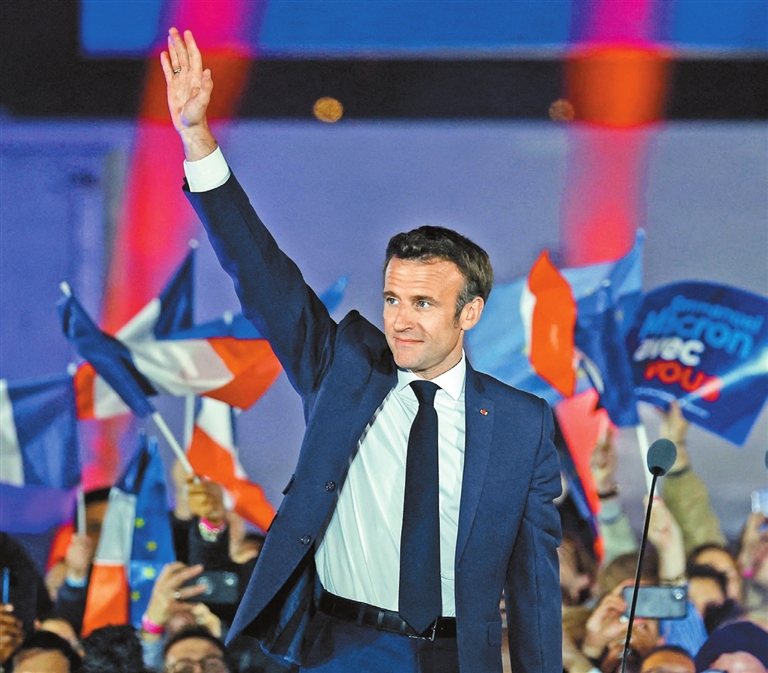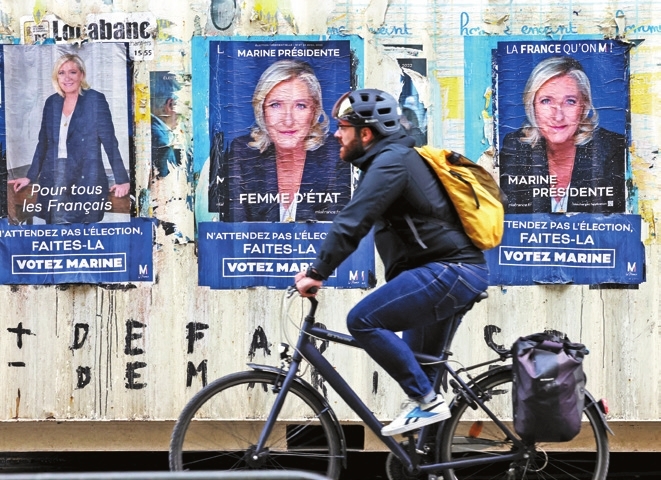 FRENCH President Emmanuel Macron beat his far-right rival, Marine Le Pen, in the second-round runoff Sunday and won another five-year term in office.
Macron won 58.8% of the votes compared to 41.2% by Le Pen, according to an estimate from the Ipsos polling institute after most polling stations closed at 7 p.m. local time; those in large cities, such as Paris, closed at 8 p.m.
Some 48.7 million French people were registered to vote. Voter abstention stood at 28%, up by 2.5 percentage points from 2017.
The 44-year-old Macron has, therefore, become the first president of France to win re-election since Jacques Chirac in 2002.
Macron and Le Pen had a similar face-off in the 2017 election runoff, when Macron won 66% of the votes to Le Pen's 34%, making then 39-year-old Macron the youngest president in France's history.
Both Macron and Le Pen cast their votes in the morning, with Macron casting his ballot in the northern French town of Le Touquet-Paris-Page, accompanied by his wife and first lady Brigitte Macron.
Macron, who is a centrist, won the first round of the election April 10 by securing 27.8% of the ballots cast against Le Pen's 23.1%.
The two rivals had spent much time and effort after that first round trying to woo voters who supported leftist candidate Jean-Luc Melenchon, who got 22% of votes in the first round.
Melenchon did not publicly endorse Macron but told his supporters on April 10 that they should not give "a single vote" to Le Pen.
Macron cashed in on the concerns of Melenchon's supporters about climate change while Le Pen sought to win them over by framing the election as a referendum on Macron's performance during the past five years, citing rising living costs, especially energy prices, and many other social and economic problems.
Macron's presidency in the last five years has been marred by the anti-government Yellow Vest movement, which lasted for many months after November 2018, when the public vented grievances about fuel taxes and other social and economic problems. Macron was viewed by many protesters as a president for the wealthy.
He was the last of a dozen candidates to announce his bid for presidency, declaring his interest only 38 days before the first round on April 10.
Macron's supporters, gathered on Champs de Mars in the shadow of the Eiffel Tower in central Paris, broke out in massive cheers when his victory was announced Sunday. The celebration was significantly lower-key than after Macron's victory in 2017, though he did once again walk to deliver his speech to the European anthem, commonly referred to as the "Ode to Joy."
In his victory speech, Macron vowed to be the "president for each and every one of you." He then thanked his supporters and acknowledged that many, like in 2017, voted for him simply to block the extreme right.
Macron said that his second term would not be a continuation of his first, committing to address all of France's current problems.
He also addressed those who supported Le Pen directly, saying that he, as president, must find an answer to "the anger and disagreements" that led them to vote for the far right.
Le Pen delivered a concession speech within a half hour of the first projection, speaking to her backers gathered at a pavilion in western Paris' Bois de Boulogne.
"A great wind of freedom could have blown over our country, but the ballot box decided otherwise," Le Pen said.
Still, Le Pen acknowledged the fact that the far right had never performed so well in a presidential election. She called the result "historic" and a "shining victory" that put her political party, National Rally, "in an excellent position" for June's parliamentary elections.
"The game is not quite over," she said.
Before Sunday's vote, there had been great concerns in the United States and the European Union about the possibility of a Le Pen victory, because she has long been critical of both NATO and the EU.
While Le Pen has condemned Russia for its activities in Ukraine, she is known for her close relations with Russia's President Vladimir Putin.
The 53-year-old earlier stated her desire to pull France out of NATO's integrated command structure "so as to be no longer caught up in conflicts that are not ours."
While Le Pen's party, the National Rally, is no longer talking about leaving the EU, the Schengen visa-free zone and the euro currency, she has been widely viewed as a euroskeptic.
France is the second-largest economy in the EU, after Germany. It is also the bloc's only nuclear power and its only permanent member of the United Nations Security Council.
The French presidential election took place at a time when France assumes rotating presidency of the Council of the European Union for the first six months of this year.
Tomasz Michalski, an associate professor of economics and decision sciences at HEC Paris, said Le Pen had a striking chance to win according to the polls after the first round of voting, but that there were questions later about the viability of her economic program and left-wing voters were reminded of her stances on immigration and cultural issues.
Michalski said Macron's two weeks of campaigning was intense after a haphazard campaign before the first round, and Macron successfully reminded voters that a Le Pen presidency would not solve current problems.
"Macron's victory is, in fact, a narrow one. It would be inappropriate to claim that his score reflects true support; many voted for him against Le Pen. It's unclear what big changes will be made during the next five years apart from a much-needed pension reform," he said.
Michalski noted that Le Pen's haul of the vote showed considerable progress and interest in her ideas. "The underlying problems that led to the ascendance of Le Pen remain unresolved: deindustrialization, high unemployment among the least skilled, labor market polarization, a great urban divergence, the 'gig' economy, hollowing of public services, especially in small cities and rural areas, one of the lowest upward mobilities in OECD countries," Michalski said.
"It's unclear what of Macron's policies can help suffering areas, unless some general quick growth resumes, which, in the current international political and economic situation, is unlikely," he added.(SD-Agencies)