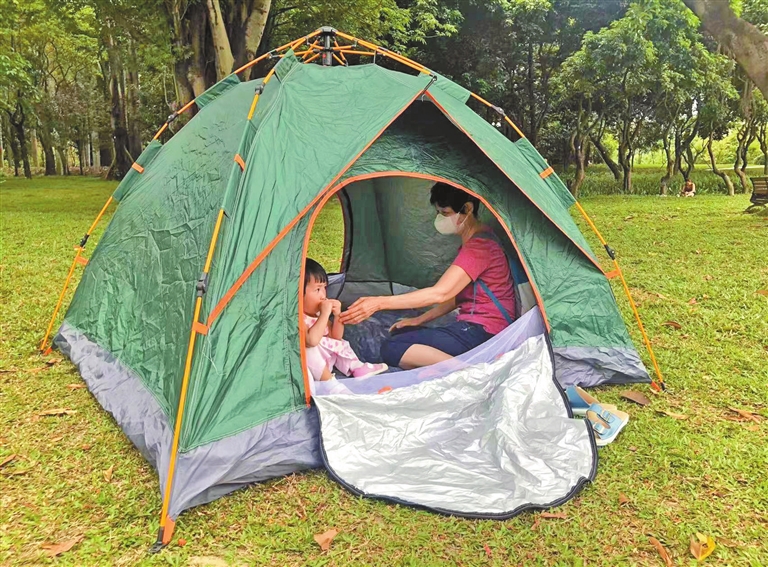 Wang Jingli
wangjingli0715@163.com
VISITORS need to hold a negative 72-hour nucleic acid test result and a green travel record to enter the city's parks during the upcoming five-day May Day holiday that starts Saturday.
Those whose travel record has an asterisk or who has a yellow or red health code will not be allowed to enter parks for pandemic prevention and control, according to information released by the city's urban administration Thursday.
Citizens who plan to go camping in parks during the May Day holiday should only pitch small and medium-sized family tents.
The tent has to cover less than 5 square meters in area and less than 1.5 meters in height. Big tents that need to use nails to pitch them on the ground are forbidden because they will damage the lawns, the authority said.
Additionally, citizens should make sure that their tents are kept open so that patrol workers could offer timely help and reminders when spotting potential safety hazards. Moreover, cooking over an open flame is forbidden in parks.
Shenzhen has designated camping areas in 22 parks across the city including Lianhua Hill Park and Bijia Hill Park in Futian District, Donghu Park and Honghu Park in Luohu District, Dasha River Park and Shenzhen Bay Park in Nanshan District, Bao'an Park in Bao'an District and Dayun Park in Longgang District, where citizens can pitch a tent to better enjoy their visits.
All lawn areas in Shenzhen Central Park in Futian District are available for camping but can only be done within the park's opening hours.
As temperatures are climbing, citizens are reminded to watch out for snakes hiding in grass and take measures to prevent mosquito and other bug bites.
Lianhua Hill Park will not open its parking lot during the holiday. At the same time, cars are not allowed to pull over on the roadsides surrounding the park.
Drivers intending to park at Shenzhen Bay Park, Shenzhen International Garden and Flower Expo Park, Bijia Hill Park, Shenzhen Children's Park and Honggang Park need to make reservations via the mlszgzh (美丽深圳) WeChat account.
The city's park management center has also reminded citizens to avoid picking out and eating wild mushrooms in parks as they might be poisonous.
With rains expected to arrive in the city during the holiday, people who plan for outdoor activities like hiking are advised to pay attention to weather forecasts before going out.