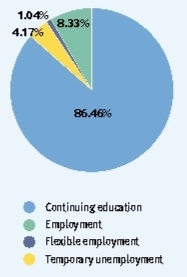 As of Feb. 21, 2022, the career outcomes rate for the Class of 2021 is 95.83%, with 83 (86.46%) reporting continuing education, eight (8.33%) reporting signing an employment contract, one (1.04%) reporting flexible employment, and four (4.17%) reporting temporary unemployment.
In terms of majors, the career outcomes rate for college graduates from the Faculty of Computational Mathematics and Cybernetics is 92.59%.
The rates for those of the Faculty of Materials Science, the Faculty of Economics, and the Faculty of Philology are 100%, 95.45% and 95.65%, respectively.