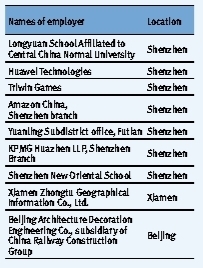 For the Class of 2021, eight reported signing employment contracts and one reported flexible employment.
Statistics show that the Class of 2021 was widely and highly recognized by employers in the ICT, finance and education industries. Three graduates (33.33%) were recruited by public institutions, two (22.22%) joined the Fortune 500 companies and one (11.11%) got employed by a State-owned Enterprise.
In terms of employment location, eight (88.89%) are working in Beijing, Shenzhen, and other first-tier cities.
Four Chinese graduates reported unemployment as they were preparing for the national graduate program entrance exams required by Chinese universities.