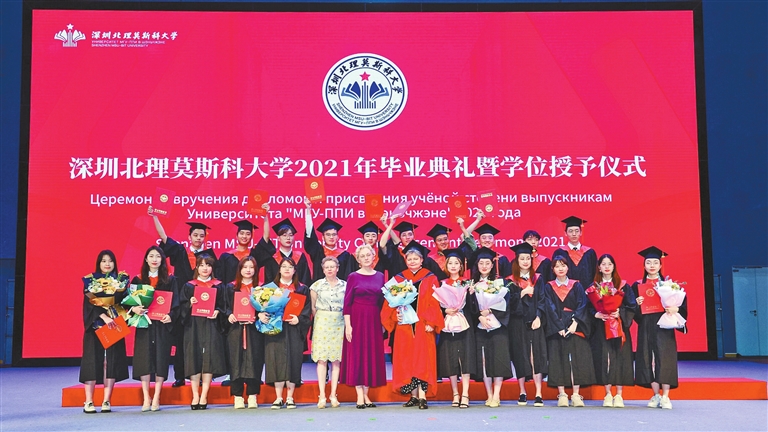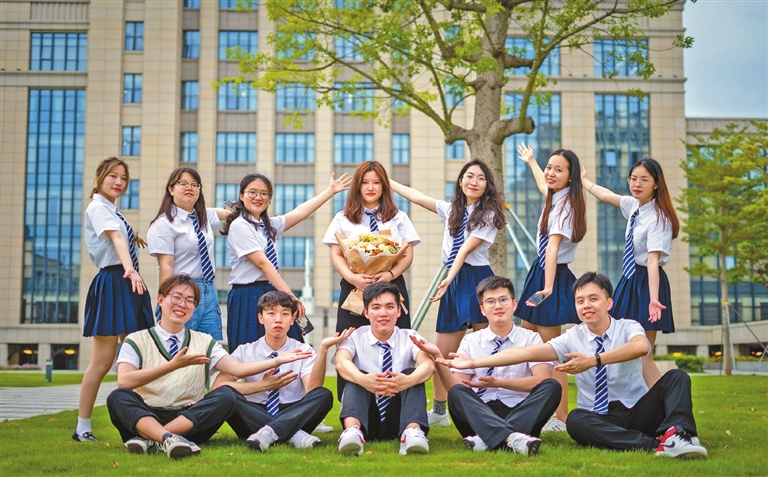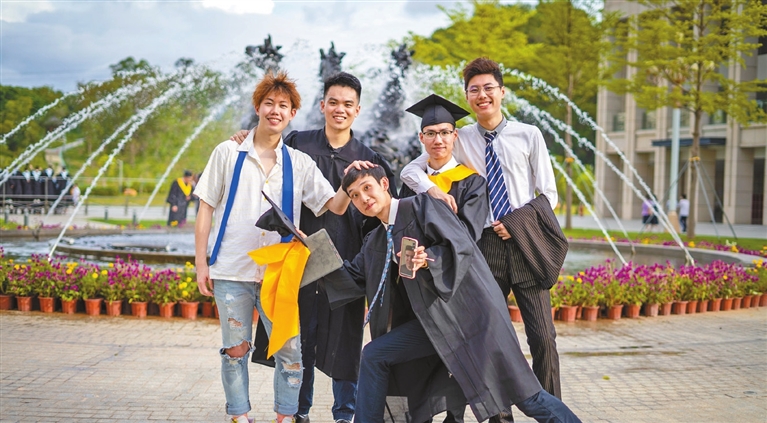 1. Perfecting working mechanisms, getting all staffers engaged to ensure employment
Achievement of employment is a significant work measure of talent cultivation, which is also a key indicator for the school's educational performance over a certain period of time. The Shenzhen MSU-BIT University (SMBU) has formed a conceptual as well as a management mechanism to get everyone from top to bottom involved in promoting employment of graduates via cooperation among the school's faculties and departments. SMBU also created a service scheme to allow not only the school's staffers such as college counselors, classroom head teachers and mentors but also elite people from different circles and alumni to jointly contribute to the school's educational endeavours. Moreover, SMBU has established an off-campus mentor system to promote high-quality employment for students.
Regarding students who haven't yet decided on their plans after graduation, whether it is to further their studies or to find a job, SMBU created a model specifying approaches for college counselors and head teachers in a way such that students get their employment difficulties or academic challenges addressed in a timely manner.
2. Making full use of the role of teaching in promoting employment and entrepreneurship
SMBU arranged four lectures on employment and entrepreneurship topics for students from each grade and 16 career planning classes that last for eight weeks, and organized innovation and entrepreneurship sharing sessions delivered by the related projects' superintendents.
SMBU is also devoted to inspiring students to form their own career awareness and concepts and to encouraging students to plan for their future appropriately.
SMBU established a platform to offer individual guidance for senior students and cooperated with career service platforms and companies such as 51job.com, Tianjin Zhiwei Education Consultation Company and Chitone Group to provide individual career services that address career assessment, career planning, resume writing, job hunting skills and other employment skills for graduating students. SMBU launched three online individual employment consultations for the class of 2021, attended by 38 students.
The consultation provided both guidance on employment policies and tailored consultations to make the support more targeted.
3. Combing various resources to expand employment and entrepreneurship channels
Expanding job market and focusing on expertise. SMBU expanded the job market for graduating students and offered students more job information by visiting more job services related social associations and inviting more companies to recruit at the school. SMBU also sought opportunities for building new employment bases according to the school's academic training programs and on the basis of consolidating the school's existing resources. SMBU visited departments such as the Shenzhen Municipal Human Resources and Social Security Bureau, Shenzhen Municipal Education Bureau, Longgang District Human Resources Bureau as well as large enterprises such as Tencent and BGI to introduce information related to the school's majors, the number of graduates and the corresponding job positions. Additionally, SMBU collaborated with related talent organizations to seek more career opportunities for students and explored new cooperation mechanisms for employment. Companies and departments including the Longgang District Human Resources Bureau, ZTE, Shenzhen JQH Electronics Co. Ltd. and Shenzhen MTC were invited to hold meetings at the school where students had chances to communicate directly with the companies' job recruiters.
Holding different types of job fairs for more information. SMBU organized 16 online and offline large job fairs held by the Ministry of Education, Department of Education of Guangdong Province, Shenzhen Municipal Human Resources and Social Security Bureau and Shenzhen Municipal Science, Technology and Innovation Commission, and built effective platforms between employers and students.
SMBU also invited renowned companies such as Ping An Bank Shenzhen branch, China General Nuclear Power Corporation (CGN), SANY Group, Grupo Bimbo and Skyworth Group to participate in a special recruitment event at the school to offer more job opportunities and information to students, which also marked a preliminary attempt by SMBU in terms of university-company cooperation.
Building campus and off-campus internship platforms for diversity. SMBU followed the guidance issued by the Department of Education of Guangdong Province to set up more research assistant positions at the school for graduands. To promote this, SMBU launched several talent cultivation programs with the school's human resources department and laboratory working teams. The attendant rate of these programs reached 13% of the school's total personnel.
SMBU also provided a few hundreds of high-quality and diversified internship opportunities for students by cooperating with companies such as Ping An Bank, Bank of Ningbo and BGI.