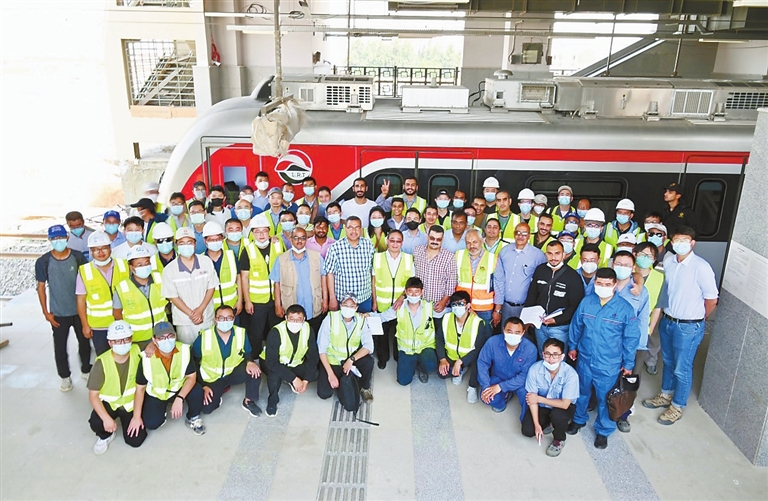 Han Ximin
1824295095@qq.com
SPEED for trains running along the 10th of Ramadan Railway in Egypt could reach at a maximum speed of 125 kilometers per hour after a speed test was recently completed at its A3 section.
The speed test was jointly conducted and assisted by AVIC International, China Railway and Shenzhen Metro Group.
The 67.85-kilometer railway line consisting of three sections is scheduled to be fully operational June 30, a release from Shenzhen Metro Group said recently.
The railway's operation between Adly Mansour in Cairo in section A and the Arts and Culture City in Egypt's new administrative capital in section B began earlier in April. This also marked sections A and B have been successfully put into traffic. Section C extending to the 10th of Ramadan, a satellite city of Egypt's capital city Cairo, is stil under construction.
After the speed test, the operator will have a 20-day unloaded trial operation in May and an on-schedule trial operation loaded with passengers in early June, according to Shenzhen Metro Group.
The railway is a major project between China and Egypt under the Belt and Road Initiatives. Shenzhen Metro Group signed two agreements with the consortium funded by AVIC International and China Railway in December 2019 and March 2021 to provide a 1.5-year operation preparation and a two-year operation supervision service for the intercity railway, respectively. The company has sent more than 40 employees to the 10th of Ramada in Cairo since January 2021 to provide technical assistance and help with testing, operation and training.
The project is Shenzhen Metro Group's fourth overseas project, and the company has assisted in the construction and operation of other Metro or intercity railway projects like the Cat Linh-Ha Dong urban rail transit system in Hanoi, Vietnam, the Metro project of Addis Ababa, capital of Ethiopia, and the Tel Aviv Red Line LRT (Light Rail Transit) Project in Israel.