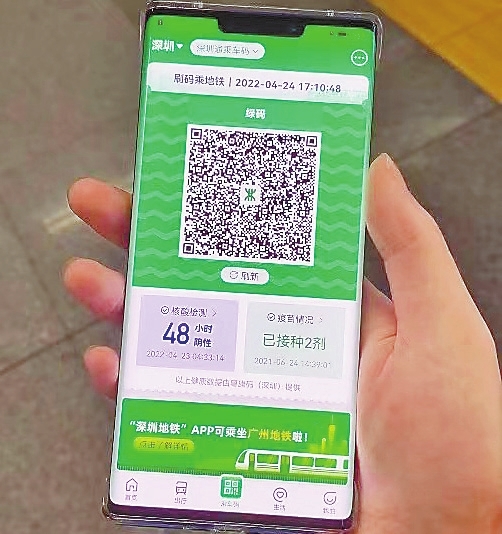 Han Ximin
1824295095@qq.com
SHENZHEN Metro Group has upgraded its app to enable convenient health information checks. The all-in-one code is now being piloted at six stations starting yesterday.
Shenzhen Metro App's (深圳地铁APP) new functions enable users to present an interface that integrates their ride and health codes, as well as nucleic acid test results and vaccination information.
App users, after real-name registration and authorization, can show their four-in-one interface to safety inspectors before scanning the code to ride the Metro, thus cutting time switching between scanning the venue and ride codes.
The six stations where the new functions are being piloted are Line 1's Zhuzilin Station, Lines 2 and 11's Houhai and Tanglang stations, Line 5's Changlong Station and Line 6's Sports Center and Hanling stations.
The Metro operator reminded passengers using the QR codes for Shenzhentong+ and Shenzhen Metro WeChat miniprograms or the Shenzhentong card, to keep following the rule on scanning venue codes and showing nucleic acid test results. The elderly and children who do not have smartphones should be accompanied by a family member who can show their negative 72-hour nucleic acid test result on their behalf. For the elderly and children traveling alone, they can also provide a printed copy of their negative 72-hour nucleic acid test result.
The through-code service will be avaible at all Metro stations after trial use.
Earlier in April, the city applied the through-code service among Shenzhentong users who take buses.
The Metro app and Shenzhentong miniprogram are compatible with the Guangdong Health Code system and can acquire real-time health code, nucleic acid test results and vaccination information, and integrate them into the Metro payment code. When users scan the ride code, it can confirm the user's location, replacing the venue code's function.
The operator stressed that users' privacy will be protected, and their health information serves for display only and will be discarded after use.