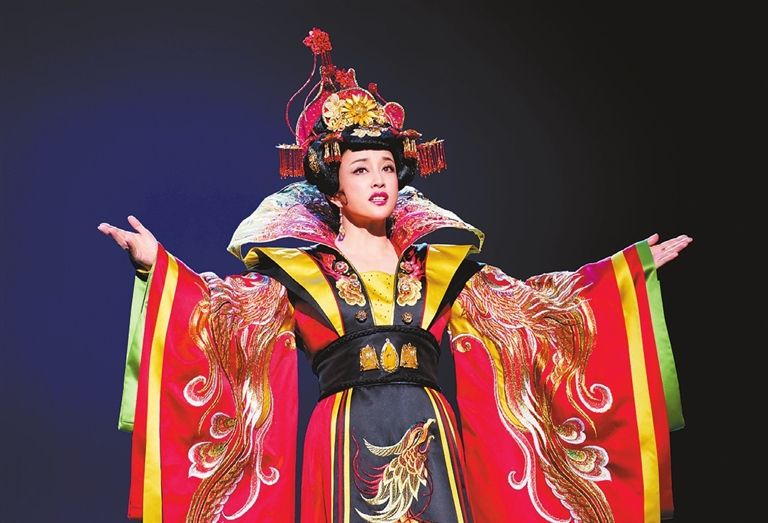 Wu Zetian is one of the most controversial monarchs in China's history. Although she was admired for her beauty, political acumen and tenacity, she was also manipulative, ruthless and murderous.
Her legendary life has spawned a great many TV series and shows, including several TV series produced in Hong Kong and one stage drama written by late author Guo Moruo in the 1960s.
Directed by Lou Naiming and written by Jin Haishu, the current production by the Tianjin People's Art Theater with actress Liu Xiaoqing as the titular character will hit the stage of Shenzhen Poly Theater.
Liu, one of contemporary China's earliest film stars, had starred as the empress in a 1995 TV series. The current show opens with an intense scene in which Wu is confronted by four ministers who see through her ambition to ascend the throne. It portrays the life of Chinese royalty during the Tang Dynasty (618-907) through the perspective of the empress.
Songs and dances, as well as splendid costumes and stage designs, all add to the charm of this production, which has toured to the United States, Canada and Australia.
The show lasts about 130 minutes without intermission. Audience members are required to present a negative 48 hour nucleic acid test result to attend. VIP members of the theater can enjoy discounts up to 15% off.
Time: 8 p.m., May 20-21
Tickets: 180-880 yuan
Booking: WeChat account "SZpolytheatre"
Venue: Shenzhen Poly Theater, Nanshan District (南山区深圳保利剧院)
Metro: Line 2 or 11 to Houhai Station (后海站), Exit E1
(Li Dan)