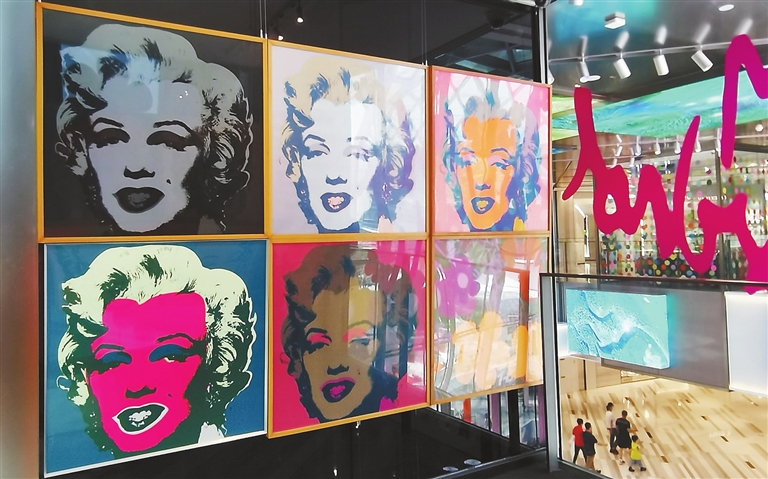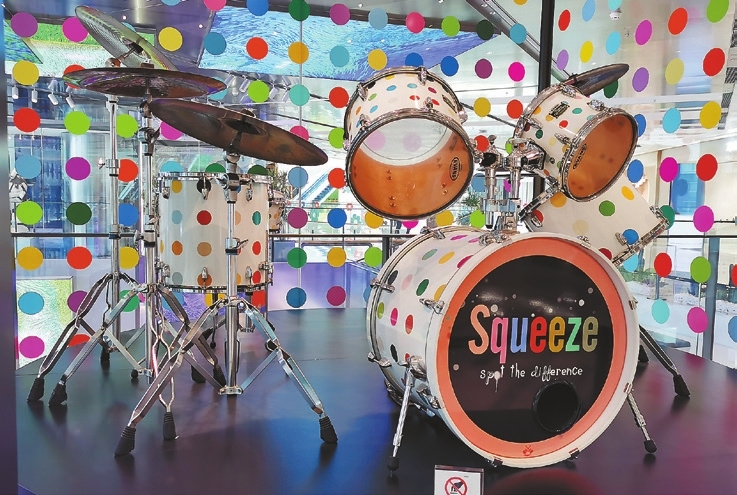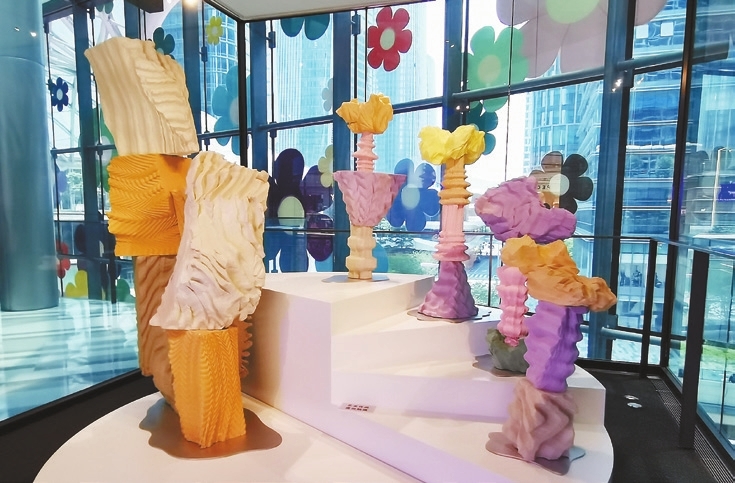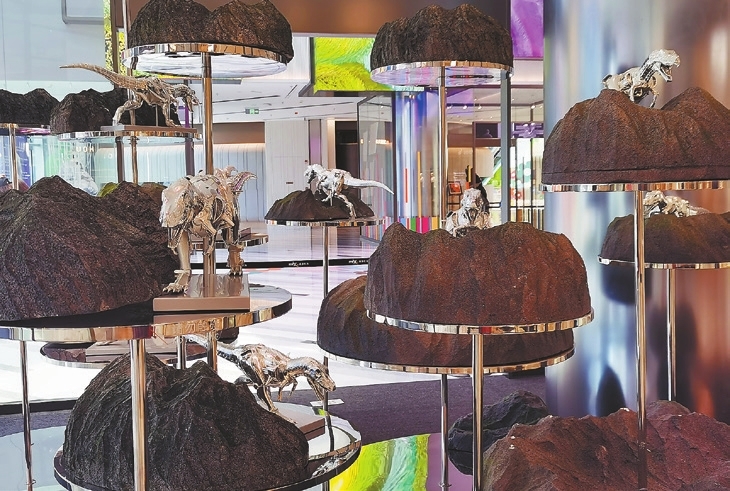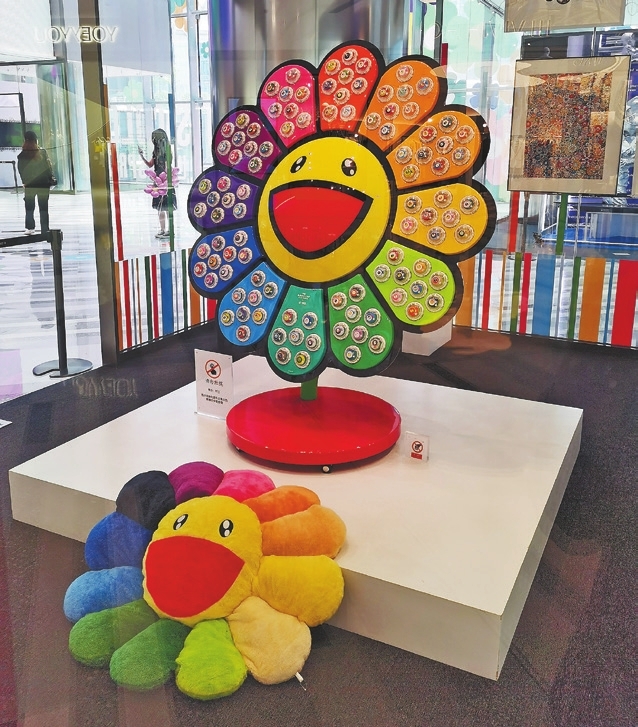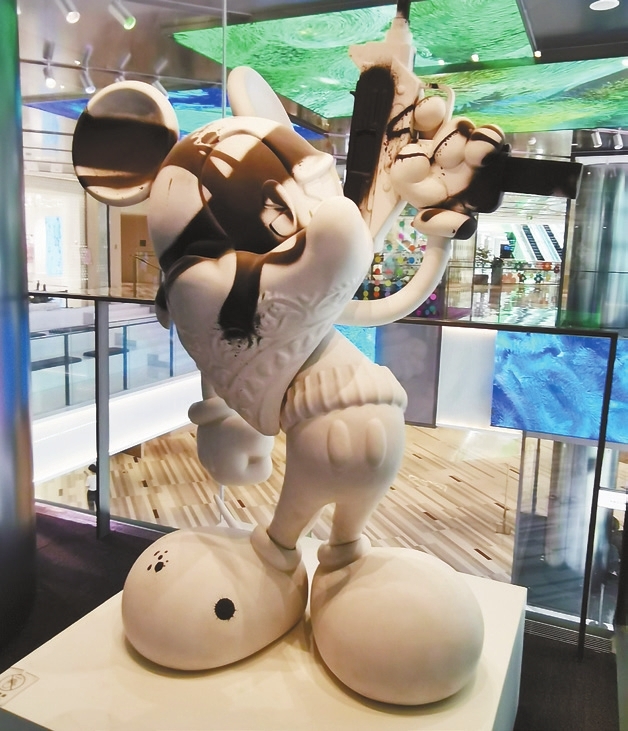 Colorful artworks by Takashi Murakami, Andy Warhol, Damien Hirst and more artists are on display at the "Future New World" exhibition inside The MixC Qianhai shopping mall.
A drum kit customized by British conceptual artist Hirst is one of the highlights at the exhibition. In 2011, he customized a set of musical instruments for the 1970s new wave music band named Squeeze to use at the Royal Albert Hall in support of the Teenage Cancer Trust. All the instruments, including two Fender Stratocaster guitars and a drum kit, were hand painted by Hirst with his iconic spot design and signed by the artist himself.
Hirst is known for his controversial take on beauty and found-art objects. The spot paintings are among his most widely recognized works.
Warhol's iconic Marilyn Monroe prints also shine at the exhibition. Warhol created three Marilyn Monroe screen print portfolios in 1967, a few years after the actress passed away in 1962. For Warhol, Marilyn was already a familiar subject.
"Andy Warhol's 'Marilyn' is the absolute pinnacle of American Pop and the promise of the American Dream encapsulating optimism, fragility, celebrity and iconography all at once," commented Alex Rotter, head of 20th and 21st century art at Christie's.
Murakami is a Japanese artist known for blurring the boundary between fine and commercial art. Often categorized alongside historic and contemporary artists working in the tradition of pop art, such as Warhol, Hirst, and Jeff Koons, Murakami's work has achieved a widespread level of fame beyond the art world. His innovative "superflat" aesthetic — combining classical Japanese art with contemporary Japanese pop culture — has led many to consider him one of the most innovative artists working today.
Aspartime is a collaborative artist duo made up of Qu Xiao and Liu Fengya. "ZigZag" is Aspartime's 2020 art design project, which includes design products, furniture, and sculpture. Their art approach is to carve industrially produced foam with heated wire. The abstract and the figurative coexist in the course of selection and recombination.
Some works of the shopping mall's earlier "Futuristic Aesthetics" exhibition still can be seen, such as T-rex sculptures by Japanese artist Hajime Sorayama and a Mickey Mouse sculpture by OG Slick. Visitors can also buy the artwork merch at a pop-up store.
Dates: Until June 7
Venue: 2-3/F, The MixC Qianhai, Guiwan Road 4, Qianhai (前海桂湾四路深圳万象前海二楼和三楼)
Metro: Line 5 to Guiwan Station (桂湾站), Exit A(SD News)