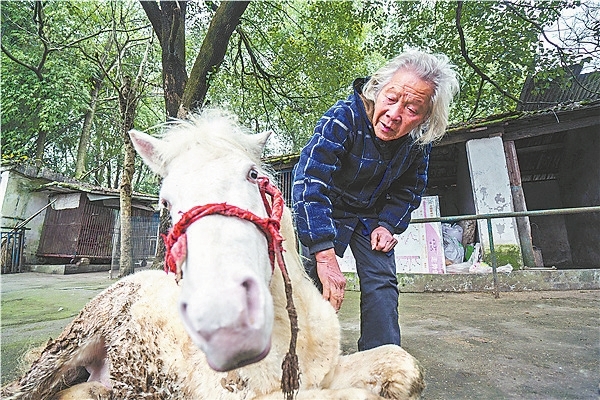 FOR 33 years, Luo Yingjiu, 82, has run a small zoo in Enshi, Hubei Province, on his own. At the one-man Fenghuang Mountain Zoo, Luo is the director, cleaner, breeder, vet and conductor.
Rather than a zoo, the place is more of a nursing home for the remaining animals, including a bear, some peafowls, a troop of monkeys, a Tibetan mastiff, a wild boar, two raccoons and about 20 dogs. The lion, tiger and python passed away years ago.
Luo addresses the animals in the zoo by the names he gave them, many of which were rescued by him.
A ticket only costs 10 yuan (US$1.5) per person, and it's free for children. But the zoo's appeal has long since faded and stops turning a profit, whose maintenance has forced Luo into debt.
"Many people told me to rest at this old age, but my wish is to take care of the animals until my last day. The zoo is my responsibility," says the former soldier.
"It has also brought me lots of joy."
He has often been mistaken for a woman because of his long hair. He stopped cutting his hair after a monkey in the zoo failed to recognize him with a short haircut.
After Luo left the army in 1978, he took a job at Qingjiang Cinema in Enshi. Covered with thick forest, the mountainous region has rich biodiversity.
While putting up posters advertising the cinema before dawn, Luo saw people carrying large sacks to a nearby market. The hunters wished to make money out of their prey.
Luo, thinking the animals were cute and helpless, started to buy and keep them, today a masked civet and tomorrow a muntjac deer. Gradually, he ended up keeping quite a number of them near the cinema, attracting another audience.
In 1986, Luo opened an animal exhibition on the square of the cinema, supported by the cinema's management, drawing over 100 visitors in half a day.
In 1989, the local government suggested Luo open a zoo with his wild animals and promised subsidies. They offered 20,000 yuan to build the zoo, and Luo moved his family to the venue.
"People wanted to see wild animals. Enshi was in need of a zoo, which could give people an opportunity to explore wildlife," Luo says.
On Jan. 18, 1990, People's Daily reported the opening of Luo's zoo and his kind deeds of saving the animals.
The annual government subsidies, about 2,000 yuan, stopped coming in since 1993, Luo says. In 1994, Luo tried to seek public help, but to no avail.
Luo has spent all his pension payouts (5,000 yuan per month) and savings on the zoo, but it still fell short. "It's expensive to feed the lion, tiger and python; I can't let them starve," he says. The daily cost of food for the animals is now about 400 yuan.
He eats simple meals and never dines out. Sometimes he picks up empty bottles to sell to support the zoo. In 2006, he refused the goodwill of the local government to relocate him to a better home.
Living in the zoo on his own, Luo gets up at about 5 a.m., checks the animals, cleans their enclosures and goes to the market to buy their feed, before settling down at the gate to welcome visitors.
At night, he checks them again and refills their food and water. He even gets up at 2 a.m. to tend to the old and sick.
It's been about 19 years since the bear Guaiguai (meaning "darling") came to the zoo. When Luo first saw the creature, it was missing a paw. He paid 3,000 yuan for the bear. The bear's paw was a rare delicacy in the past, the trade of which has been banned.
Luo pays particular attention to the bear due to her aging condition — now Guaiguai can only eat soft food.
Luo purchased an aging lion and a tiger from a larger zoo in the hope of bringing more visitors.
Since 2016, when the pair finally succumbed to old age, footfall to the zoo dwindled, because people wanted to see "the kings of the jungle."
He recalls that, in the 1990s, when the zoo was in its heyday, he would welcome about 100 visitors a day.
He recently saved two sand badgers from a grocery market, and after one month, the duo, which had been vigilant, finally came to greet him when he brought them food.
"You have to be patient and gentle, and you cannot yell at them," he says.
Starting January, the old man's 22-year-old granddaughter Luo Wei began to post short videos of him looking after the animals online, hoping to raise awareness of the zoo.
Some kindhearted strangers arranged the delivery of animal feed to the zoo via express courier after watching these videos.
The account "Grandpa Luo's Zoo" has attracted over 375,000 followers on streaming site Bilibili, and the most popular video has about 2 million views.
Luo's son and daughter also devoted themselves to the zoo, because the place is filled with their memories of growing up. His daughter used to help him at the zoo until she died in 2008 of a congenital heart illness at 33.
Luo Wei says, "All my family love animals. My grandpa always tells me to be upstanding and to contribute to society, and he's been practicing what he preaches."
She will graduate from university this summer. She used to sit at the gate and sell tickets to the zoo when she was a kid.
"Grandpa labors at the zoo all year round. My family and I hope he can enjoy a leisurely life in his old age, but we can't persuade him (to give up the zoo)."
Like her father, she helps out when she's available in the holidays.
The cleaning is filthy and strenuous work. She recalls that her grandfather once hired someone to help, but the man was scratched by an animal. So her grandfather continued to work on his own.
(China Daily)