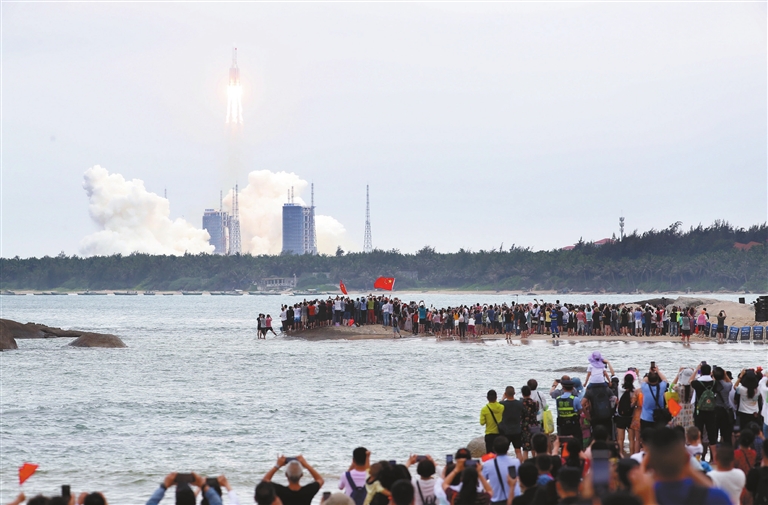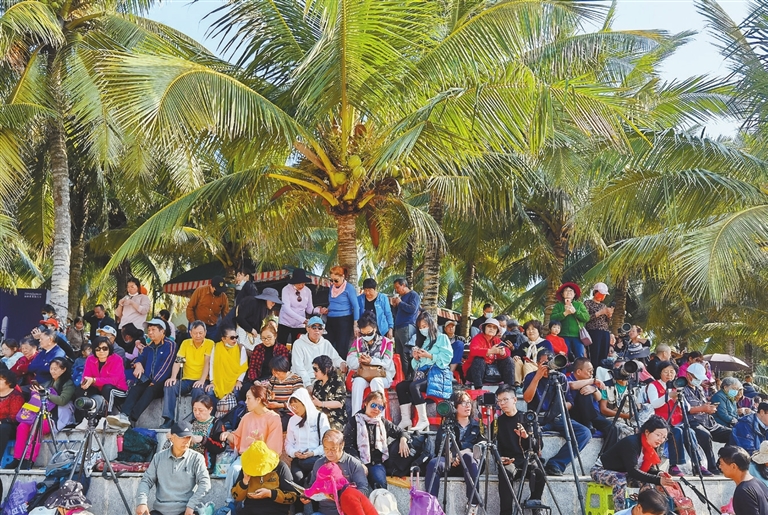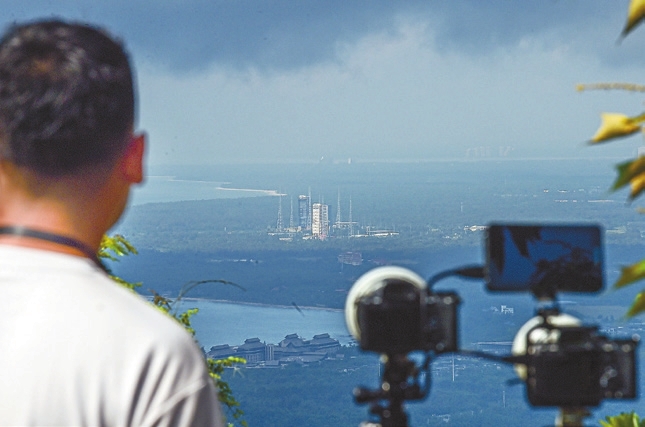 THE record-setting launch of 22 commercial satellites using a single Chinese rocket at Wenchang Space Launch Center in late February has ignited passion among space fans and added new appeal to Hainan, an island province popular for its tropical features — year-round sunshine, sprawling beaches, rainforests and enthralling boat tours.
"Space launches have promoted tourism in Wenchang as many tourists make space launch watching an attraction that should not be missed on their schedule. Nearly all hotel rooms are reserved one month ahead of every launch here and visitors — space launch amateurs, researchers, photographers and families — usually occupy 90% of our hotel rooms five days ahead of each launch," said Wang Keyan, a manager of an international brand hotel in Qishui Bay 3 kilometers away from the launch site.
Customers willing to pay much higher prices than usual can enjoy front row seats to launches in some of the hotel rooms that charmingly combine the natural beauty of tropical island landscapes with a show of modern aerospace technology.
The number of car rental reservations in Wenchang and nearby cities such as Haikou, Qionghai and Wanning jumped by more than 10 times year-on-year during the February launch period, according to a report from a local transportation services platform.
Seated in northeastern Hainan island, about 19 degrees north of the equator, the Wenchang space center has been designed for launching geosynchronous satellites, heavy-lift carrier rockets, large space station components and lunar and interplanetary missions. It is the only launch facility in China capable of launching Long March-5 series rockets, the biggest and most powerful in the country's rocket fleet. The facility thus enjoys a significant role in the country's deep-space exploration endeavors.
The local government has opened eight seaside areas to ensure visitors are provided with an immersive feeling when viewing spectacular launches.
China currently has four space launch bases, namely, Jiuquan Satellite Launch Center in the deserts of Northwest China's Gansu Province, the nation's only manned spacecraft launch center; Taiyuan Satellite Launch Center in North China's Shanxi Province, capable of launching satellites into both medium and low orbits; Xichang Satellite Launch Center, mainly to launch powerful-thrust rockets and geostationary satellites in Southwest China's Sichuan Province, and the Wenchang Space Launch Center in Hainan, the country's youngest and southernmost launch site.
Data showed that Longlou Town in Wenchang, with a permanent population of 27,000, received more than 500,000 tourists in 2021. The annual disposable income of rural residents in Longlou more than tripled from 5,559 yuan (US$871) in 2009 to 19,171 yuan in 2021. (China Daily)