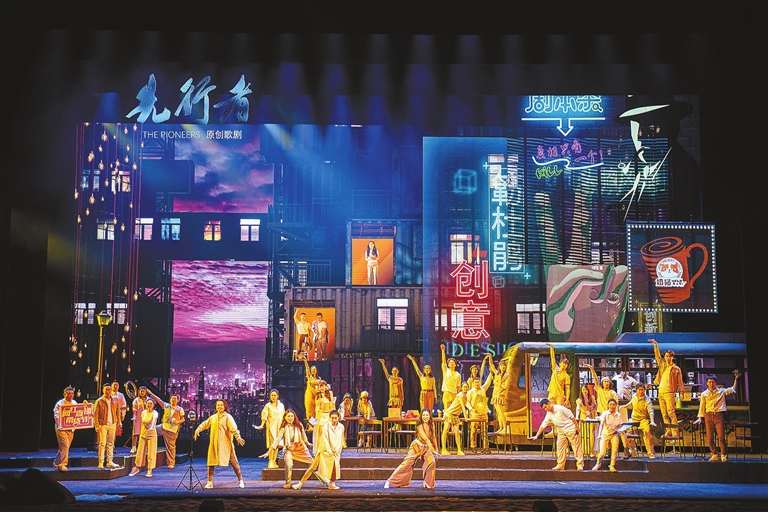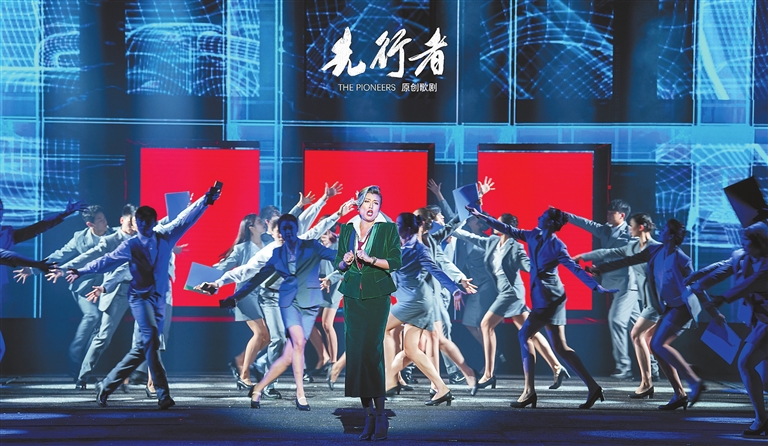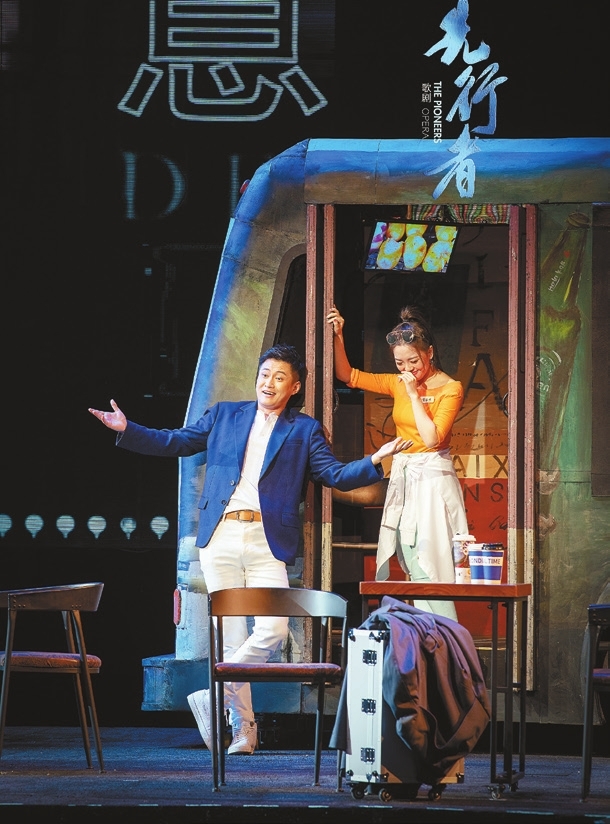 Debra Li
debra_lidan@163.com
A LITTLE more than two years after the Shenzhen Opera and Dance Theater (SZODT) debuted its original dance drama "Dream Seekers," the local troupe this March unveiled an original opera to a small group of critics and a select audience, winning their acclaims. The show titled "Pioneers" will eventually meet the public at Shenzhen Poly Theater mid June, performing three straight nights starting June 14.
Opera, hailed as the ultimate art form, has singing, music, drama, and dance, and at its core, an emotional story all tucked into an intense performance of a couple of hours. The word "opera" is an abbreviation of the Italian phrase "opera in musica" ("work in music"), which implies that the essence of an opera lies in its music.
Past efforts of creating Chinese contents in the form of a Western opera have often resulted in works of "red classics" or those depicting "historical figures," such as "Sister Jiang" and "White-haired Girl." Their music has often incorporated Chinese folk songs and traditional Chinese opera forms.
With this new endeavor, SZODT is trying to tell a contemporary Shenzhen story, where a group of young people go through the ups and downs of life as they try to start up their own businesses and change the world.
During the 150-minute show, audiences will see on the stage such familiar cityscapes as the oceanfront of the Qianhai Shenzhen-Hong Kong Modern Service Industry Cooperation Zone, the TEUs at Shenzhen ports, the skyline of high-rise buildings in downtown and night skies lit up by drones and lamplights behind the windows of hard-working people.
Incorporating rich elements from contemporary and pop music, the music of "Pioneers" lingers somewhere between a traditional opera and an operetta. The music for the chorus is experimental at times.
The stage set follows the aesthetics of modern simplicity, assisted by dazzling technology. During one impressive scene, the characters in the show are involved in a faceoff in the form of a virtual reality game.
With veteran director and teacher from the PLA Academy of Arts Huang Dingshan at its helm, the opera has hired many top talents in China as its cast and crew.
Zhu Hai, a poet and lyricist behind such original Chinese operas as "Fate" (produced by the China National Opera House) and "Beneath the Ginkgo Tree" (produced by the Henan Song and Dance Performance Group) and such live events as CCTV Spring Festival Galas, has provided the script for the show. Composer and music producer Wu Liqun, known for his soundtracks for movies and TV series including "Saving Mr. Wu" and "Ode to Joy," composed the music for the opera. Choreographer Lin Sen, lighting designer Hu Yaohui, costumes designer Li Ruiding, and acoustics designer Song Duoduo all represent the best in their fields.
Conducted by Shenzhen Symphony Orchestra (SZSO) artistic director Lin Daye, the performance will headline tenors Wang Chuanliang and Ma Teng, baritone Wang Yunpeng, sopranos Chen Xiaoduo and Tian Siying as well as mezzo-soprano Zhu Huiling. Wang Chuanliang has won such top Chinese awards in performing arts as the Golden Bell Award and the Magnolia Award; Wang Yunpeng, who has been a regular with the Met Opera, won three awards at the 20th Placido Domingo World Opera Competition.
Also performing will be the SZSO and the SZODT chorus led by its artistic director Xie Yingbin, a mezzo-soprano with the National Opera of Paris for many years before she returned to China to helm the chorus.
With a chorus, opera troupe and dance troupe under its wing, SZODT was born in 2018 and has since helped cultivate a local opera audience with the many vocal concerts it performs on a regular basis online and offline.
The troupe ran its first performance season from September 2020 to July 2021, presenting 13 programs in 20 shows.
Tickets: 100-980 yuan
Time: 7: 30 p.m., June 14-16
Venue: Shenzhen Poly Theater, Nanshan District (南山区深圳保利剧院)
Metro: Line 2 or 11 to Houhai Station (后海站), Exit E