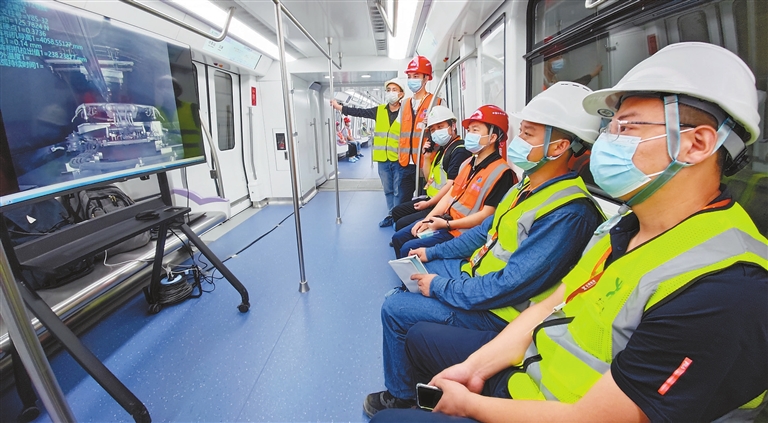 Han Ximin
1824295095@qq.com
A POWER-LOADED test for Metro Line 12 was successfully launched Friday, marking a further step forward for the fully automated line, which is slated to open before the end of the year.
The train for tests started from Liutang Station and arrived at Waterlands Resort East Station at 8:30 a.m., Friday. The trip took 45 minutes and the train ran at an average speed of 55 kilometers per hour.
The power-loaded test, a milestone in Metro lines' construction, was mainly set to test the line's systems. According to Yang Yang, Line 12's facility manager of China Power Construction Corp., Line 12's construction project has entered the final stage, with tests for facilities and joint system tests under way. The power-loaded test laid a solid foundation for the whole line's tests and operation.
The 40.5-kilometer south-north Metro Line 12 plays an important role for the development of city's western area. It runs between Zuopaotai Station in Nanshan and Waterlands Resort East Station in Bao'an, passing Nanshan CBD, Bao'an CBD, Fuyong Area, Greater Airport Area and World Exhibition and Convention Area. It has a total of 33 stations, including 18 interchange stations.
The line, which is in Phase II construction, will be extended from Zuopaotai Station to Taiziwan Station, and a section of it will go under Shekou's sea area. It will be the first time for the city's Metro to use a tunnel boring machine in under sea tunnel construction.