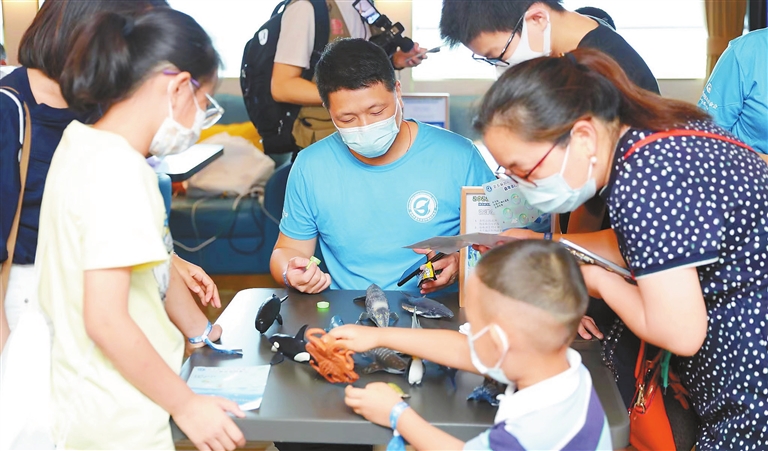 Zhang Yu
JeniZhang13@163.com
THE Fifth International Children's Ocean Festival, which features a wide range of activities and will last for three months, kicked off on the Wan Qu Er Hao sightseeing cruise ship at Shekou Cruise Homeport on Sunday.
This year, the festival includes an ocean carnival with fun interactive games, a collection and exhibition of picture books and paintings related to marine environmental protection in the Guangdong-Hong Kong-Macao Greater Bay Area, nature observation and appreciation activities, five Clean Beach campaigns along the city's coastlines, and a marine culture exploration competition.
Four children ocean ambassadors, namely Tong Hanlin, Li Hongxi, Liu Yihang and Chen Xiyuan, were selected among outstanding young volunteers by the Shenzhen Blue Ocean Conservation Association (BOCA).
The four ambassadors will join Chen Jinhao, a world sailing champion, in the following months to share ocean-related knowledge with the public and take practical efforts to conserve the marine environment.
"The event is a vivid reflection of Shenzhen's efforts in building a child-friendly city and a global marine center," said He Fan, deputy head of the family and children's work department at Shenzhen Women's Federation.
The festival, according to Kuang Yubin, vice president of BOCA, aims to bring youngsters closer to the ocean and integrate it into their lives.
"We are honored to be a part of this year's festival. As a co-organizer, we wish to foster children's understanding of marine culture through this activity, as they are the country's future," said Ji Yinghua, general manager of China Merchants Cruise Co. Ltd.'s marketing center.
At the festival's launch ceremony, 10 organizations and companies that have been dedicated to promoting ocean-related charity projects to children for years, were awarded as marine protection models.
In line with Shenzhen's goals to become a global marine center and a child-friendly city, the festival aims to highlight the importance of marine science education for children, secure children's rights to get closer to nature and the sea, and cultivate children's marine conservation awareness.
Guided by Shenzhen Women's Federation, this year's festival is jointly hosted by Shenzhen Women and Children's Development Foundation, BOCA, and Shenzhen Bloom Charity Foundation, and co-organized by China Merchants Cruise Co. Ltd.