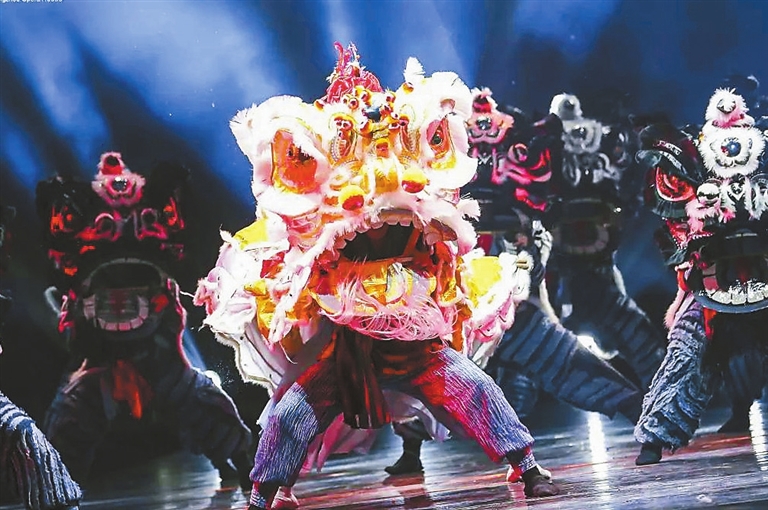 "Awakening Lion," a dance drama by the Guangzhou Song and Dance Theater, will be staged in Shenzhen this weekend.
The story is set in 1840 when the warships of Western powers blockaded the Pearl River estuary and the First Opium War broke out. An irregular force made up of Chinese militias and citizens are fighting against the British in the Sanyuanli village on the outskirts of Canton (now Guangzhou).
The plot reflects the spiritual awakening, courage to fight and national spirit of the people in Guangdong during the political chaos of the time. Such a social climate has been likened to "a lion awakening" and this theme runs throughout the play as the storyline traces the coming of age of ordinary people driven by patriotism. The play also presents a rich tapestry of human insights, political change, family relationships, friendship, love and the dilemma between families and the nation.
In terms of artistic style, "Awakening Lion" features strong characteristics of South China and indigenous features of old Guangzhou. By integrating innovative elements and multimedia technology, the staging features both modern appeal and visual impact. In terms of choreography, the blending of Chinese dance and traditional lion dance is a bold and innovative concept.
According to the scriptwriter Luo Li, who is a native of Guangzhou, they invited lion dance masters in Guangzhou to train the dancers. "For both the dancers and audience members, the dance drama reminds them of the history and culture of the traditional art form," said Luo, adding that over 40 dancers from the Guangzhou Song and Dance Theater perform in the dance drama.
"I feel connected to the lion dance because it can be seen in my hometown whenever people celebrate holidays," she said. "While writing the dance drama, I learned about the history of the lion dance and I realized that it's a Chinese traditional art form, which goes beyond the performers' breathtaking techniques," she added.
Premiered at Guangzhou Grand Theater in 2018, "Awakening Lion" has been supported by the Special Funds for Cultural Prosperity and Development of Guangdong Province and the Key Literary and Artistic Projects of Guangzhou. It won an award in the Chinese Dance — Dance Drama category of the 11th Lotus Awards.
The Guangdong lion dance is the southern branch of the Chinese lion dance series, which is a traditional folk art combining dance, music, and martial arts.
Time: 3 p.m., May 28-29
Tickets: 80-480 yuan
Booking: WeChat account "PingShanTheatre"
Venue: Pingshan Theater, Hekang Road, Pingshan District (坪山区荷康路坪山大剧院)
Transport: Take the high-speed rail from Shenzhen North Station to Pingshan Station and then take a taxi(SD News)