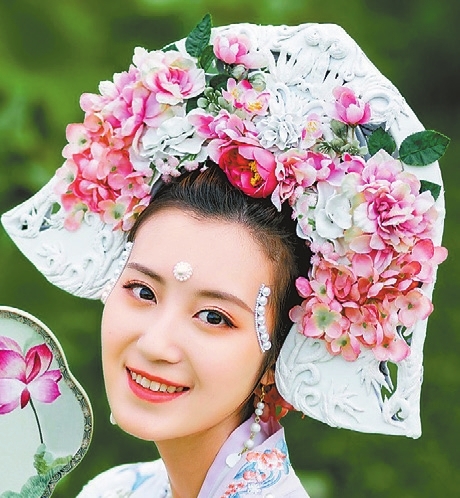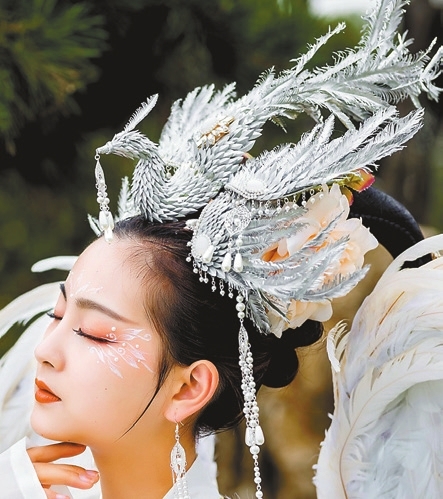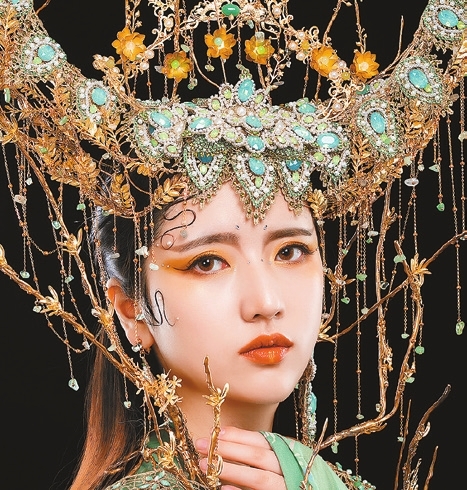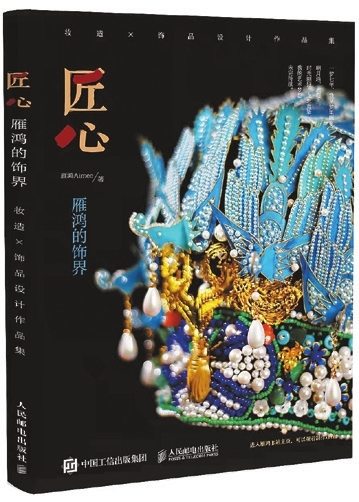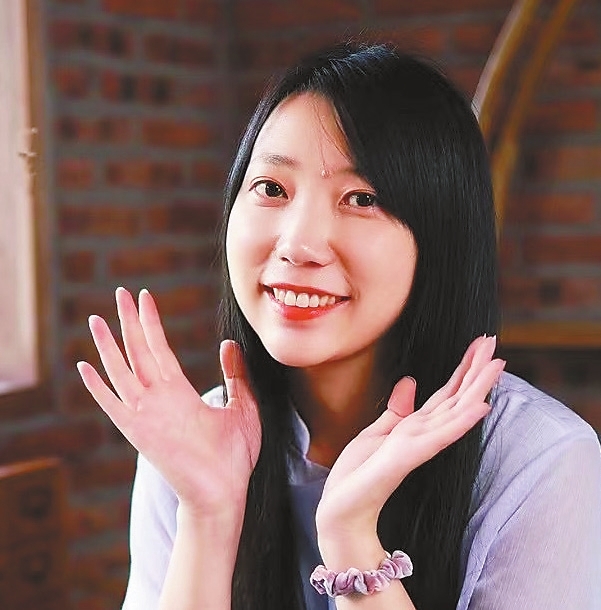 HE YANHONG, a 33-year-old woman from Chengdu, Southwest China's Sichuan Province, never expected that the traditional Chinese-style headdresses she makes could become a hit overseas. Her expertise landed her an opportunity to share Chinese culture at Oxford University in the U.K. in 2019, and in September 2020, her headpieces stunned audiences at the runway of Milan Fashion Week.
He had worked as a nurse after five years of professional training at a medical school. Supported by her husband, she decided to quit the nursing job to pursue her true passion and interest.
"It's a hard decision to give up a decent job, and become fully invested into my hobby, which might not be able to provide for a living," she was quoted as saying by the Global Times.
She worked long hours to design and create the headpieces. Her daily work routine stretched from 9 a.m. to 1 a.m., or even later.
He is good at using recycled material including copper sheet and soda cans to create delicate ornaments that she saw in Chinese period dramas and books about Chinese antiques.
Because of her frequent handling of metal materials and sharp tools, she often hurts her fingers. Band-Aids are her must-haves, and the pretty manicures that many women love are not of interest to her.
A revived interest in traditional Chinese culture and the success of some period drama TV series have in recent years started a trend of guochao, also known as Chinese trends or "China chic," across the nation, especially among Generation Z. A large number of vloggers like He (better known as Yanhong on social media) have been introducing traditional Chinese cultural aspects such as hanfu (ancient Chinese costumes), ancient makeup and musical instruments to a bigger audience.
He created ornaments that drew inspiration from Beijing Opera, the classical novel "Dream of the Red Chamber," the glorious bronze tree unearthed from the Sanxingdui Ruins site, and a hairpin from a well-known Tang Dynasty (618-907) painting, "Court Ladies Wearing Flowers in Their Hair."
One of her most watched video series is on hairpieces that were created based on "Shanhaijing," also known as "Classic of Mountains and Seas," a Chinese classic text and a compilation of mythic beasts.
"I noticed that many images from popular TV dramas are from 'Shanhaijing.' I thought that it would be very interesting to combine the elements of divine beasts into my creation," she said.
The hand-made headdresses inspired by period dramas have made He one of the most popular bloggers on Bilibili, one of China's leading video-sharing platforms, with 760,000 followers and more than 33.74 million views.
She also posted the videos on her YouTube account with both Chinese and English subtitles, which quickly garnered attention among a foreign audience. Some have even followed the video guide she posted and tried to make traditional Chinese headdresses themselves.
He has received a lot of positive feedback from her fans both in China and abroad, and she was touched by some followers who would translate their message into Chinese to communicate with her.
"Many of them are professional handicrafts designers or history scholars, which put me under a bit of pressure when I shot the videos," she joked.
She was invited to give a speech at Oxford University in 2019.
During her presentation, He showed a handmade headdress she created based on what she saw from hit Chinese drama "Ruyi's Royal Love in the Palace." Her audiences were stunned and couldn't believe that the artistic headdress was made of copper sheet and feathers.
"More people, including foreigners, are getting interested in traditional Chinese culture. I feel grateful to be able to live in this era, when internet and social media help to spread our traditional culture," she said.
After visiting the culture relics displayed in museums, He decided to learn the filamentary silver hovering arts of Chengdu, a national intangible cultural heritage that dates back 1,700 years.
The superb craftsmanship infused with a sense of time and history caught the eye of a designer who was to present his creations at the Spring/Summer 2021 Milan Fashion Week. The designer wanted to cooperate after watching her videos.
In the following 20 days, He created 11 pieces to match the outfits by the foreign designer. Wooing runway audiences, the headdresses have been featured in fashion magazines including the Harper's Bazaar, Elle and Marie Claire.
He said her next project will be themed on Hua Mulan, a legendary Chinese heroine who fought battles in place of her father, who had been enlisted into the army.(Global Times)