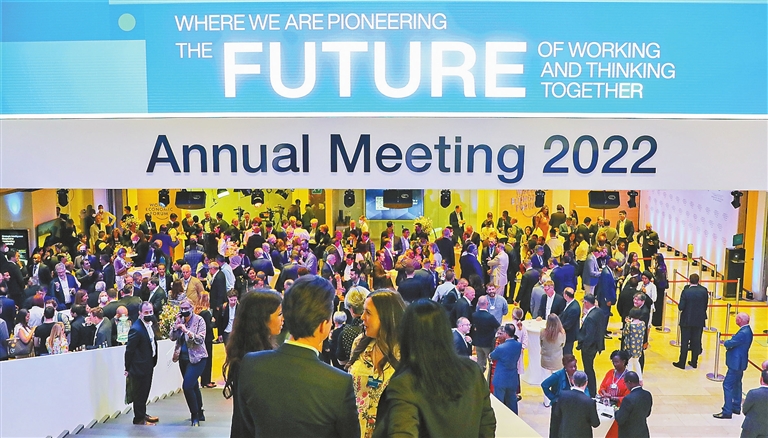 UNDER the theme of "History at a Turning Point: Government Policies and Business Strategies," global leaders brainstormed and proposed possible solutions to global challenges at the annual meeting 2022 of the World Economic Forum (WEF) in Swiss resort Davos. The forum concluded Thursday.
While various challenges and uncertainties drag down the world economy, China, responsible for one-third of global economic growth, is expected to provide the propulsion the world urgently needs, experts have said.
Multiple risks
This year's WEF focused on four major challenges: geopolitical risks, pandemics, climate change and economic risks.
The pandemic and Russia-Ukraine conflict would profoundly impact the world economy, experts said, predicting that the world economy could face a recession.
Most of the chief economists interviewed by the forum expected high inflation in most markets except for East Asia in 2022, with 96% of them expecting high or very high inflation in the United States and 92% believing the same for Europe.
Meanwhile, leaders and economists also predicted that Africa and the Middle East will experience worsening food problems in the next three years.
Addressing a plenary at the WEF, Spanish Prime Minister Pedro Sanchez said the Russia-Ukraine conflict has triggered an unprecedented global food crisis with dramatic consequences for the most vulnerable countries, individuals and families.
Sanchez said that food insecurity was a catalyst for social instability and often armed conflicts, adding that effort is needed to restore food production and trade systems, and achieve food security for the most vulnerable.
However, there is a risk that short-term efforts to combat food shortages could come at the expense of climate and sustainability targets, as global food production contributes more than a third of greenhouse gas emissions, according to experts.
Leaders from the energy sector also voiced their concerns over rising energy prices. Fatih Birol, executive director of the International Energy Agency, said that the world is experiencing a truly global energy crisis for the first time, with all energy commodities witnessing a spike in prices, due partly to the Russia-Ukraine conflict.
Birol voiced his concern over some countries' over-investment in fossil fuels in response to the energy crisis and stressed that the world "shouldn't have to choose between a climate and an energy crisis."
Globalization needed
Plagued by multiple challenges, economic globalization has also become a focus of discussion at Davos.
This year's annual meeting has over 10 forums touching upon the topic of globalization. "Is Globalization Dead" and "Balancing Globalization and Resilience in Times of Crisis" are discussions highlighting headwinds against globalization. In a sub-forum themed "The Future of Globalization," most participants chose the latter when asked, "Is globalization progressing or regressing?"
Klaus Luft, former vice chairman and international advisor of Goldman Sachs Europe, told Xinhua globalization has hit a rough patch.
The pandemic still affects regular global exchanges, with countries and regions seeking to build more independent supply chains. The Russia-Ukraine conflict has prompted the EU to eliminate its dependence on Russian energy. "Like it or not, there will be less globalization," Luft said.
Tarek Sultan, chief executive officer and vice chairman of Agility, a Kuwait-based global logistics company, said that in recent years, the pressure on globalization has increased, especially with some geopolitical events impacting the supply chain.
Joseph Stiglitz, Nobel laureate in economics, told Xinhua that global cooperation has hit a wall. "The world is becoming more polarized in many ways. Some of the problems of the globalization is being blamed for is not the problem of globalization but the problem of capitalism."
However, many experts believed economic globalization remains resilient despite ongoing challenges. They emphasized the need for global cooperation, saying the forum provides a good starting point.
Pamela Coke-Hamilton, executive director of the International Trade Center, said that despite the pandemic's impact, the global trade of goods was at a record high last year, indicating a solid rebound.
Adam Tooze, director at the European Institute of Columbia University, believed that globalization is resilient. "China remains an indispensable and key part of the global trading system," he said.
China propulsion
While the global economy slows, China, a major driving force for a global economic recovery, has managed its economy relatively well.
In April, the International Monetary Fund slashed its global growth forecast for 2022 to 3.6%, 0.8 percentage points lower than its January projection. While in March, China set its economic growth target at around 5.5% for 2022, after it saw a strong rebound of 8.1% growth in 2021 and became the only major economy to record growth in 2020.
Gita Gopinath, first deputy managing director of the International Monetary Fund, told Xinhua that if China could deal with the "near-term headwinds in terms of COVID" and others, then, "of course, it remains one of the important engines of growth."
From the global economy's perspective, China's growth has implications for global trade and growth in other parts of the world, said Gopinath.
Billionaire investor David Rubenstein, co-founder of private equity giant the Carlyle Group, which manages some US$260 billion in assets, reiterated his confidence in China's economy, saying that "we will continue to invest there." He dismissed the West's predictions of a grim Chinese economic outlook, adding that those predictions "are generally wrong."
"In the long term, China has a very bright economic outlook, it has a large population, very hardworking people, well-educated and so forth," Rubenstein said, praising the Chinese government for having "a pretty good handle" on the economy.
China's economic growth faces some short-term challenges due to the COVID-19 pandemic. Still, the Chinese Government is working on expanding domestic demand, reducing export dependence and cultivating high value-added industries to ensure economic growth, said WEF President Borge Brende. "I'm quite bullish on China's economy," said Brende.
(Xinhua)