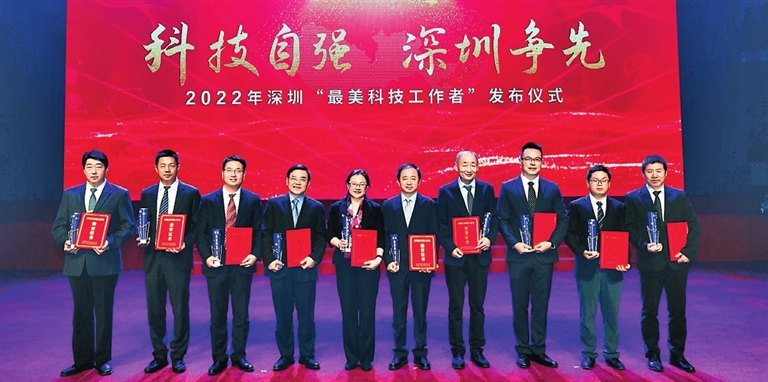 Han Ximin
1824295095@qq.com
XU XUN, director of BGI-Research, along with nine others, was commended with the title of Shenzhen elite workers in science and technology at a ceremony in Shenzhen Auditorium in Futian District on Monday, the Sixth National Science and Technology Workers' Day.
The 10 elite workers were selected among 155 candidates recommended by different enterprises and institutions across the city in an activity which started this February.
Xu, who holds a Ph.D. degree in genetics from Kunming Institute of Zoology, Chinese Academy of Sciences, has served as president of BGI-Research, a leading genomics research institution in China since January 2014. His research in the field of genetic sequencing technologies and development of sequencers and DNA synthesizers, especially a series of high-throughput and desktop sequencers, broke long-term dependence on imported sequencers.
"I have been a genomics researcher for over a dozen of years. In the genomic sequencing field, the sequencers are more like the CPU chips that play a vital role in the industry. We developed the sequencers with self proprietary rights and held the technologies firmly in our hands," Xu said at the commending ceremony.
"The limits of our perception will be broken by ourselves. We are confident and optimistic because gene technologies will ultimately benefit human beings," Xu said at a short video the institution released Monday.
Xu also led a team to do research on agrigenomics. He took a leading role in the 10,000 Plant Genomes Project (10KP), aimed at completing the genome sequencing for 10,000 kinds of plants in 10 years, and participated in the African Orphan Crops Projects to realize precision breeding with the assistance of genome technology, according to BGI-Research.
The other nine people commended were Gu Dayong from the No. 2 People's Hospital of Shenzhen; Jia Xibei, chairman and CEO of Shenzhen Audaque Data Technologies Co. Ltd.; Xiao Jing, leading scientist of Ping An Insurance Group Co. of China; Sun Xizhuo, president of Shenzhen Luohu Hospital Group; Dai Lixian, general manager of China Construction Science and Industry Co. Ltd.; Zhang Shaochong, president of Shenzhen Eye Hospital; Jin Jing from Shenzhen Hospital of Cancer Hospital under Chinese Academy of Medical Sciences; Ma Jiang, professor from Shenzhen University; and Liu Qingsong, lecturer from Southern University of Technology and Science.