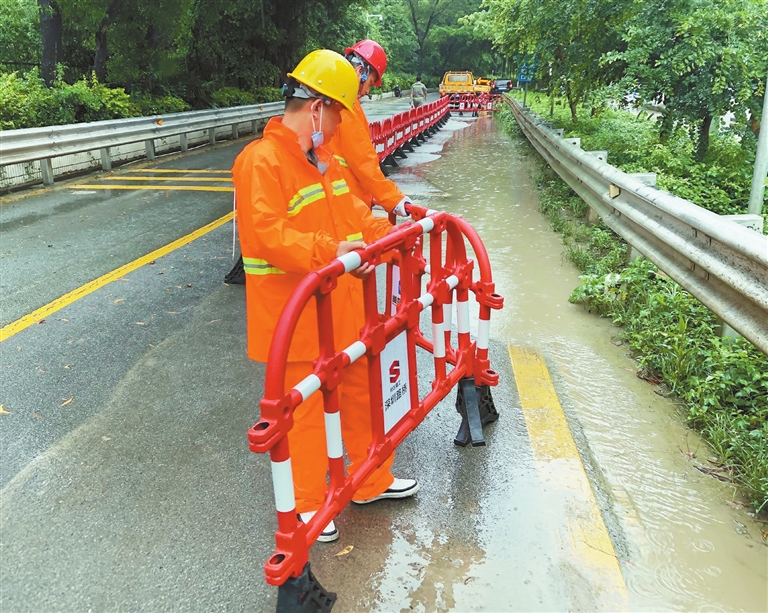 Wang Jingli
wangjingli0715@163.com
LARGE four-corner umbrella sheds were seen placed near the entrance of Shenzhen Hongling Middle School (High School Campus) in Futian District yesterday in preparation for heavy rains expected during the National College Entrance Examination, also known as gaokao, which begins today.
Meng Fanli, Party chief of Shenzhen, and Mayor Qin Weizhong visited two middle schools in Futian yesterday to inspect preparations for gaokao.
Meng called for efforts to strictly implement COVID-19 prevention measures and to do everything possible to ensure a safe, quiet and comfortable environment for the students sitting the exam.
"Given the expected heavy rainfall, we put up large patio umbrellas and rain sheds at outdoor passages to examination sites so that students can pass through without being exposed to rains," said Ruan Baoguo, deputy director of the High School Campus of Shenzhen Hongling Middle School.
"We also checked areas on campus that are prone to flooding to ensure safety, and we prepared clothes, hair driers and clean towels for students if they get soaked in the rain," Ruan said.
Hongling Middle School (High School Campus) has 57 examination rooms for a total of 1,609 gaokao takers. The school has also reserved six extra rooms for quarantine and back-up uses in case they are needed.
A group of students and parents were seen at the entrance of Hongling Middle School (High School Campus) yesterday afternoon to check the test venues ahead of the exam.
A student surnamed Liang told Shenzhen Daily that he will stay in a hotel near the school with his parents during the exam as they live far away from the exam venue. "Although I feel a bit nervous, I am confident about the exams," Liang said.
In Luohu District, there are a total of six gaokao exam venues for the district's 4,529 gaokao takers. According to the Luohu District Education Bureau, Grade 12 students of the district's eight senior middle schools returned to schools Saturday for unified management.
All gaokao takers have to undergo nucleic acid testing for three consecutive days since Saturday.
Some 51,200 students will sit the gaokao at 49 exam venues in Shenzhen this year.