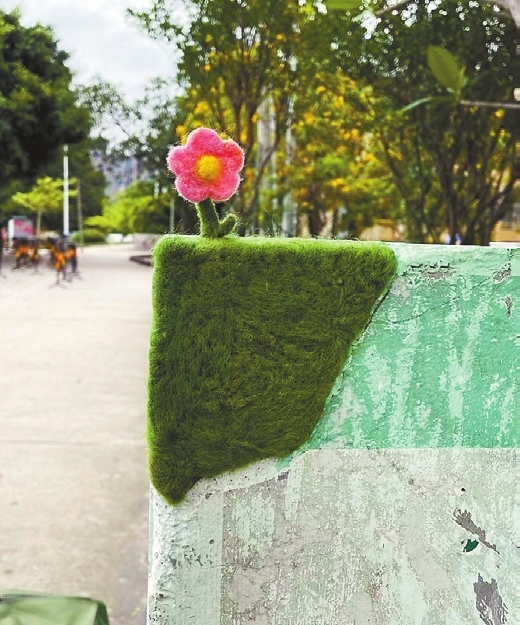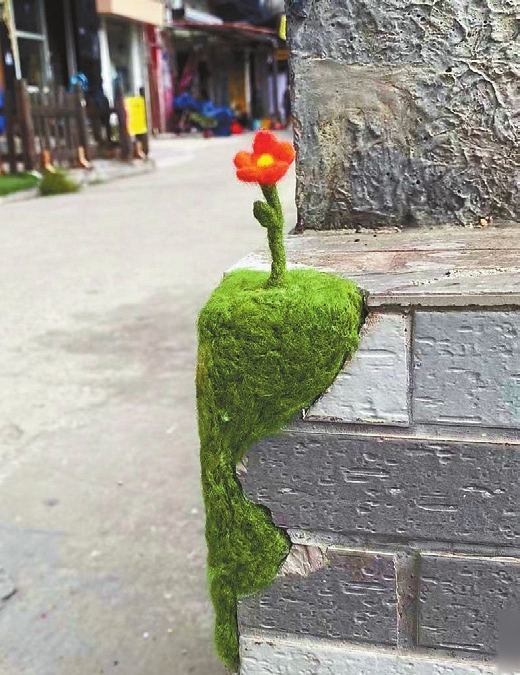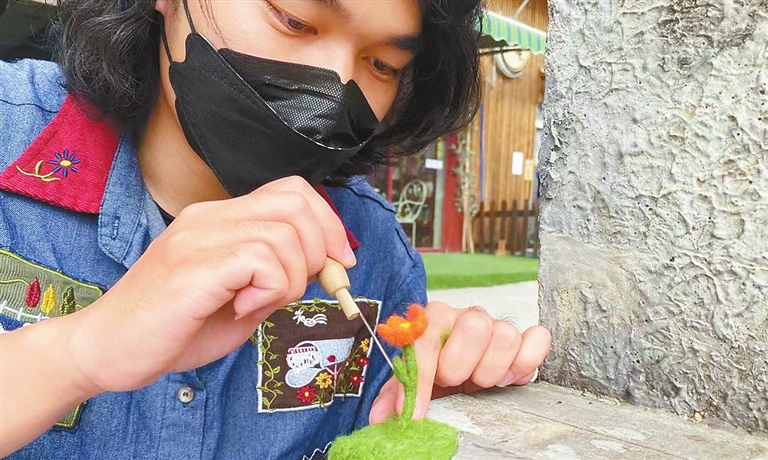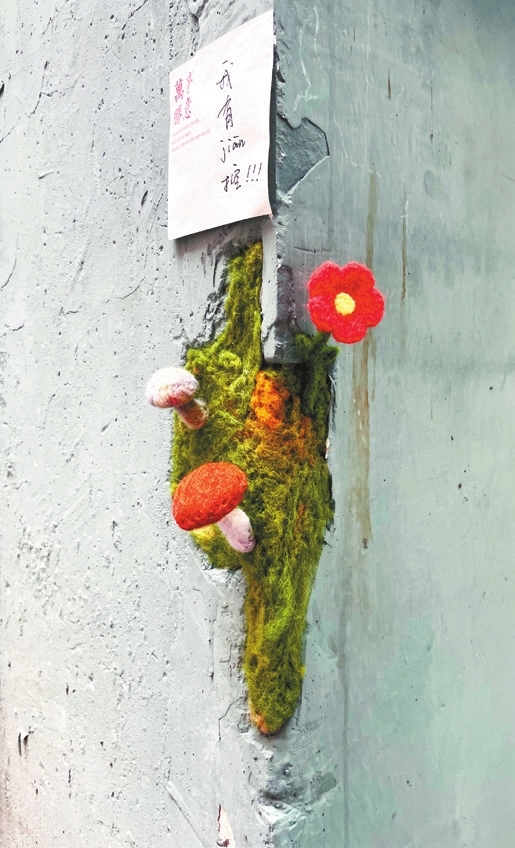 COLORFUL felt flowers have been "planted" at various street corners throughout Guangzhou by young local sculptor Luo Shengtian.
Starting as a graduation project, his efforts have now become a group activity in both China and Europe for people with one goal in mind: using art to better their local communities.
Luo, a graduate of the Guangzhou Academy of Fine Arts, started his felt flower project in April, but before that he had long thought about bringing art to the city and his community.
He said he always wanted to repair the city's "scars," such as damaged walls or cracks in stone stairs, using felt as a medium. "I wasn't really thinking about 'planting' flowers. My first plan was to repair broken walls and stones by using felt with matching colors and textures," Luo said.
Finally settling on flowers, Luo noted that these colorful felt plants are like a "beautiful warning" to people as they walk by, reminding pedestrians and vehicles to be wary of these potentially dangerous damaged street corners.
In one month's time, Luo "planted" more than 20 flowers in his local community, Nanting Village in Guangzhou's Panyu District. During this time, he quickly learned that some people had become interested in his art project.
Luo explained that after he shared photos of his projects on social media platforms such as Sina Weibo and lifestyle-sharing platform Xiaohongshu, he gathered more than 300 volunteers into a group on WeChat to spread their city repair mission all around the country to places such as Fuzhou, Beijing and Xinjiang Uygur Autonomous Region.
In Luo's WeChat group, he provides how-to guides and sends out toolkits so that volunteers can learn felting techniques. The group consists of young creators like himself as well as middle-aged people and senior citizens. While many of them have been living in their communities for a long time, most of them are joining such a creative project for the first time ever. They have been changing their decades of experience with the city.
"The meaning of the project is to bring art into people's everyday lives. Sculptures or other works of fine art are no longer just an idea in the air," Luo noted.
Following the expansion of the project, Luo decided to call it the "Flower Patching Project." Since then, it has spread to European cities such as Venice, Paris and also Birmingham in Britain.
Luo shared an interesting story in Venice, where one of his fans in the city "planted" a felt flower at a local art institute to see how people would react to the project. The flower was picked up by someone only a day after it made its public debut, but later three new ones were "planted" by a mysterious benefactor overnight.
"I think it is interesting and was touched by that. Such an artistic focus on our living environment seems to be shared by global creators," Luo said.
Graduating from the School of Sculpture and Public Art at the Guangzhou Academy of Fine Arts, Luo is not the only young creator in the city to focus on creatively updating people's everyday experiences to demonstrate younger generations' care and social responsibility.
Similar to Luo's project, designers and planners at the Guangzhou Planning Institute have launched a project called "Chairs of the City" to let community residents and designers renovate the benches and chairs in public spaces throughout Guangzhou's Liwan District.
The project particularly focuses on providing more comfortable yet creative resting spaces for the community's senior residents.
The project's works were inspired by detailed renovation recommendations from local senior residents. The works were then diversified by artists like Luo, who added interesting details such as felt decorations. They also held activities that got students to carve wooden chairs with the seniors.
"Rather than saying we are bringing people closer to art, it is more like we are sending art back to where it originated. Though I have seen that young artists in China are inclined to exploring futuristic engagements in art making, our lens and focus have never been divorced from what we see and experience in our ordinary lives. Giving art social value has become the goal of many young artists," said Xiao Yun, a 28-year-old new media artist whose works focus on the urban development in China.
(Global Times)