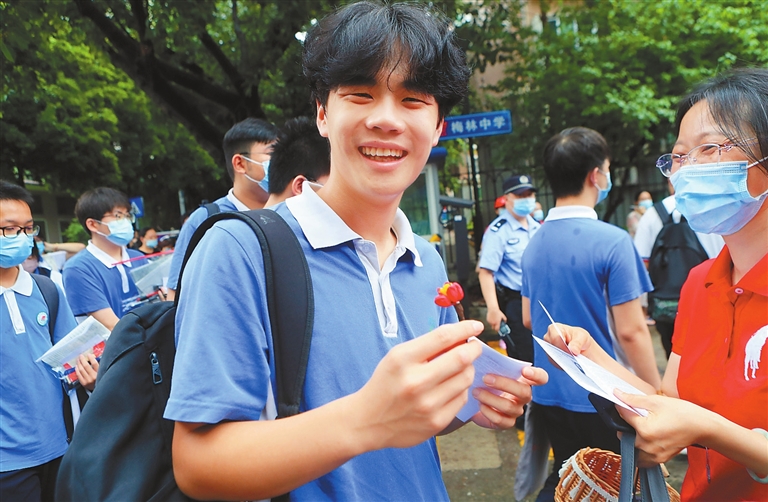 Wang Jingli, Huang Huiyu
wangjingli0715@163.com
RAIN or shine, parents are never absent from the scene to cheer on their children for the National College Entrance Examination (NCEE), also known as gaokao.
A total of 51,200 students in Shenzhen attended the first day of gaokao, which started yesterday and will last three days.
A mother surnamed Wu, who wore a traditional qipao, or cheongsam, was seen waiting under a large umbrella shed outside Shenzhen Middle School in Luohu District yesterday for her daughter, who was sitting for the first Chinese subject of the exam.
Wu said she had been waiting outside the test venue since the beginning of the test, adding that qipao shares a character that is used in the Chinese phrase "success at first attempt."
"I hope my daughter could achieve a good result at the first crossroad of her life."
Like Wu, other parents wore a tailored red face mask or held sunflower bouquets as a symbol to "win the first prize" to send their best wishes to gaokao examinees.
Wang Chili, a gaokao taker from Shenzhen Middle School, said although gaokao represents an end to her three-year senior high school life, she hoped the spirit of struggle will never end. "I would really miss my focused state of learning in the third year of senior high school," Wang said.
A female student surnamed Huang said the Chinese test was not very difficult, and because of her love for Chinese, she will consider majoring in the Chinese language and literature.
Another student surnamed Lin from Shenzhen Middle School said the Chinese test was very easy. He hoped he could get a good mark from the exam so that it will guarantee him a spot at a top university.
"I might choose engineering as my major because I have a strong practical ability," he said.
Most students interviewed by Shenzhen Daily said they were not affected by online classes due to COVID-19.
Lin said: "This is because for Grade 12 students, classes are not the most important thing. Instead, it is important to do more exercises and summarize knowledge learnt before and have a good mentality."
To minimize traffic's influence on the exam, 49 teams of 1,400 motor traffic police were dispatched to patrol roads around 49 test venues across the city. They aided 29 students who called for help yesterday.
In one case, Luohu traffic police escorted a student who was stuck in a traffic jam to the test venue in seven minutes.
Gaokao is deemed critical for social mobility and national talent selection in China. It is still widely regarded as the fairest and most effective selection approach.