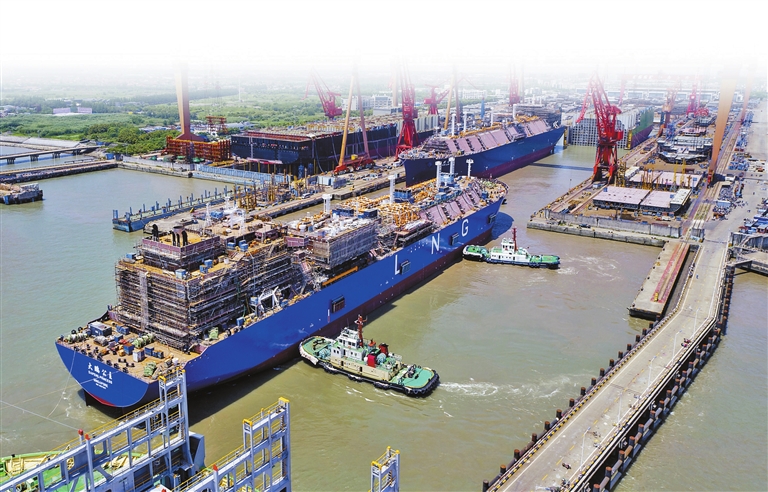 SHENZHEN Gas Group's first liquefied natural gas (LNG) vessel with a storage capacity of 80,000 cubic meters has recently taken shape, Shenzhen Economic Daily reported.
The ship, 239 meters long and 36 meters wide, was built by Hudong-Zhonghua Shipbuilding (Group) Co. Ltd., which began the ship's construction April 28, 2021. The vessel is expected to be delivered early next year.
The LNG ship is the first LNG carrier of a municipal State-owned enterprise in Shenzhen and the world's largest shallow draft LNG carrier, according to the Daily.
After the vessel is put into service, it is expected to effectively alleviate the city's natural gas transportation capacity shortage while further improving the flexibility, diversity and controllability of Shenzhen Gas in terms of LNG procurement worldwide.
Separately, construction on Shenzhen's largest and most advanced maritime law enforcement vessel started in Guangzhou on Thursday, according to a Shenzhen Special Zone Daily report.
The 3,000-ton vessel, with a construction period of about 18 months, was invested by the Shenzhen Municipal Government, designed by the China Ship Research Design Center and built by CSSC Huangpu Wenchong Shipbuilding Co. Ltd.
Measuring 115 meters long, 15 meters wide and 4.2 meters in draft, the vessel is propelled alternately by diesel and electricity, equipped with satellite navigation, ship-borne helicopter, as well as law enforcement and evidence collection equipment. It is both an intelligent and an eco-friendly ship.
The vessel is one of Shenzhen's key projects to promote the construction of a global marine center, playing a key role in improving the modernization of the city's maritime law enforcement equipment, safeguarding national maritime rights, and protecting marine resources and ecological environment.
(Zhang Yu)