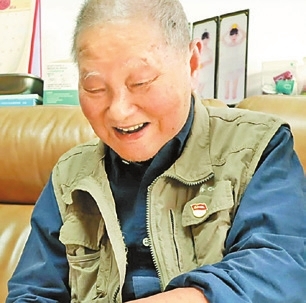 AN 88-year-old veteran delightfully chatted with his visitors at home in Tangtou Community in Bao'an District recently, showing no evidence of suffering from cancer.
When the elderly Sun Xitao was diagnosed with cancer in 2020, he signed for body donation with the Red Cross Society of China Shenzhen Branch. This was his fourth time to apply for organ donation, Shenzhen Evening News reported.
Sun was born in the city of Jiujiang, Jiangxi Province in 1934. After Sun finished his seven-year military service in 1959, he worked for a machine tool factory in the city of Wuhan, Hubei Province for over 40 years.
In the 1980s, Sun started to consider being an organ donor.
"The news of a severely ill patient regaining his [or her] life due to organ transplantation left a profound impression on me. I felt astonished and surprised," Sun recalled.
Once when Sun was sick and hospitalized in Wuhan, he applied for organ donation. However, his first application was denied. "The hospital president told me that I was the first person to submit an organ donation application. At that time, there was no policy regulating such donation and no designated hospital to accept the proposal," Sun said.
When Shenzhen released China's first regulations on organ donation in 2003, Sun quickly responded to become part of the first batch of applicants. And he filed his third application soon after Wuhan followed suit with the regulations in 2004.
Then in October 2020, after Sun got diagnosed with cancer, he promptly contacted the Red Cross Society of China Shenzhen Branch for his fourth application.
"The elder gentlemen signed the registration form to donate his corneas and body," said Gao Min, an organ donation coordinator from the society's Shenzhen branch. "He told me that even if his organs have no medical treatment value, the tumors in his body and his body as a whole can be used for pathology research," Gao added.
"I'm deeply touched by Sun, as he passes on the invaluable spirit of dedication," Gao said.
Gao introduced that an organ donor is usually aged 65 and under, while there is no age limit to become a body donor.
"My family and my doctors have agreed with my arrangement," Sun said. "I hope my body, including skin and tissues, can be fully used," he added.
Also, Sun donated 30,000 yuan (US$4,454) to the society's Shenzhen branch to support organ donation work.
(Chen Siqi)