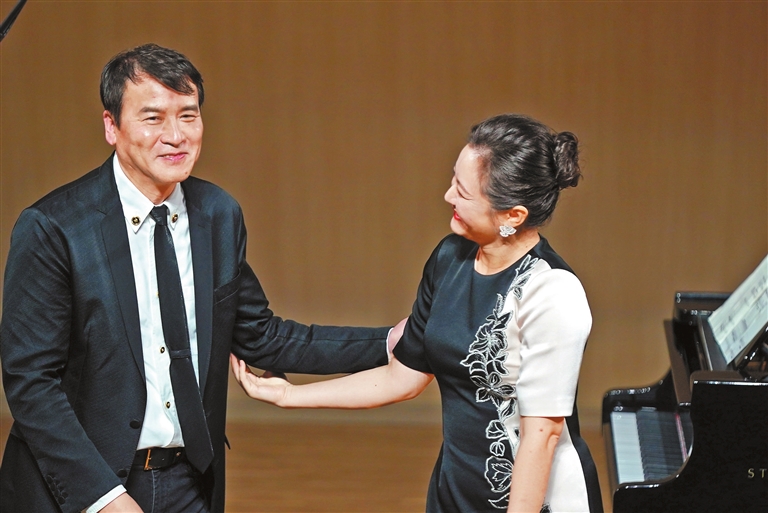 Chen Xiaochun
654789759@qq.com
THE School of Music of The Chinese University of Hong Kong, Shenzhen (CUHK-Shenzhen) held a chamber concert themed "Summer Journey" at the concert hall of Longgang Cultural Center on Sunday night.
The school's all-star faculty including Chan Wing-Wah, Jin Zhenhong, Yuan Fang, Zhu Huiling, Zhang Jingye and Zhu Yiping together presented a music extravaganza to audiences at the concert hall and online through livestreaming.
The concert was supported by the publicity department of the Longgang District Government and organized by the School of Music and Longgang's culture authority. Ye Xiaogang, founding dean of the School of Music, served as the concert's art director.
As the School of Music's second public concert, it was rich in genres and presentations, ranging from Western classics to original Chinese music, and from instrumental solos to repertoire and vocal solos.
The concert started with "Fratres for Violin and Piano" by Arvo Pärt, performed by Zhang, a renowned violinist and professor at the School of Music, and pianist Feng Xiaolin, a freshman at the School of Music.
One highlight of the concert was the premiere of "Falling Flowers for Piano" performed by Yuan, a renowned pianist and professor at the School of Music. The work, composed by Ye, is a delicate piece embedded with Guangdong musical styles.