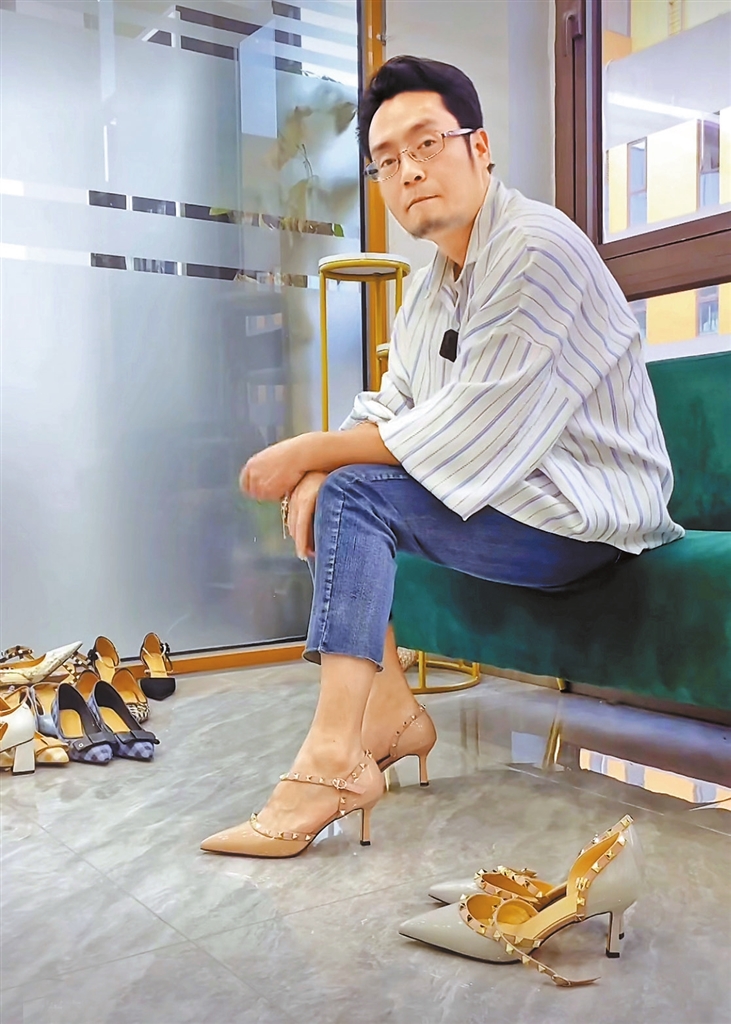 A CHINESE shoe businessman in Chengdu, Sichuan Province, who livestreams reviews of women's shoes on social media by modeling high heels on his feet, saw a total sales revenue of 120 million yuan (US$17.89 million) from his online stores last year, Jiemian.com reported.
With "Uncle Wu in High Heels" as his stores' name, Wu Nan posts an average of 10 short videos a day on his social media accounts on Xiaohongshu and WeChat Channels and on his stores on Taobao and Tmall. Since the annual June 18 shopping spree is approaching, Wu's daily short video posts have recently been increased to 30 a day.
Wu, in his 40s, usually wears ankle jeans with women's high heels while livestreaming, since he believes cropped ankle pants go best with high heels. In the videos, Wu, who is 1.7 meters tall, shows off his slim ankles by pairing shorter jeans with various pairs of elegant women's high heels. "Flesh-colored high heels are the most obvious way to make your legs look long and lean," he said during a livestreaming. Then an internet user left a comment, saying "This man wearing high heels looks more attractive than women, which prompts me to buy the shoes."
Wu said he spends seven hours a day shooting short videos of him modeling high heels. He normally sits on a sofa to show the shoes, and sometimes walks on a treadmill to create a dynamic effect in the videos.
His inspiration for modeling women's shoes came from a young male blogger who posted a video of wearing high heels that gained 40,000 followers overnight. Wu then tried on a pair in his factory the next day and his colleagues wowed.
In early 2020, Wu began to post videos on Douyin, and his first livestreaming helped him sell 400 pairs of shoes. During the past two years, every time he tried on a pair of shoes, he would share his feelings and suggestions to designers in his factory. Now Wu is confident that he has enough expertise to recommend women's shoes and help his followers buy the most suitable ones.
A computer science major, Wu used to be a salesman for five years after graduation. He began doing women's shoe business in Chengdu in 2008, and thanks to the thriving e-commerce industry in China, his online store topped Taobao's shop list in 2012. But in 2015, he experienced a business slump and almost closed his store. After pouring much capital into advertising on Mogujie, a Hangzhou-based social media and e-commerce platform specializing in fashion products and services, Wu ran into 5-million-yuan in debt in 2017.
In 2018, Wu closed his shoe business and began to sell snacks and cosmetics on WeChat Moments but his lack of knowledge of the snack business made him lose another 600,000 yuan.
His opportunity came in 2019 when he heard that sending virtual gifts to influencers on Douyin and Kuaishou could help increase online store's followers. Using mortgage loans borrowed against his apartments' value, he gradually resumed his women's shoe business.
Male-to-female crossdressing is not new in livestreaming e-commerce but depending solely on it normally will not sustain business growth. In an interview with Global Entrepreneur, Wu said his key to success includes sticking to do his familiar business (women's shoes) and utilizing the trendiest business models (for now, short videos and livestreaming). He now has a team of assistants working on short-video making and analyzing social media platforms. (Cao Zhen)