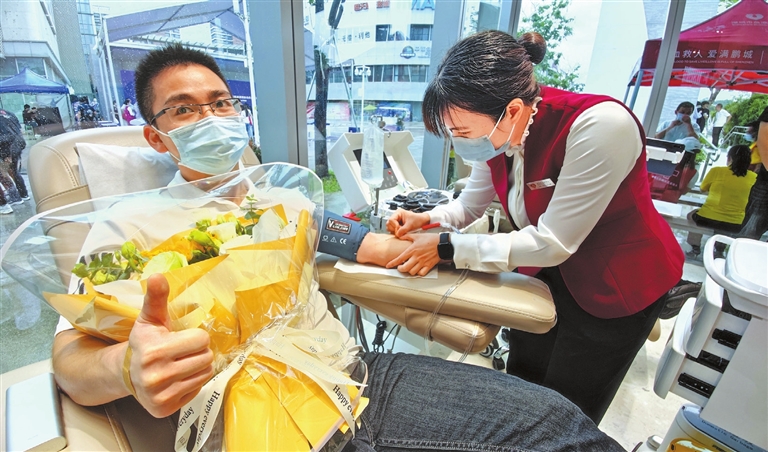 Zhang Yu
JeniZhang13@163.com
MISSION Hills blood station, a new blood station located near the Mission Hills Metro Station in Longhua District, started offering services yesterday, the 19th World Blood Donor Day (WBDD).
The blood station, featuring a modern glass house design, has adopted smart technologies such as a private 5G network, facial recognition, e-signature and paperless information to provide residents with more convenient whole blood and platelet donation services, according to the Shenzhen Blood Center.
It also utilizes intelligent infrared imaging systems to help collect blood from donors during the venipuncture process, making it the first in the country to do so, the center said.
A resident surnamed Xie was one of the blood donors who specifically came to the station yesterday. "I took the subway for about an hour to come here today," Xie told Shenzhen Daily. Xie, a frequent blood donor, has donated blood for 182 times.
Another blood donor named Ma Weixian particularly scheduled a blood donation on WBDD after learning that the blood station would be opened yesterday.
"It means a lot to me [to donate blood today]. I came here from the Changhu Metro Station, which is only three Metro stations away," Ma said.
Ma claimed to have donated blood 86 times. He usually donates platelets once a month because a platelet donation requires a shorter time interval than a whole blood donation.
A resident surnamed Liu who works near the new blood station donated her blood at the station for the first time yesterday.
"I think that donating blood on World Blood Donor Day is very meaningful. So, I came here, and it was very convenient for me," Liu said, adding that the newly opened blood station is nice and cozy.
Liu also said it is good to see blood donations happening in communities and near large commercial centers, because it is more convenient for residents and it is easier for them to come at any time.
WBDD, which falls on June 14 every year, is aimed at raising awareness about voluntary blood donations and the vital role that blood donors play in saving lives. The slogan for this year's commemoration is "Donating blood is an act of solidarity. Join the effort and save lives."
The slogan in Chinese was displayed on the city's major landmarks between 7 p.m. and 9 p.m. Friday, Saturday and yesterday to extend festival greetings to all blood donors, volunteers and relevant medical workers.
According to the Shenzhen Blood Center, as of this June, the city has recorded over 5 million blood donations since 1993, with over 1,000 tons of blood donated, which helped patients upwards of 1.7 million times.