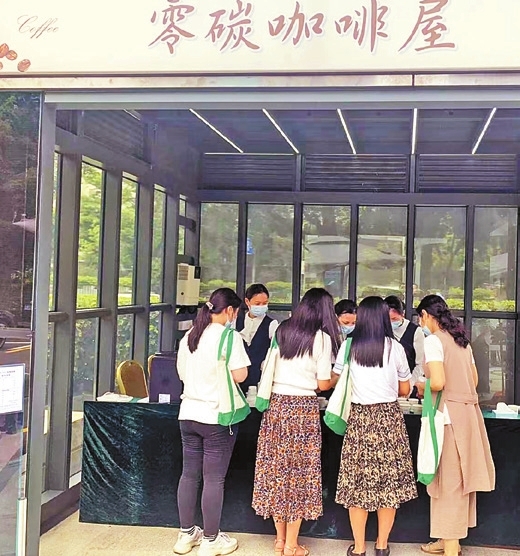 SHENZHEN'S first carbon-free coffee shop was set up in the CPC Futian District Committee Building on Monday during a weeklong district-wide campaign publicizing public institutions' energy conservation efforts, Shenzhen Evening News reported.
A cup of zero-carbon coffee is made through solar power, bringing the taste of sunshine to customers, the News report said. The cafe is also equipped with solar-powered chairs, where people can use Wi-Fi, charge cell phones, and listen to music and other live broadcasts.
The publicity campaign also includes quizzes regarding energy conservation knowledge, while providing people opportunities to calculate their own carbon footprint. A model of Antuo Hill Base, an almost zero-emission industrial park with PEDF (solar photovoltaic, energy storage, direct current, and flexibility) technologies, new-energy vehicles and photovoltaic products were shown at the event.
In another part of the campaign, Futian authorities issued a guideline for public institutions to save energy and formed the city's first team to promote carbon peak and carbon neutrality goals and call on residents to lead a low-carbon lifestyle.
In 2021, a total of six projects in Futian, the most in the city, were selected as Shenzhen's first batch of almost zero-emission pilot projects. This year, the district is concentrating on fostering 18 more projects, aiming at establishing its public institutions as an exemplary low-carbon building cluster in the country.
(Xia Yuanjie)