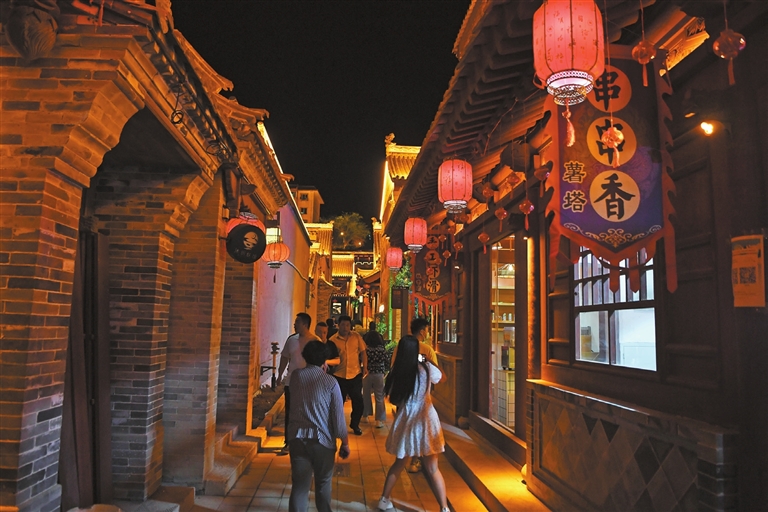 SIPPING coffee in an ancient courtyard and basking under the shade of age-old trees — residents of Tianshui City in Northwest China's Gansu Province are happy that their ancient dwellings have undergone renovations.
With a history of more than 2,700 years, Tianshui is home to a range of residential houses built in the Ming (1368-1644) and Qing (1644-1911) dynasties. Zhao Changrong, 74, is among the many locals who have fond memories of these ancient buildings.
"The residences feature a combination of north and south Chinese architecture styles, known for their intricately carved flowers," said Zhao, former deputy head of Tianshui Yuquanguan cultural relic protection institute, who has devoted himself to the protection of these buildings for more than 30 years.
"The wooden buildings and the floral-pendant gates, which separate the first and second courtyards in traditional Chinese residences, are my favorites among all the unique features," Zhao said.
However, due to the erosion of wind and rain for hundreds of years, most of the ancient dwellings, with their civil engineering structures, have gradually become dilapidated with collapsed walls and rotten columns.
To carry out systematic protection and restoration work, Zhao and six other experts formed an investigation team in 2003 with help from local authorities. They launched three censuses of citywide ancient dwellings and identified 143 residences from Ming and Qing dynasties within the city proper, explained Fu Jianhong, head of the municipal historical and cultural relics protection center.
In 2018, Tianshui launched a comprehensive renovation project of ancient residences in Qinzhou, one of the districts with the largest numbers of ancient dwellings. The project aims to build a Tianshui ancient town, a block with historical buildings, to better preserve history and the city's cultural heritage. Zhao was reemployed as an advisor of the project after retirement.
The project has adopted a principle of minimal intervention, striving to restore the original state of the houses with the least changes. "Only by maintaining the original features can the ancient residence retain its lasting charm," Zhao said.
"The first phase of the project has been completed now, and a total of 29 courtyards have been renovated. Leisure activities such as performances have also been introduced into the town," said Chen Miao, deputy head of the tourist service department of Tianshui ancient town.
Chen noted that the ancient town has received 2 million visitors since its inauguration last June.
Zhao Li, who works at Zhao's Old House in the town, has been quite busy lately, serving customers pizza, pasta and other dishes.
"Opening a Western restaurant in this ancient courtyard was a successful attempt. This fusion of Chinese and Western elements has become extremely popular, especially among the young," she said.(Xinhua)