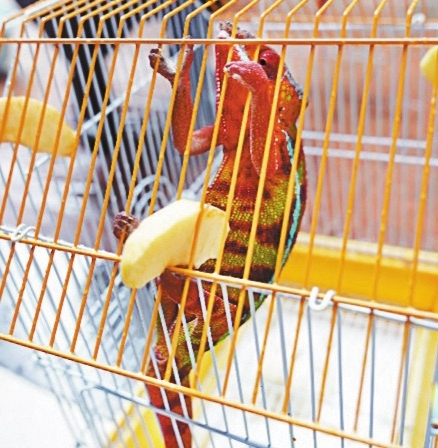 RESIDENTS of a housing estate in Futian District rescued a veiled chameleon, which is under State protection, Tuesday. The animal has been sent to the Shenzhen Wildlife Rescue Center for further treatment, Southern Metropolis Daily reported.
Several residents spotted the little animal in the greenery inside the Hongjingwan Mingyuan housing compound in Jinbi Community recently. On Monday, property management staffers and residents rescued the animal after confirming with Shenzhen Wildlife Rescue Center that it might be a veiled chameleon.
The chameleon moved slowly in the greenery, but it was scared and tried to flee when people approached. "We put it into a paper box and then transferred it into a ventilated cage," said a resident surnamed Ma, who is one of the rescuers.
Residents prepared mealworms and water for the chameleon for its temporary one-night stay in the housing compound's property management office and waited for the center staffers to pick it up the next day.
The adorable creature, which is primary green and has mottling on its skin of a variety of different colors, was in red, yellow, blue and green at that time. It attracted many children in the compound to have a look.
The chameleon's health is good and is now fed by the center staffers. The creature, however, still cannot be released back into nature in the near future because it is a probable exotic species that may disturb biodiversity in the wild, according to Xu Jianyong, a staffer from the center. "It is very likely a veiled chameleon, but we have to wait for the accurate identification from the authority," he said, adding that "we provide it an environment like the wild."
Based on previous cases, Xu speculated that this creature might be abandoned by or escaped from an individual, adding that "it is not aggressive and feeds on insects and leaves."
However, it is prohibited to trade and keep a veiled chameleon because it is a level-2 State protected animal and the species is listed on the Convention on International Trade in Endangered Species of Wild Fauna and Flora (CITES).
Xu reminded citizens if they encounter wildlife they suspect is a national protected animal, they must report to the police or firefighting team or call the center's hotline at 2373-7770.
(Chen Siqi)