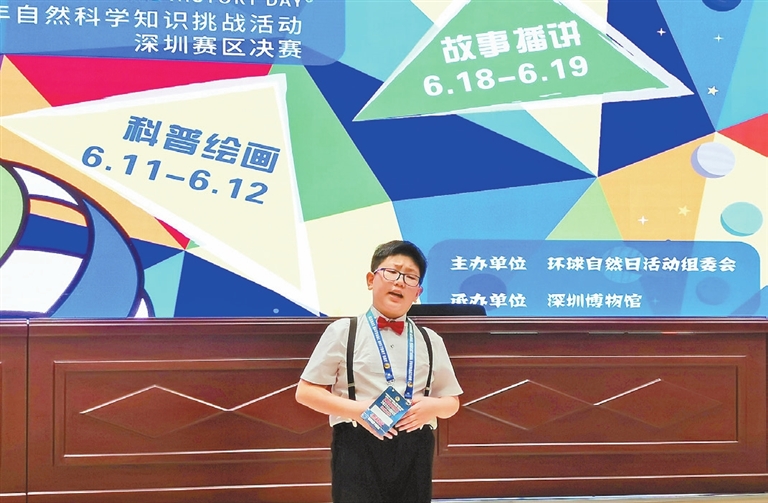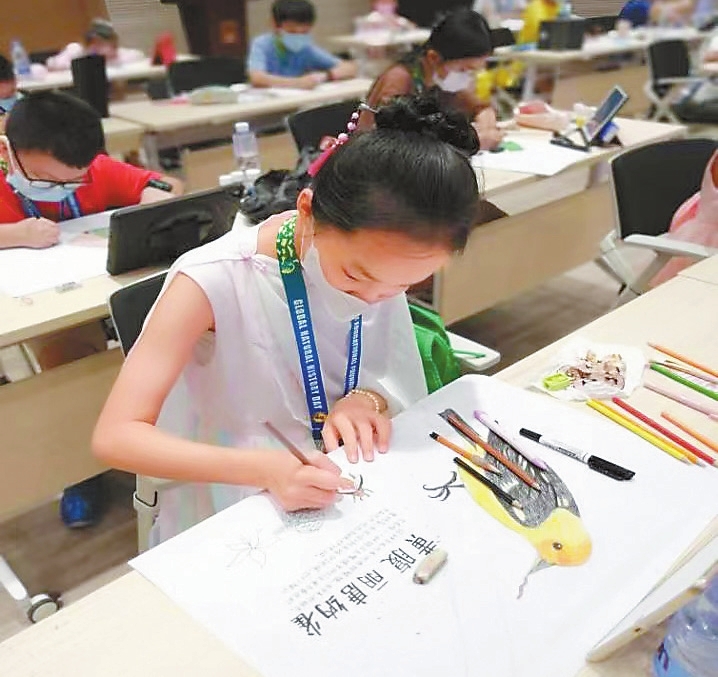 Cao Zhen
caozhen0806@126.com
SHENZHEN primary school students presented their rich knowledge in natural science at the final of the Global Natural History Day (GNHD) Shenzhen regional contest held over the past weekend at Shenzhen Museum's ancient art outlet in Futian District.
With "Natural Evolution — Tiny and Processive" as this year's GNHD theme, the Shenzhen regional contest included popular science paintings, Chinese and English science storytelling and scientific presentations by children from aged 4 to Grade 6. Twenty teams of contestants were selected from 287 teams in Shenzhen on Sunday and will join the online global finals in August.
Over the past weekend, more than 50 students told stories on nature, wildlife, conservation, the environment and more. A panel of three judges questioned and discussed with the students about the natural phenomena and scientific knowledge based on their story topics.
When a student finished telling a story about wind, judge Xu Hualin from Neilingding Futian National Nature Reserve asked the student about wind propulsion work on ships, while judge Huang Zongxi from Shenzhen Museum told the student that wind energy is a clean source of energy that can generate electricity.
Although many students were younger than 12 years old, they showed their vast knowledge acquired from reading books and visiting museums. "I learned from an encyclopedia that orchid mantises, which look like flowers, have insane camouflage and it's not easy to spot them. Nature is such a miracle," said a student named Yu Jinhui.
The student also said he liked jellyfish because "they are beautiful but poisonous. This toxicity is a smart way for them to protect themselves. Their toxin is essentially a protein, not the same as the poison of chemicals."
When judge Wang Xiaochen from Shenzhen Museum asked a student about rhinoceros, the student not only named some species but also said rhinoceros horns comprise keratinized fibers, the same ones in fingernails or hair.
The painting section held June 11-12 encouraged children to get close to nature and sense the beauty of nature. In this section, the contestants combined the art of painting with natural science knowledge to create a series of vivid and beautiful paintings with informative texts.
The GNHD is a natural science extracurricular education activity initiated by Kenneth. E. Behring, the founder of Behring Global Educational Foundation. Since 2013, the Shenzhen Museum has organized 10 regional contests, in which local students not only learn natural science knowledge but also gain experience in individual work and team work.