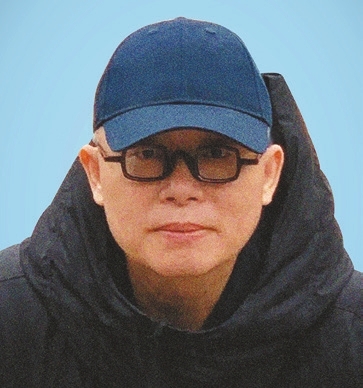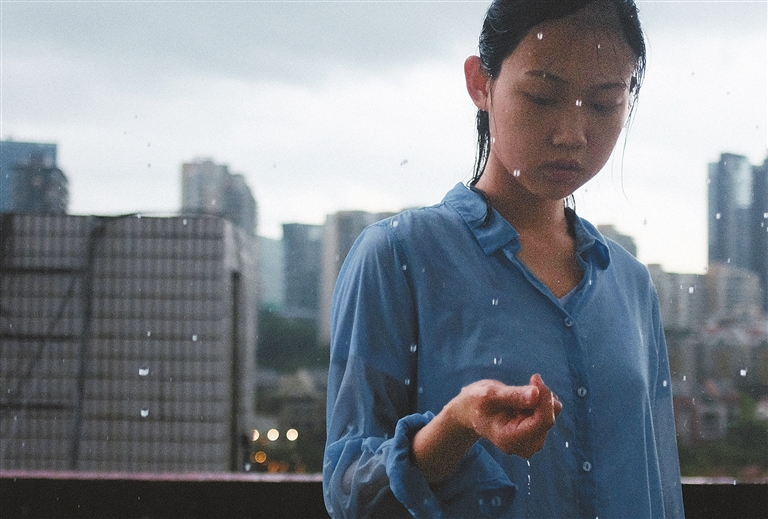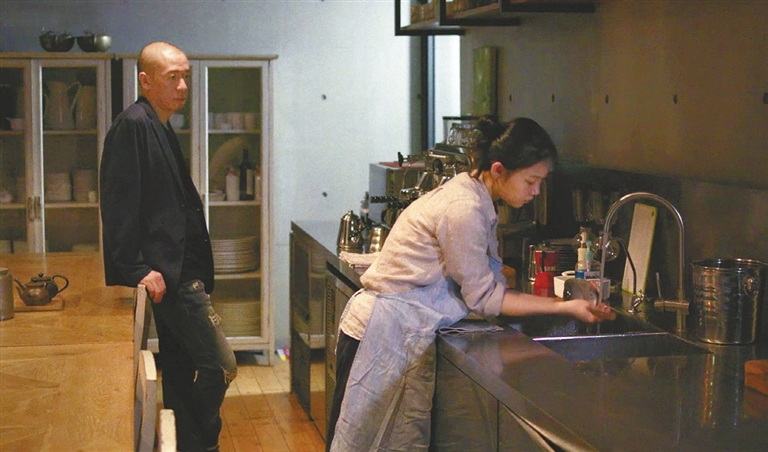 Cao Zhen
caozhen0806@126.com
SITTING outside GEE Coffee Roasters in OCT-LOFT while drinking a glass of iced Americano, Shenzhen film director Gao Ming suddenly heard a loud male voice from afar. He saw a man was talking with his mobile phone in an unidentifiable dialect while driving a pickup which roared by. Gao then told Shenzhen Daily, "I would like to capture this scene with my camera and it will be a great shot."
Recording scenes of ordinary people in Shenzhen is one of Gao's habits. The designer-turned-director has won critical acclaim for his documentary "Paigu" (2005) which centers on a young DVD vendor named Paigu in Shenzhen. Now Gao is bringing his first feature-length film, "Damp Season," to be screened in China starting this Friday.
Written by Gao and Liu Bing, "Damp Season" follows a relationship between young florist Du Juan (Chen Xuanyu) and security guard Xiaodong (Huang Yucong), set in a humid early summer in Shenzhen. The two, however, are drawn to different people: Xiaodong has feelings for a dancer (Phoebe Lin) who regularly sets fish free by the lake that he supervises and Du is attracted to a middle-aged man (Liang Long) for whose house she delivers flowers.
In the film, Gao uses a large number of symbols for his visual expression, such as water, fish and rain, to show that the four main characters seem to be trapped in a rainy season and are seeking exits. Some abrupt shifts to dream sequences and a fantasy scene shot in Baishizhou at the end of the film also add a unique charm to the film.
"In this rapidly developing city, many people are trapped in desires and I would like to depict a powerless state of wishing to fly but being constrained," said Gao. "In the damp season, the humid air condenses into water droplets, as though everything is weeping. People feel uncomfortable in this weather and the humid and sticky feeling is like the ambiguity in human relations or a depressed mood," he added.
A fine arts major, Gao moved from Jiangxi Province to Shenzhen in 1996 and co-founded Brother Design with Liu Chao in 2001, with credits that include the 2011 Shenzhen Universiade emblem design and the image designs of the 2017 International Botanical Congress and the GBA 2019 Shenzhen Flower Show.
He said there was a time in 2015 when he was in low spirits, so he went fishing regularly in Xiangmihu, where there was a lake and a discarded amusement park surrounded by skyscrapers. "I felt the sky was like a glass cover and I was like a fish trapped in a fishbowl. I was looking for an exit but couldn't get out. I doubted about my past experiences and a desire for writing was triggered. Later I projected my feelings into this film," said Gao.
In "Damp Season," Shenzheners could see familiar places, like Xiangmihu, Baishizhou, OCT-LOFT and Nantou Ancient Town. "When I went fishing, the vast emptiness around the lake in Xiangmihu gave me a magical sense," said Gao. "Baishizhou, a typical urban village in Shenzhen, bears unforgettable memories for many migrant workers."
"We lived in Baishizhou for a month to experience life there," said actor Huang. "I strolled and rode an e-bike in the urban village every day. There were neither air-conditioners nor hot water in my apartment, which was a torture, and after a month, I was in the mood of the character and performed naturally in the film," he said.
"The director let us get used to the harsh living condition to accumulate various emotions. Although the film concentrates much on mood, behind every scene, there's a complete psychical process," said actress Chen.
As a low-cost arthouse film, "Damp Season" has participated in the financing forum of the FIRST International Film Festival in Xining and in the WIP (work-in-progress) in Beijing International Film Festival and Pingyao International Film Festival.
The film was also supervised by Pema Tseden and Geng Jun, who gave Gao advice on script and film editing. "They used their expertise to help me express smoothly in the film. Plot takes a backseat in this arthouse film, and how to connect a sequence of moods and atmospheres to develop into a film was not easy," said Gao.
He added that during filming and editing, he sometimes was not satisfied with his work and such moments were very painful. "I revised a lot. Now I'm satisfied with the gloomy atmosphere I created in the film which interweaves discomfort and tension among the characters," said Gao.
The film got its world premiere at the International Film Festival Rotterdam (IFFR) in the Netherlands in January 2020 and won the grand prize in the International Competition category of the 21st Jeonju International Film Festival in South Korea in June 2020. In that year, French company Sonata Films Distribution acquired the rights for the film in French-speaking regions, including France, Belgium, Switzerland and Luxembourg.
The IFFR commented that "there has already talk of a 'Southern Wave,' as one remarkable film after another, from 'Long Day's Journey Into Night' to 'Dwelling in the Fuchun Mountains,' emerges from the subtropical South China."
"Films by directors from South China, from places such as Guizhou, Guangzhou, Shenzhen and even Hangzhou, have in recent years been labeled as the 'Southern Wave.' I think these films are like auteur films; they are personal and zero in on psychological activities," said Gao. "Films by Bi Gan from Guizhou, Gu Xiaogang from Hangzhou or Yang Heng from Hunan, have the typical 'South China style' and the directors projected their hidden feelings or experiences into the films."
Due to the pandemic, the release of "Damp Season" in China had been postponed three times in the past two years. This arthouse film without exciting narratives while capturing a totalizing mood of muted anxiety and pervasive disappointment may also face challenges from the general audience when it hits the big screen.
"To support arthouse films in China, the National Alliance of Arthouse Cinemas and some distribution companies have been devoted to arthouse film screenings in recent years; some cinemas also organize limited screenings in advance of public showings. We can see more and more Chinese are interested in arthouse films," said Gao.
"I like auteur films and arthouse films. In the future, my lens will still focus on ordinary people," said the director, who always carries a camera or a phone to record scenes in Shenzhen.
Gao reveals that he has written several feature-length film scripts lately and also finished the sequel to the documentary "Paigu." "Paigu doesn't sell DVDs anymore but is now doing a clothes business. This middle-aged man has got what he wanted but is experiencing midlife confusion. He was free but not rich when he was young; now he is rich but not free. This ordinary Shenzhener is well worth being focused in my documentaries," said Gao.
"I love Shenzhen and will continue to shoot Shenzhen stories. You can see Rome in Italian Neorealism films, Paris in French New Wave films and Tokyo in Japanese Neorealism films; you see traces left by people at that time in those films and we are touched by their pleasure, anger, sorrow and joy. So what are Shenzheners' emotions? I'd like to film Shenzhen in my eyes," he said.