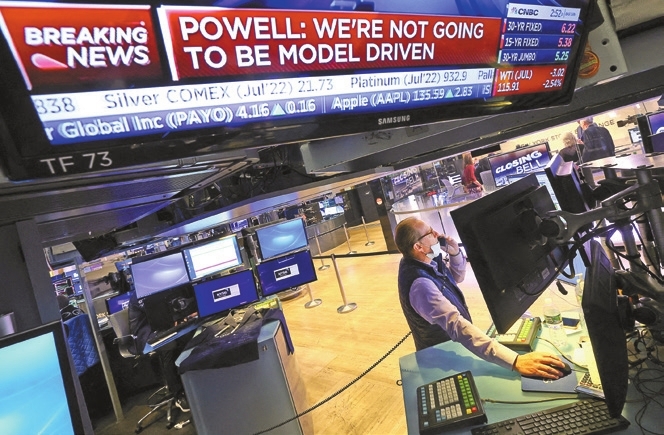 ELEVATED inflation and concerns over a more hawkish Federal Reserve have sent U.S. equities into a tailspin, leaving behind another dreadful week for the three major averages.
Analysts warned of a bumpy road ahead as an aggressive Fed policy, slower economic growth and higher risks will likely pressure stocks.
For the trading week ending Friday, the S&P 500 shed 5.8%, booking its worst week since March 2020. The Dow fell 4.8%, seeing its biggest weekly percentage decline since October 2020. The tech-heavy Nasdaq also lost 4.8%.
The U.S. stock market met popular criteria for a bear market during last week as the latest slides brought the S&P 500 to drop more than 20% from its record close in January.
The market carnage came amid growing fears that drastic rate hikes may trigger a recession.
"The Fed's message seems clear: It is solely focused on containing inflation, and it is willing to harm growth to do it," Jacob Manoukian, U.S. head of Investment Strategy for J.P. Morgan Private Bank & Wealth Management, said Friday in an analysis.
"Many investors are now assuming that a recession is necessary to cure the inflation problem," he said.
The aggressive Fed action raised concerns that "they may reduce demand so much to where we fall into a recession," said Kevin Matras, executive vice president at Zacks Investment Research.
Goldman Sachs' June Marquee QuickPoll survey showed that investors expect the U.S. economy to enter a recession sooner, with 72% of respondents expecting a recession in 2022 or 2023, up from 66% last month. The survey also found that a growing number of investors expect inflation to remain elevated for longer. There were already mounting signs of a loss of growth momentum in the U.S. economy. Data released last Wednesday showed U.S. retail sales in May falling for the first time in five months as consumers cut back on purchases of electronics and cars. The housing market, the U.S. economy's most interest-rate-sensitive sector, is cooling, with U.S. housing starts plunging 14.4% last month to a 13-month low.
Lisa Shalett, chief investment officer at Morgan Stanley Wealth Management, cautioned that investors should be prepared for a "profits recession," as "weaker earnings — and more volatility — may be ahead."
"The Fed is still accelerating its rate hikes, and it has only just begun to shrink its balance sheet. The next phase of market adjustment will likely be a reckoning with the impact of higher rates and lower liquidity on the economy and company earnings," she said.
In a report published last week, UBS analysts lowered their December 2022 S&P 500 target price from 4,300 to 3,900, noting stronger headwinds for U.S. equities.
"In our downside scenario, we would expect the S&P 500 to reach 3,300," representing a 31% drawdown from the market peak earlier this year, the analysts said, adding, "currently, our economists still believe a soft landing is the most likely outcome for the economy." (Xinhua)