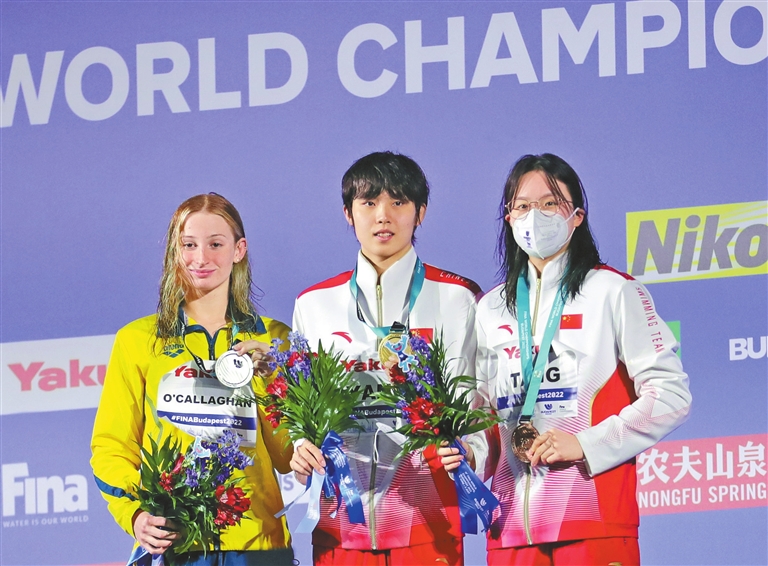 Wang Jingli
wangjingli0715@163.com
CHINESE swimmers Yang Junxuan and Tang Muhan from Shenzhen University (SZU) dominated the women's 200m freestyle at the 19th FINA World Championships held in Budapest, capital of Hungary, on Tuesday.
Yang stormed to gold in the women's 200m freestyle final with a time of 1:54:92 and Tang won bronze with 1:56:25.
Yang's victory also marked China swimming team's first gold medal at the 19th FINA World Championships.
Zhang Xiaohong, vice president of SZU, sent Yang and Tang a message prior to the competition, wishing them good luck. "No one can win forever in the arena. We could, however, at least be our own champion. Stay strong and confident, and do your best with the most determined mindset," Zhang said in the message.
Yang and Tang appreciated SZU's care and support and said it made them more motivated to compete in the event.
"Some top swimmers in the 200m freestyle were not coming to compete in the event this time, which gave me this opportunity to win," Yang told Xinhua after her victory.
"Before I came to Budapest, I was not feeling good. I tried to make myself fit and motivated myself to regain confidence. It worked out and it's a wonderful experience," she added.
SZU sent a congratulation letter yesterday to its seven students who represented China's swimming team to compete at the 19th FINA World Championships.
More good news came out of the FINA World Championships on Tuesday. Team China, including twin sisters Wang Liuyi and Wang Qianyi from Shenzhen, clinched the women's team technical artistic swimming for the first time, scoring 94.7202 in the finals against 12 teams.
"This is a historic moment. We've never won the team technical gold in a FINA World Championships before. This is definitely a big breakthrough since China's artistic swimming team was founded in 1983," head coach Zhang Xiaohuan told Xinhua following the victory.
Wang Liuyi and Wang Qianyi both said they felt very excited and hoped to repay their family, coaches and friends who had supported them with the gold medals.