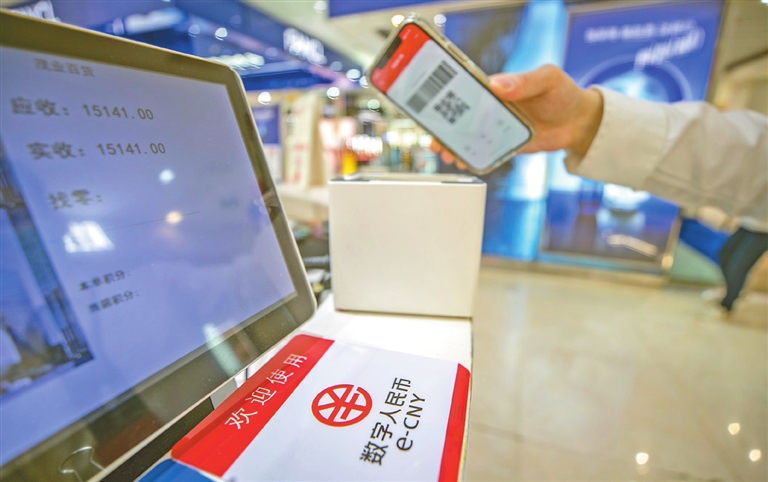 WHEN consumers in some big cities like Beijing and Guangzhou open the mobile app of online food delivery platform Meituan, an enticing digital red packet would be on offer.
Besides being a spending incentive, the coupons serve as invitations to try the platform's new payment choice: China's digital yuan.
Worth 40 yuan (US$6) in total, the coupons are in the form of digital fiat currency, or the e-CNY, which can be used once users open an official e-CNY account. The e-CNY coupons could foot the bill for take-away food, movie tickets and other life services on Meituan.
Rolled out across the board in January, the e-CNY payment service on the platform had attracted some 6 million users by June 20.
With the support from internet platforms like Meituan, usage of the e-CNY has been expanding fast since it started pilot projects in 2019.
Data from the country's central bank, also the designer of the e-CNY, showed that by the end of 2021, the e-CNY had over 8 million application scenarios, with more than 260 million individual digital yuan wallets opened.
A number of applications have taken shape in wholesale and retail, catering, tourism and payment of administrative fees, which cover both online and offline scenarios and can be replicated and promoted, the central bank said in a statement earlier this year.
Consumption scenarios have been the primary test ground of the digital yuan. Many Chinese cities have leveraged e-CNY coupons to invigorate local consumer spending after COVID-19 outbreaks snarled consumption.
In the mid-year shopping festival known as "618" that last for weeks, users spent a total of about 400 million yuan with the e-CNY on e-commerce platform JD.com, more than 19 times the sum of the same period one year ago.
As more users embrace the novel digital payment, China's digital yuan has expanded its footprint in other fields.
To extend the digital yuan's usage in financial services, China Construction Bank has recently allowed its mobile app users in pilot regions to buy wealth management products with the e-CNY.
Residents in Shenzhen, one of the first batch of e-CNY pilot cities, can pay for housing provident funds with the digital yuan. Xiong'an New Area in northern China's Hebei Province, also a pioneer region in the e-CNY pilot, issued subsidies to the e-CNY wallets of some village medical workers.
An ecosystem for the promotion of the digital yuan is in the making, said Dong Ximiao, chief researcher with Merchants Union Consumer Finance Co.
Commercial banks, internet platforms and local governments in pilot regions can play bigger roles in pushing for more real-life usage of the e-CNY, said Dong.
The central bank has been stressing the improvement of payment security and risk control in promoting the e-CNY, calling for a balance between privacy protection and crime prevention. (Xinhua)