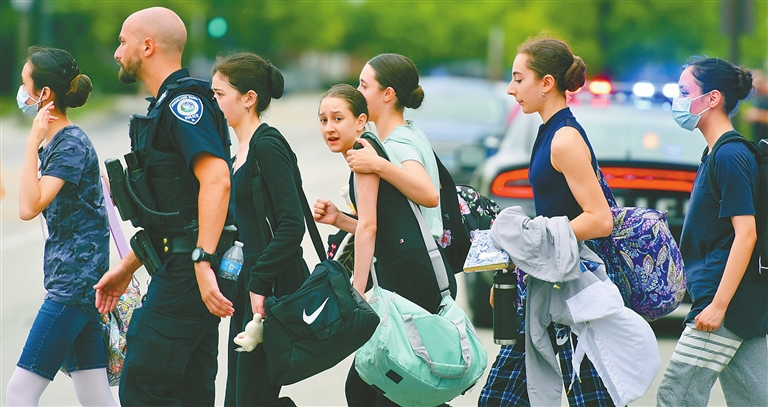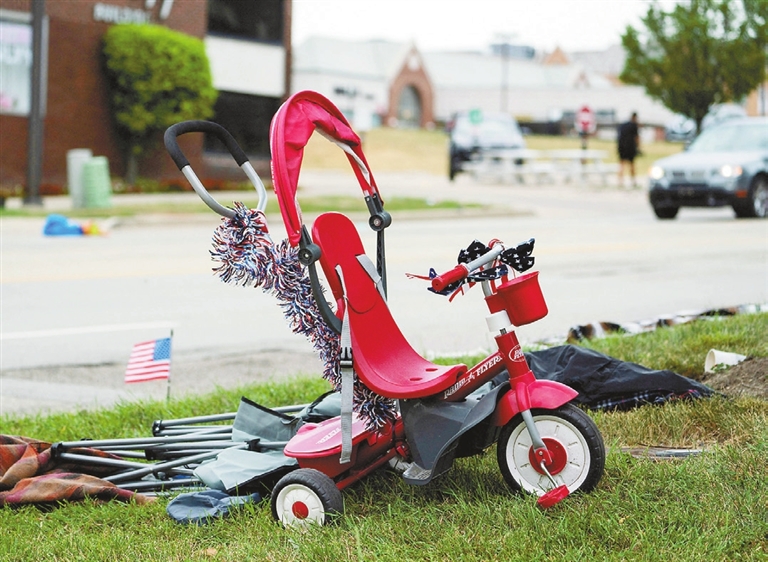 POLICE took a man into custody Monday evening after a massive search in connection with a shooting rampage that left six people dead and at least 30 injured at a Fourth of July parade in Highland Park, an affluent suburb in Chicago, Illinois, the United States.
A police officer briefly chased Robert E. Crimo III as he drove eight kilometers north of the shooting site before the arrest was made shortly before 7 p.m. Monday, said Highland Park Police Chief Lou Jogmen.
Earlier in the day, authorities had identified Crimo as a person of interest and released photos of him and his silver Honda Fit. They warned the public to shelter in place and that he was likely armed and dangerous. Authorities initially said Crimo was 22, but an FBI bulletin and Crimo's social media said he was 21.
"This individual is believed to have been responsible for what happened," Lake County Deputy Chief Christopher Covelli said.
Video from the parade scene showed scores of people running for cover as music continued to play minutes after the event began at 10 a.m. local time Monday.
Covelli said the gunman apparently fired from a rooftop at around 10:14 a.m. after climbing there on an unsecured ladder attached to the building. A high-powered rifle was recovered at the scene, he said.
Lake County Coroner Jennifer Banek said the five people killed at the parade were adults but didn't have information on the sixth victim, who died at a hospital. Their identities were not released. One of those killed was a Mexican national, said Roberto Velasco, Mexico's director for North American affairs, on Twitter.
North Shore University Health Center received 26 patients from the attack and 25 of them had gunshot wounds, including four or five children, said Brigham Temple, medical director for emergency preparedness. He added that 19 of the injured were treated and released. Temple also said at least 10 other patients were taken to other hospitals.
"Our community was terrorized by an act of violence that has shaken us to our core," Highland Park Mayor Nancy Rotering said. "On a day when we came together to celebrate community and freedom, we are instead mourning the tragic loss of life."
At a White House event Monday, U.S. President Joe Biden held a moment of silence for the victims. In a statement, he said he and his wife were "shocked by the senseless gun violence that has yet again brought grief to an American community on this Independence Day." Despite the gun safety bill he signed June 25, "there is much more work to do," he added.
The gun safety law requires young people ages 18 to 21 to undergo enhanced background checks, but the law alone is unlikely to tackle the gun violence issue.
Moreover, the U.S. Supreme Court added tensions over gun control in late June by striking down a century-old New York State law requiring gun owners to have probable cause in order to carry a concealed weapon.
Highland Park, home to about 30,000 people, is about 40 kilometers north of Chicago on Lake Michigan. Clothing stores, restaurants and gift shops line the tree-shaded street with brick sidewalks leading into the center of town, where a large American flag waved above caution tape and rows of police cars.
Abandoned lawn chairs, wagons and bikes were scattered along the parade route. Sirens wailed on the 31-degree-Celsius, overcast day as law enforcement vehicles flew past residential streets. Curious locals walked along the sidewalks as officers with rifles stood along the edges of a park downtown.
Alexander Sandoval, 39, a contractor, shook as he stood outside his neighbor's house with his 5-year-old son, his partner and her 6-year-old daughter. He had set up chairs in front of the stage at 7 a.m., three hours before the festivities began.
"When everything started happening, we thought it was the Navy saluting the flag," he said. "Shots rang out. I grabbed my kid and ran."
Sandoval said he tried to break a store window to get inside a building and ended up putting his son and the family dog in a large trash bin before going to search for his girlfriend and her daughter.
"I saw people shot on the ground. I saw two, three people shot. I saw a police officer just carrying a little boy, the age of my son. It's just emotional," he said.
Manuel Rangel, 28, said he saw dozens of people running past his house, away from the parade area downtown.
"They looked scared. They were panicking," he said. "You never see those things here. It's a quiet place."
Sharon Genest, 70, picked up her 8-year-old granddaughter to watch the parade Monday morning and was there when band members marching in the parade suddenly dispersed and ran.
"I was only two blocks away. And when they said 'run,' you run. But everybody started to panic," she said, standing outside her home across from a firehouse. "There was a little pandemonium."
Emir Gomez, 41, was visiting his parents and was near the end of the parade when he saw cop cars driving in the opposite direction.
"We saw people running. There were carrying what they could," he said. "This kind of thing shouldn't be happening here. And now it has. Are we safe anywhere?"
On Monday evening, a North Chicago police officer spotted and briefly pursued Crimo in nearby Lake Forest and "the subject was taken into custody without incident," the authorities said following the arrest. "This doesn't necessarily mean this is over but we are certainly encouraged that we have a person of interest."
Police have stopped short of calling Crimo a suspect and have not announced charges since he was taken into custody.
Hundreds of federal, state and local officers were involved in the search and investigation, Covelli said. The Justice Department said Attorney General Merrick Garland was briefed on the shooting and the investigation. The FBI and Bureau of Alcohol, Tobacco, Firearms and Explosives assisted local authorities.
SWAT teams ushered spectators out of buildings after they fled the street, Covelli said.
Officials in more than 10 communities near Highland Park announced they were canceling other celebrations Monday.
The remainder of Highland Park's Fourth Fest was canceled as law enforcement responded to the shooting, according to Mayor Nancy Rotering.
The Chicago White Sox initially planned for a postgame fireworks show Monday but announced plans to hold a moment of silence instead.
In New York City, the police were keeping a close eye on large gatherings amid fears of copycat moves as the city was scheduled to display spectacular fireworks over the East River and hold other celebration activities Monday.
The carnage in Chicago on Monday refocused people's attention on gun violence and gun control in the country and brought back the memories of recent mass shootings in Uvalde, Texas, Buffalo, New York, Tulsa, Oklahoma, and other places.
The July 4 shooting was just the latest to shatter the rituals of American life. Schools, churches, grocery stores and now community parades have all become killing grounds.
The United States has recorded 309 cases of mass shootings so far this year, and as many as 22,324 people died from gun violence, without easing from the jump in the previous two years, according to Gun Violence Archive, a nonprofit organization that tracks gun-related violence in the country.
(SD-Xinhua)