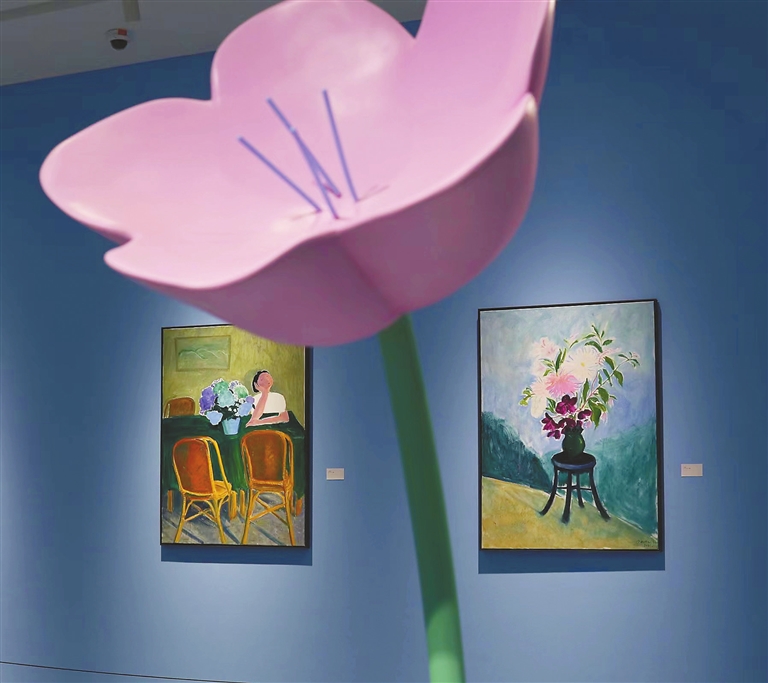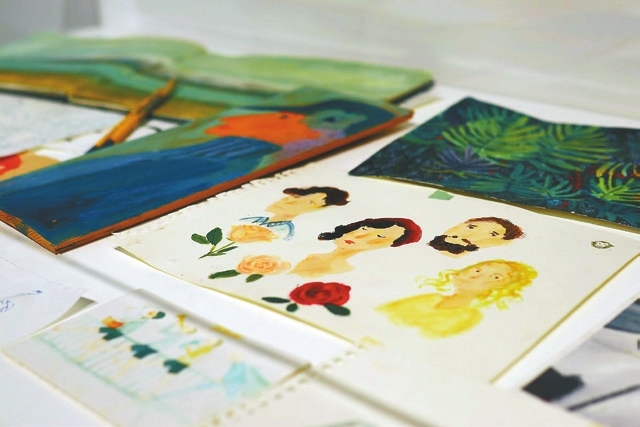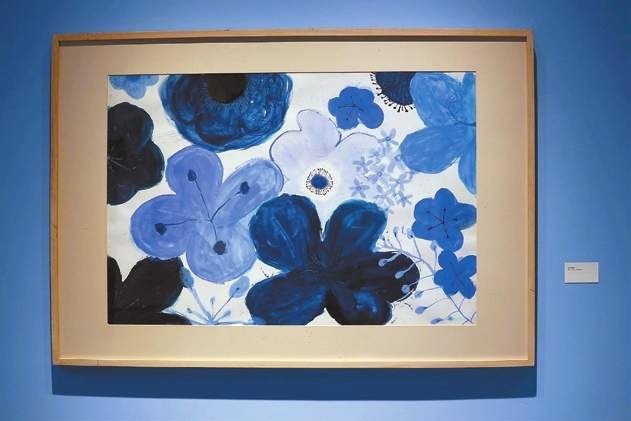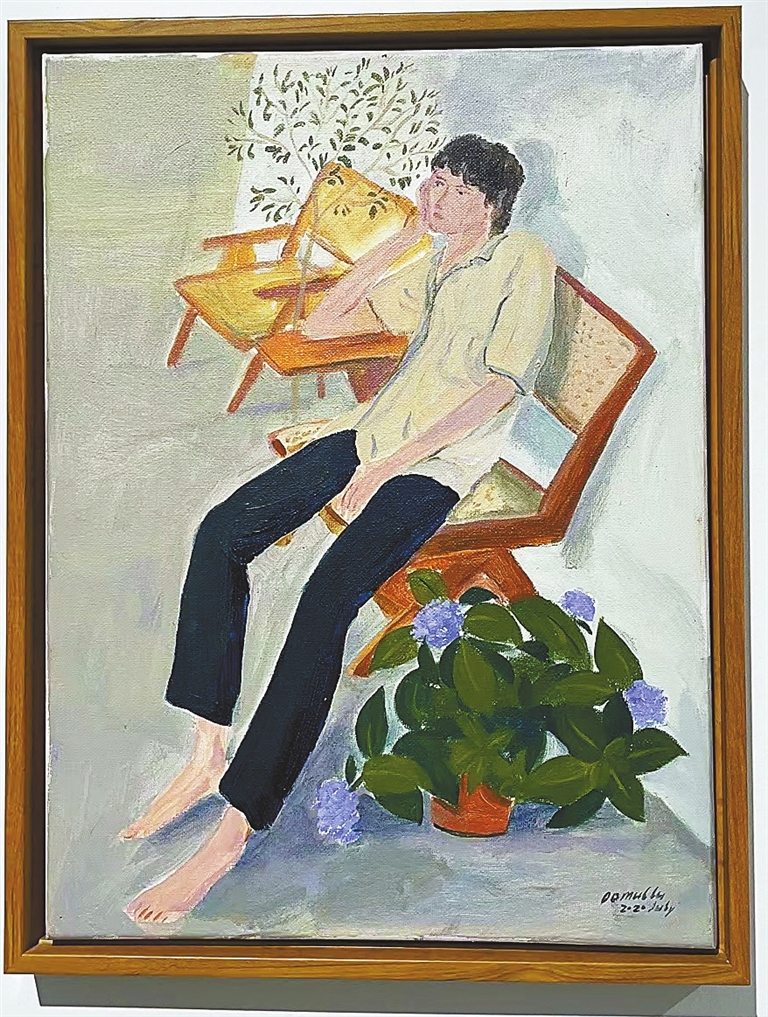 Yang Mei
yangmei_szdaily@163.com
IF you are looking for a place to take a respite from the routine of nucleic acid tests and to escape from the summer heat, visit the Guangming Culture and Art Center and immerse yourself in the "Me and I, Oamul Lu Solo Exhibition" to enjoy peace of mind and to find healing energy in Oamul Lu's illustrations drawn in petal colors.
The exhibition consists of 100 or so important works of various forms that Oamul has created in recent years, including paintings, sculptures, installations, videos and manuscripts, and is divided into five chapters, "Blue Garden," "Me and I," "Self Portrait," "Travel Through Four Seasons" and "Flowers." Painted in cornflower blue, baby pink, white and beige colors, the walls of the exhibition hall perfectly echo the natural colors in Oamul's paintings and evoke each visitor's urge to reconnect with nature.
Oamul, whose real name is Lu Tao, was born in 1988 in Shouning County, Fujian Province. Growing up in a place abundant with mountains and forests, Oamul developed a strong connection with nature, and he channeled his feelings towards the natural world into his paintings. After graduating from college, Oamul moved to Xiamen where he founded his own painting language which is characterized by vivid colors and casual brushstrokes.
Oamul specializes in painting, digital painting and animation. The illustrator is also a frequent traveler with his sketches and illustrations being used to record the beauty of the world he experiences. His paintings and illustrations reflect the seasons around him: flowers blooming in the spring, hot summer days by the sea, long walks in autumnal hues, cold winter nights wrapped up all cozy and warm. They also allow him to slow down and take time to reconnect with the beauty of nature as well as the small things in life.
In the "Blue Garden" chapter, Oamul uses blue — his most frequently used color — to depict natural sceneries along his journeys throughout four seasons, which are featured in his gouache-on-paper works and oil paintings such as "Majorelle Gardens, Morocco," "End of Summer," "Spring" and "Glowing Trees."
"Most of my works are about the nature of the four seasons and daily life. To me, painting is a window. Every time I open it, there are different sceneries. In my childhood, I drew myself a window view facing the sea in the alcove of my room. Now painting still takes me to see different scenes in my travels, in my memory, and in my heart," Oamul notes in the preface of the exhibition.
The "Me and I" chapter highlights the relationship of a young man and a little black dog with the latter serving as a symbol of the young man's loneliness. Such emotions can be seen in paintings such as "Chilean Desert," "Norwegian Forests" and "May in Xiamen."
"Deep in everyone's heart, there may live a little black dog. It will accompany you to many places, but you need to learn how to get along with it," Oamul says.
Self-portraits remain a perpetual theme in Oamul's paintings. He would draw paintings of himself either in real life or in his imagination to reflect his daily life and true feelings. In the "Self Portrait" chapter, visitors can meet the artist in different scenes in his paintings, such as "Hydrangea and I," "Plants and I" and "Goldfish and I."
Travel has always been a source of inspiration for Oamul's creations. In the "Travel Through Four Seasons" chapter, Oamul's paintings and video projections take visitors to the streets of cities including London, Copenhagen and Tokyo in their most beautiful seasons to appreciate their unique beauty. "Each painting is my work and my memory, helping me recall the temperature, light and color at any time. I want to share this memory of mine with you." Oamul says.
Plants and flowers can be found in almost every piece of Oamul's works. In the "Flowers" chapter, the artist introduces visitors to a world of different flowers in various settings: flowers in vases, flowers and the moon and flowers in an alcove.
While you find yourself still indulged in the colorful flower world, the artist has already prepared a lovely surprise that awaits you at the end: a romantic hand-written wish on the wall — "May your day be filled with flowers."
Oamul has published a personal painting collection "Four Seasons in a Suitcase," and personal picture books "Finding the Planet and Feribo." He also designed stamps for the United Nations and has collaborated with several international brands including Apple, CHANEL and Louis Vuitton.
Dates: Until Aug. 31
Tickets: 48-78 yuan
Booking: WeChat account "GCACArtMuseum"
Venue: Art Museum of Guangming Culture and Art Center, Guangming District (光明区光明文化艺术中心美术馆)
Metro: Line 6 to Fenghuang Town Station (凤凰城站), Exit B