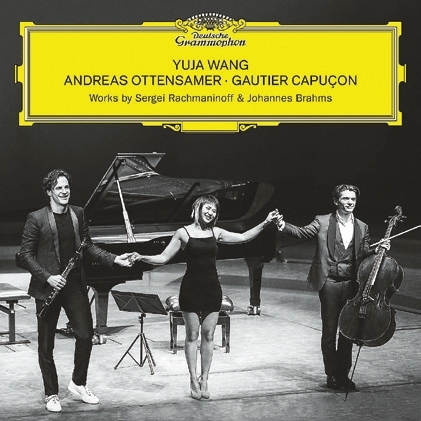 CHINESE pianist Yuja Wang, Austrian clarinetist Andreas Ottensamer and French cellist Gautier Capuçon will release their first album for Deutsche Grammophon (DG) on Sept. 2.
Capturing the energy and intensity of sessions held at the Konzerthaus Dortmund in 2021, the album includes visionary interpretations of Rachmaninoff's "Sonata in G Minor for Cello and Piano, Op. 19" and Brahms' "Cello Sonata No. 1 in E Minor, Op. 38" and "Clarinet Trio in A Minor, Op. 114."
In Rachmaninoff's "Sonata in G Minor," the composer regarded the role of the piano as not just an accompaniment but equal to the cello, which makes equally high demands on both players. Most of the themes are introduced by the piano, while they are embellished and expanded in the cello's part.
In DG's press release, it says "Ideal interpreters of this music, Wang and Capuçon convey every dramatic twist and turn of its score, from the darkness and despair of the opening movement to the joyful ecstasy of the finale."
"The dialogue Rachmaninoff creates in his cello sonata is very special," said Wang. "It felt as if his spirit was inspiring us during our sessions in Dortmund."
"We were equally inspired by the spirit of Brahms in two of his most profound works, and by Andreas' magical playing in 'Clarinet Trio,'" she adds. "It's such a joy to feel this sense of freedom and communication and to be able to share it with our listeners."
Brahms' "Cello Sonata No. 1" shows the composer's mastery of form and invention and reflects his close study of J.S. Bach's music, especially the fugal writing in the finale. It also projects the cello's warm, lyrical voice across three movements packed with strong themes and rich harmonies.
"Clarinet Trio in A Minor" is one of four chamber works composed by Brahms featuring the clarinet as a primary instrument. It is considered by scholars as part of a rebirth for the composer who in 1890 declared his "String Quintet in G Major" to be his final work.
According to the DG press release, Wang, Ottensamer and Capuçon have earned a reputation as a "super trio," having given performances worldwide that reveal the instinctive, almost telepathic bond of musical communication that exists between the three musicians.
In preparation for the recording sessions, the three musicians performed the album's program at the Elbphilharmonie Hamburg, Kurhaus Wiesbaden, La Grange au Lac, Konzerthaus Dortmund and Tonhalle Düsseldorf.
(SD News)