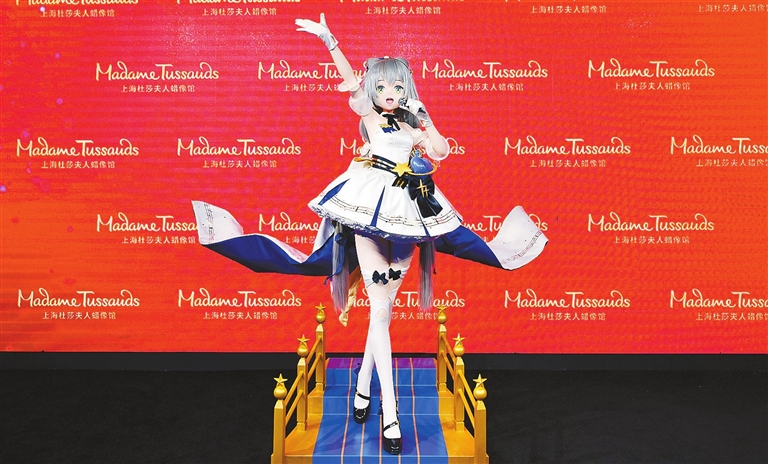 LUO TIANYI, China's most popular virtual idol, celebrated her 10th birthday last Tuesday by having her wax figure launched at Madame Tussauds Shanghai, joining celebrities and megastars like David Beckham and Yao Ming.
With millions of fans, Luo is a vocaloid developed formerly by Bplats, Inc. under Yamaha Corp. and was created in collaboration with Shanghai Henian Information Technology Co. Ltd. The virtual singer is 1.56 meters tall and has gray hair twintails and green eyes.
Her wax figure is dressed in her distinctive blue-and-white Lolita-style skirt. Last week, a four-hour livestreaming of Luo's birthday celebration attracted over 10 million views online.
Thanks to her adorable appearance and sweet voice, Luo was invited to perform at the 22nd Meet in Beijing International Arts Festival in late January to promote the Beijing Olympic Winter Games. She also performed with Chinese pianist Lang Lang at Mercedes-Benz Arena in 2019 in Shanghai.
The primary fans of virtual idols and influencers are Gen Z who now have a more substantial influence on popular culture. Digitalization and virtualization of Gen Z's lives, social interactions and consumption make virtual idols part of the mass culture.
HypeAuditor, a social media research agency, said in the "Top Virtual Instagram Celebrities in 2019" report that netizens prefer to interact with virtual influencers, and the interaction rate of each post by virtual influencers is three times higher than that of real bloggers.
Popular AI-powered virtual influencers, such as Ling and Ayayi launched in 2020 and 2021 respectively, have also worked with well-known Chinese and international brands.
Luo's birth and growth sync with the development of voice synthesizing, holography, augmented realty and motion capture in China over the past 10 years.
According to domestic media, Microsoft's AI system Xiaoice announced last week that it will cooperate with Luo's label, Vsinger, to provide a customized singing voice, a multiple AI voice library and an upgraded Luo driven by Xiaoice's deep neural network singing model. In the future, a special Luo Tianyi AI voice library and a professional tool X Studio will be released, compatible with MacOS and Windows platforms. All art creators will be able to access the voice library to create customized songs for Luo.
(Cao Zhen)