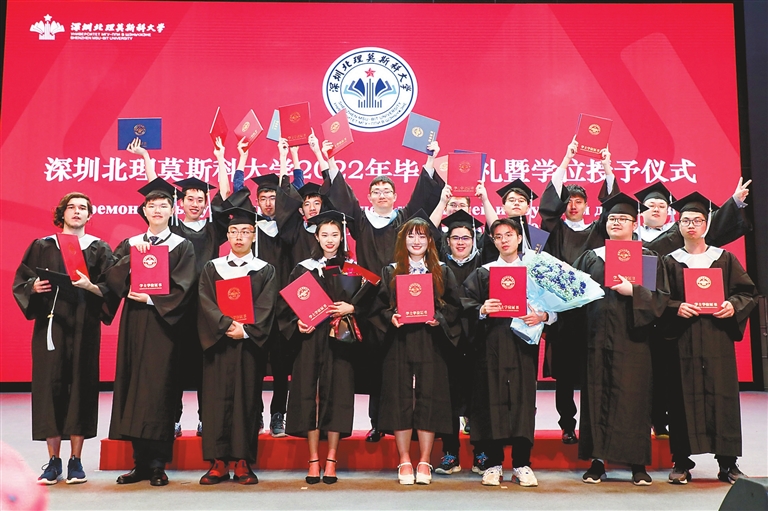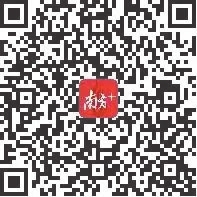 SHENZHEN MSU-BIT University (SMBU) held a commencement ceremony for its 2022 graduates, which include 123 undergraduate students and 34 graduate students, on its Longgang campus, June 24.
The ceremony was simultaneously held online and offline, with city leaders, representatives from Shenzhen high schools and enterprises, and SMBU staff representatives, along with the graduates of 2022 and their parents attending the ceremony on campus. Zhu Dijian, Party chief and vice rector of SMBU, presided over the ceremony.
Russian Ambassador to China Andrey Denisov, Chinese Ambassador to Russia Zhang Hanhui, rector of Moscow State University (MSU) Victor Sadovnichy, president of Beijing Institute of Technology (BIT) Long Teng, chairman of SMBU's board of directors Stepan Kalmykov and Shenzhen Municipal Education Bureau director Chen Qiuming sent their congratulations via video link or letter.
Denisov extended his sincere wishes to the graduates, congratulating them on the successful completion of their studies and wishing them success in their chosen fields. He believed that the graduate cohort of SMBU of the past year is a clear example of pragmatic cooperation between China and Russia in talent cultivation, and that the graduates will make outstanding contributions to the cooperation between the two countries in science and technology, economy and trade, and humanities.
Zhang pinned three hopes on the graduates. First, to be the promoter of the China-Russia comprehensive strategic partnership of coordination, to apply what they learned at school to future life and work, and to make unremitting efforts to implement the consensus reached by President Xi Jinping and Russian President Vladimir Putin.
Second, to actively participate in China-Russia pragmatic cooperation by making full use of language and professional expertise, vigorously promote Sino-Russian exchanges and mutual learning, and to write a new chapter for Sino-Russian friendship.
Third, to be a contributor to the country's rejuvenation, be determined to serve the country, and to live up to the times and forge ahead.
On behalf of MSU, Sadovnichy congratulated all the graduates. He addressed the SMBU graduates "dear friends, dear colleagues" and congratulated them on joining a common cause that "enriches and expands the boundaries of knowledge and connects knowledge to reality." He observed that after four years' study, SMBU graduates have grown into high-level experts who master two of the most complex languages and the most advanced and sought-after majors. The knowledge, abilities and skills acquired at the university will contribute to the prosperity of China and Russia as well as Sino-Russian relations that have gone through a long historical road.
Long sent the graduates congratulations on behalf of BIT. Long said that SMBU students had witnessed and experienced the "building of a high-level university and cultivating of high-quality talents," and were participants and practitioners of various undertakings during the school's initial stage, playing a significant role in higher education cooperation between China and Russia. Long hoped that the students would always bear the country's development in mind, take the responsibility of promoting Sino-Russian friendship, strive to be the practitioners of Sino-Russian friendship, and continue to sail the big ship of Sino-Russian friendship and ride the wind.
On behalf of the Shenzhen Municipal Education Bureau, Chen congratulated all the graduates. In his congratulatory letter, Chen said that SMBU has built itself into a Sino-Russian cooperative university with unique characteristics and become an important bridge for Sino-Russian education, scientific research and cultural exchanges, and has made positive contributions to serving the economic and social development of the Guangdong-Hong Kong-Macao Greater Bay Area and Shenzhen and enhancing the friendship between the two peoples.
Kalmykov hoped that students would never forget the university just as people will never forget their first love. The university will always retain a gentle parental bond for its students. He hoped that students would continue to learn, accumulate knowledge, improve their professional skills, and enrich their lives with broad knowledge regardless of their future positions and incomes.
Boris Budak, deputy director of the Faculty of Computational Mathematics and Cybernetics of SMBU, delivered a speech on behalf of the teachers. He said that students had walked through a long journey for four years. However, this is only a starting point. More difficult journeys are waiting for the students. "Valuable learning skills like inferring other things from one fact will benefit people for a lifetime. The most difficult and interesting challenges in life will always wait ahead, and I hope that the students can remember to always keep moving forward," Budak said.
Kuang Shuru from the Faculty of Philology represented graduates to deliver a speech and expressed gratitude to SMBU. "In SMBU, Sino-Russian cultural exchanges opened a window for us to learn about the world. We learn to read the world here. Teachers answered our questions and taught us knowledge. We traveled the academic ocean. Classes are not confined to the teaching building, giving us more opportunities to connect with society," Kuang said.
During the ceremony, graduate representatives presented SMBU a gift of a painting featuring the campus' scenery. Professor Li Hezhang, rector of SMBU, received the gift.
Professor Li then delivered a speech titled "Maintaining Innocent Mind, Creating Infinite Possibilities" to wish the best for the graduates of 2022 and thank the parents and teachers for their efforts of cultivating the graduates. Li said that "maintaining innocent mind" is a value orientation, which is a determination for goals and missions after choices; it is a code of action, a brave innovation for the needs of the country's key development strategies; it is the inner love, and it is the source of motivation for seeking the truth and knowledge and chasing excellence. He hoped students could always have the mindset to overcome struggles and create infinite possibilities.
"Students, the goal of your generation must be the sea and stars, the unknown infinite world. Please remember, no matter where you go, you are all precious children of the alma mater. SMBU is always your home," said Li.
Later, Li turned the tassels for graduates. First vice rector Sergey Shakhray and Zhu awarded students graduation and degree certificates.
As of now, 96 undergraduates will further their studies in SMBU or other top universities around the world. Seven students received offers from renowned companies like Bank of China. Over 50% of the graduates with master's degrees will pursue doctoral degrees.
Nearly 200,000 people watched the ceremony via online livestreaming platforms. (Translated by Wang Jingli)