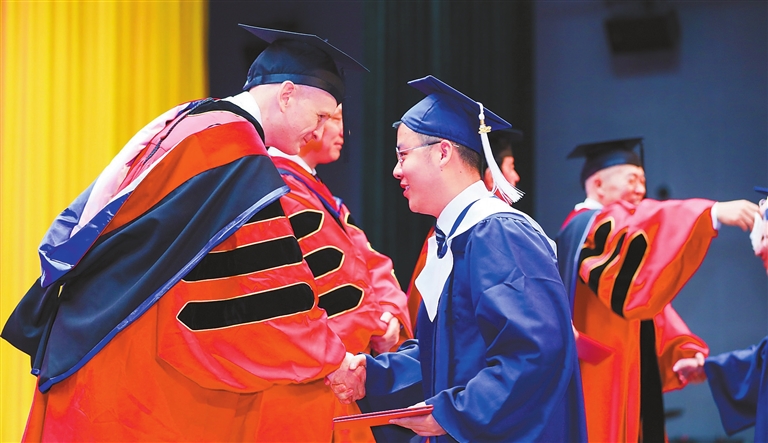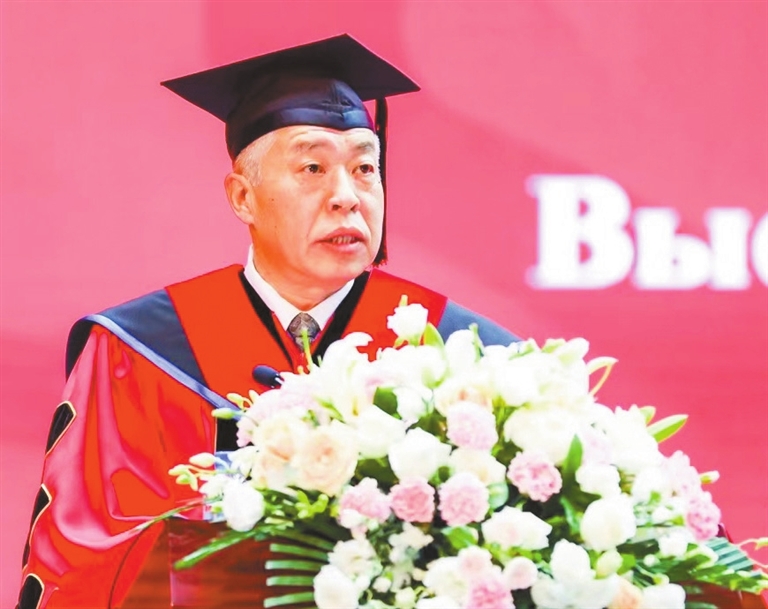 Speech by Rector Li Hezhang at the 2022 commencement
and degree conferring ceremony
Distinguished guests, ladies and gentlemen,
Dear teachers and students,
Добрый день! Good afternoon, everyone! I extend my warm congratulations to the graduates who have successfully completed their studies and are about to embark on a new life journey, pay high tribute to the teachers who have worked hard to cultivate you, and express heartfelt thanks to your parents who support you all the time!
Thank you all for coming to our commencement ceremony. I would also like to thank Ambassador Andrey Denisov, Ambassador Zhang Hanhui, Rector Victor Sadovnichy, President Long Teng, Director Chen Qiuming and President Stepan Kalmykov for sending good wishes to our graduates.
SMBU's motto of training talents "with a global perspective and oriented towards the future" sums up the cooperative effort between the two countries. Bearing the mission of building China stronger is the unremitting driving force for the university. We are standing on the shoulders of giants and working hard to build a community with a shared future for humankind.
The journey with SMBU is an indelible memory. In their graduation speeches, our students talked about their experiences at the university and mentioned "fulfillment and challenges." As SMBU students, you learned Russian from scratch and now use the language skillfully. Studying full-time seven days a week has become your daily routine. With extraordinary toughness, patience and perseverance, you worked hard to complete your studies, participate in internships and social work and take part in academic competitions. You won more than 40 national, provincial and municipal awards. Hong Xiaoyang, Zhang Yiheng, Wang Yufeng, and Yang Yongzhi won a first prize and a second prize respectively in the 2020 Mathematical Contest in Modeling. Zhang Jiaxian and Xu Shuang won the third prize and the excellence prize in the senior and graduate groups of the 14th national college Russian competition. A number of outstanding students such as Li Zhongpeng, Li Shengyu and Wang Ziqi have emerged. Up to now, 96 undergraduate students have obtained the admission qualifications for the master's degree programs of SMBU or high-level universities at home and abroad; seven students have obtained offers from Bank of China and other well-known enterprises; more than 50% of postgraduate students continue to study for doctoral degrees. Russian poet Nikolay Nekrasov said, "Perseverance and diligence bring about miracles." Remember his words.
SMBU is worth being proud of. With the joint efforts of all teachers and students, four disciplines have been certified as the double first-class key disciplines in Guangdong Province, four undergraduate majors as the first-class key disciplines in Guangdong. Eight scientific and technological innovation platforms have won the support of Shenzhen government, and more than 30 various scientific research and academic projects have been approved. We have held dozens of international academic conferences and established cooperative partnerships with more than 10 famous universities and research institutions at home and abroad. The five scientific research centers approved by the board of directors are being developed. SMBU is exploring the boundaries of human knowledge and contributing its own strength to human civilization. Our first batch of undergraduate students, three batches of graduate students and all of you have given satisfactory answers to the cooperation between the two countries. The future glory still depends on you and our teachers. Please remember: innovation creates achievements.
SMBU is worth cherishing. The CPC has been established for a century, the Chinese people have historically solved the problem of poverty, major breakthroughs have been made in scientific research and technological innovation, international cultural and educational exchanges have received unprecedented attention, the strategic cooperation between China and Russia has been further deepened and improved, and higher education is facing new challenges in serving global economic and social development. In the new era, with the support of the two countries and the three parties, SMBU has made steady progress towards a high-level university and an important platform for cultural exchanges between China and Russia. As the great poet Alexander Pushkin said, "my heart is always longing for the future." We should contribute our prime and sweat to the motherland. Remember: Challenges create opportunities.
This year marks the 100th anniversary of the founding of the Communist Youth League of China. At the celebratory meeting, President Xi Jinping stressed that "realizing the Chinese dream is a historical relay race, and today's youth should strive to be the first on the track of realizing national rejuvenation." National rejuvenation is inseparable from the efforts of our young generation, international exchanges, and learning advanced experience from excellent foreign civilizations. Seventy years ago, the first generation of students in New China went to the famous universities of the former Soviet Union to study. Chairman Mao Zedong said affectionately when he received Chinese students who studied abroad at Lomonosov Moscow State University in 1957: "Young people are like the sun at eight or nine in the morning. Our hope is placed on you." Today, tens of thousands of "little suns" are studying in China and Russia, and you are our excellent representatives. I sincerely hope that you will continue to achieve excellent results as you bring us a promising future.
Students, you are about to embark on a new journey of life. As SMBU rector, a teacher and a friend, I want to give you some more suggestions.
As we all know, the school newspaper is called "The Pinnacle," which means that we need to fight against the cold and difficulties when we stand high. Mencius said, "The great man is he who does not lose his [originally good] child's heart." Lao Tzu said, "People with profound virtues are like innocent babies." I hope that students will always stay pure-hearted and strive to make the impossible possible!
Staying pure-hearted is a value orientation, which requires people to adhere to their ideals when faced with various choices.
We all grow up and mature through life choices. Young people face many choices. The key is to guide their choices with a correct outlook on the world, life and values. There is a great man who chose to go to France for a work-study program at the age of 42; at 50, he chose to join the CPC in adversity. At 52, he chose to study Russian and went to Moscow Sun Yat-sen University to systematically study Marxism-Leninism. At 63, he served as the president of the Academy of Natural Sciences in Yan'an, the predecessor of Beijing Institute of Technology. The man is Xu Teli, who is known as "China's outstanding revolutionary educator." Xu devoted himself to the cause of education all his life, holding the life ideal of "creating a cause conducive to the country and the people," and cultivated a large number of excellent talents for the Party and the country. He once said, "I never know what depression is. Try again after failure. The future is created by my own efforts."
In this era of more autonomy and more possibilities, standing at the crossroads of life, please worry not about gain and loss, but stick to your ideals. Always have a pure heart, cherish lofty aspirations, and pursue your dreams.
"Staying pure-hearted" is a code of action and you need to embrace the challenges posed by the strategic needs of the country with brave innovation.
(Continued in SMBU Special Page 03)