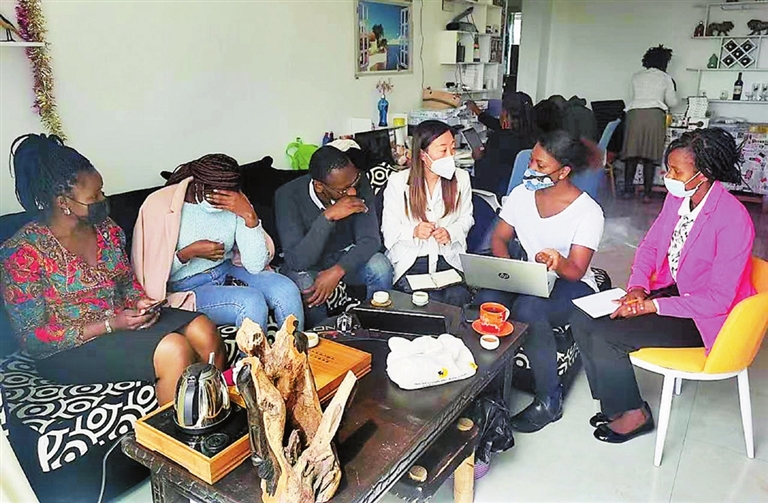 LEI JING, an entrepreneur from Shenzhen, has achieved her ambitions in e-commerce in Kenya, earning an annual revenue of 50 million yuan (US$7.4 million) in 2021, up by 200% year on year, Shenzhen Economic Daily reported.
In 2016, Lei opened a foreign trade company in Kenya as she saw the great potential in the African market. However, the reality was even harder than she thought.
The courageous and determined businesswoman first encountered difficulties at the start of her business. Her attempts to sell low-tech "dumbphones" bought wholesale from Huaqiangbei, faced fierce competition in Kenya and failed to mature.
At Lei's worst, all her savings went down the drain. All the 5,000 phones she ordered and paid full in Shenzhen got returned by Kenyan buyers because the phones did not have local mobile banking service M-Pesa installed in them.
"I would never give up and leave Kenya like this! I didn't believe this was the end of my own business. I was waiting for a chance and racking my brains for solutions," Lei said.
Things turned around for Lei after trying everything in her desperate situation. One Chinese businessman dropped a batch of unwanted stereos and she tried to sell it on Jumia, Kenya's No. 1 online retailer.
"I received orders the second day I put the products on the website and each one was sold in the end," she recalled.
Since then, Lei began to tap into African e-commerce's potential by founding Annov, a brand specializing in selling Chinese 3C products and household appliances in Jumia.
In 2020, she was running five Jumia stores, with over 300 product categories available. Her shops' daily average orders reached 500, with the highest exceeding 2,000 per day.
Backed by the stable supply chain in China, Lei's e-commerce business was ranked third in revenue in Kenya.
Kenya is one of the African countries with the fastest e-commerce development. "Currently, e-commerce accounts for only 1% of the Kenyan market. Our primary goal is to be the No.1 in the industry," Lei said.
She has begun to import machine components from China to Kenya and have local labor to complete assembly, which has gained support from the local government.
(Xia Yuanjie)