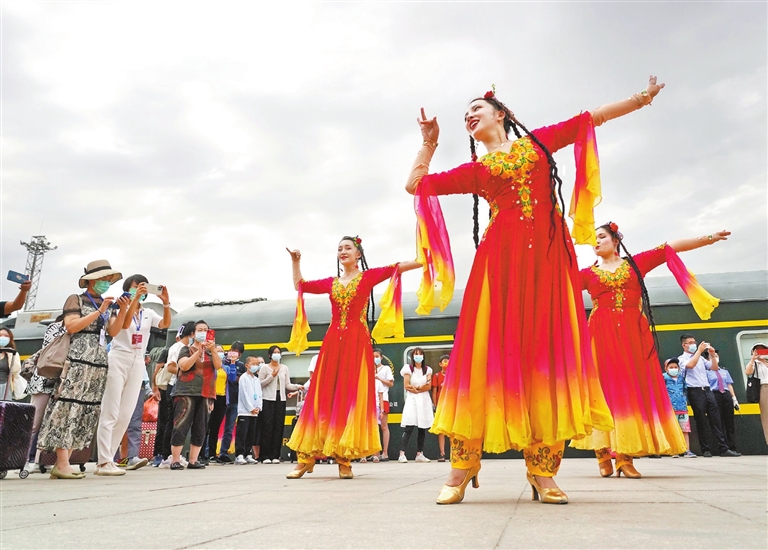 FROM lofty mountains in Xinjiang to the courtyard of Naxi culture in Yunnan, tourism in many parts of China is seeing rebounds and looking to upgrade the market.
Asia's largest professional travel expo, the China International Travel Mart (CITM) 2022 concluded Sunday in Kunming, capital of the southwestern province of Yunnan, amid warm response. It drew exhibitors from over 70 countries and regions, who set up nearly 4,200 standard booths on an exhibition area of 80,000 square meters.
After a travel lull since March due to sporadic resurgences in COVID-19 cases, Northwest China's Xinjiang Uygur Autonomous Region is experiencing a surge in tourism. Since July, the leading tourist destinations in the entire region have seen over 110,000 daily visits, up more than 200% from June.
Yunnan, the host province of CITM, has also witnessed a tourism boom. In the second half of June, the hotel occupancy rate in the province increased by over 30% for the first time this year, and the number of air and railway passengers increased by 75% and 46%, respectively, over May.
Themed on smart tourism, this year's CITM focused on boosting tourism with the help of technology.
Yunnan is one of the earliest provinces to develop a phone app for tourism services. The GO-Yunnan application has served over 210 million tourists, featured over 50,000 pieces of information on tourism resources, and significantly brought down tourist complaints since its launch.
Online platforms have also jumped into the tech bandwagon. Mafengwo, a travel service and social networking site, has developed a smartphone app to promote suburban destinations for young people to visit and relax during weekends. Ever since its market entry, the app has seen growing popularity among youngsters.
The ancient towns in Yunnan's Lijiang and Baoshan cities have also adopted technologies such as real-time alert systems and artificial intelligence to manage the entire town, allowing the town administration to oversee the tourist flow.
Multiple hotels and tourist attractions in Lijiang are striving to deliver high-quality services and develop new tourism concepts.
Just like other tourist sites, the Dongba Valley in Lijiang was affected by the epidemic and saw a decline in visitors. It has used the hiatus as an opportunity to improve its tourism offerings by developing live-action performances and courses to encourage students' involvement with nature.
"All of these products gained popularity once the market rebounded," said Zi Hongwen, CEO of the Lijiang Dongba Valley Eco-cultural Tourism Co., Ltd.
(Xinhua)