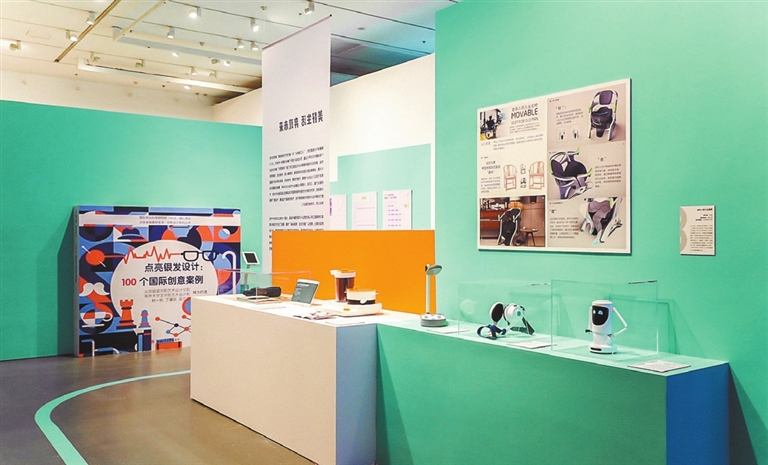 Cao Zhen
caozhen0806@126.com
DESIGN Society's ongoing "Values of Design: China in the Making" exhibition, which opened in 2020 at the V&A Gallery at the Sea World Culture and Arts Center in Shenzhen, explores the growing field of Chinese design and attempts to seek flexible solutions via design. The exhibition not only displays crafts and products but also tackles themes such as poverty alleviation, environmental protection, rural construction and urban planning.
From July 9 to 18, a selection of excellent design works from Young SDGs was showcased within the exhibition. Young SDGs is a design competition launched in 2019 by Country Garden and ifeng.com. Based on the United Nations' Sustainable Development Goals (SDGs), the competition invites young talents in universities around the country to design projects related to the topics of future community, rural revitalization and smart living. In the past three years, the competition has received more than 6,000 design submissions.
One case at the exhibition showed designers' efforts to improve life quality for seniors. Designers from Tsinghua University, Beijing Institute of Fashion Technology and Guangzhou Academy of Fine Arts in February set up the "Silver Hair Funland" in a residence community in Chaozhou. They redesigned the seniors' center to separate the activity room for various events that the seniors enjoy, such as playing cards, reading books and magazines, drinking tea and listening to traditional Chaozhou opera.
"Through low-cost redesigning, the seniors now have a better quality of life and I think this design concept can be introduced to other places in the country. Meanwhile, 'Silver Hair Funland' is evolving with new possibilities continuously emerging," said Wang Tao, vice dean of Guangzhou Academy of Fine Arts' School of Innovation Design.
Another case displayed the work of designers from Guangdong University of Technology's School of Art and Design and Guangzhou University's School of Art and Design. They launched a camping event on the lawn of a residence compound in Guangzhou in November last year.
At the event, designers from Guangzhou University designed a waste battery disposal installation for the residents. "This event not only connected people but also provided new ideas in social design. The ultimate goal of social design is solving problems," said Liu Tingting, a professor of Guangdong University of Technology's School of Art and Design.
The exhibition also showcased rural revitalization plans by designers from various universities. Tsinghua University designers improved toilets in Longquan School in Dongxiang Autonomous County in Gansu Province in 2018.
In the meantime, upon learning that potatoes, mutton and embroidery are Dongxiang's signature products, students from the Beijing Institute of Fashion Technology designed a potato cartoon figure and a mutton marketing plan to help Dongxiang farmers boost sales.
And in recent years, Dongxiang embroidery as an intangible cultural heritage has also been revived through fashion shows and influencers' livestreaming.
The exhibition offered creative designs for finding flexible solutions to enhance people's well-being and livelihoods. Through social design people can address a range of social issues to create a more sustainable society.