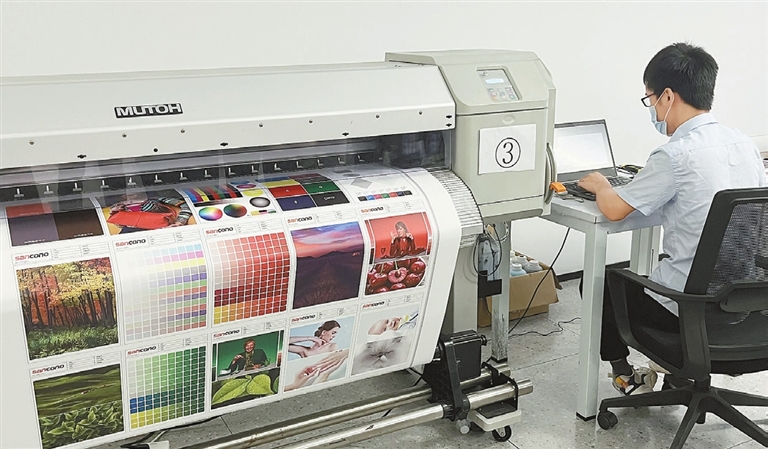 Wang Jingli
wangjingli0715@163.com
ONE day you place an online order for a mobile phone case with tailored patterns, the next day, you will probably receive the order. With the development of digital printing, customers now have more options and faster services than ever before.
Shenzhen Daily and other media outlets recently visited Hosonsoft, one of the leading companies in China's digital printing industry.
The company, established in 2006, has become the leader in the development of RIP software and printing control systems. It aims to become a global first-level industrial digital printing solution provider.
While visiting Hosonsoft's office in Bao'an District, reporters saw printheads passing back and forth across the fabric, spraying ink onto it.
Compared with traditional printing technique, digital printing when applied to the textile printing industry can save 20% to 40% of ink use, 50% of electricity consumption and reduce environmental pollution by 96%, which effectively promotes the green and low-carbon development in the textile printing and dyeing industry.
Digital printing also shows its advantage in small-volume customized products. With a high degree of automation and the whole process of supervision, digital printing could better serve the market's demands.
Digital printing is widely used in fields including packaging, home decorations, home appliances, toys and gifts, and digital electronics.
The printhead is the core component of digital printing. Hosonsoft's technology can control the printhead in terms of micron-scale ink printing to use fewer ink types to achieve high-precision full-color printing, according to the company.
According to Hosonsoft, despite still having a gap with leading foreign companies in terms of industrial printing technologies, they are trying to narrow the gap via innovation and R&D.
At present, Hosonsoft owns over 800 patents, and each year, the company puts around 20% of its revenue in R&D and about 60% of the company's employees are R&D engineers. In 2022, Hosonsoft was given the title of national-level "little giant" firms that focus on specialization, refinement, uniqueness and innovation.
Hosonsoft has formed a strategic partnership with top 500 high-end equipment manufacturers in the world.
"We always put our clients' needs as our priority and we hope to offer customers more beautiful options for a better life," said Li Longliang, president of Hosonsoft.