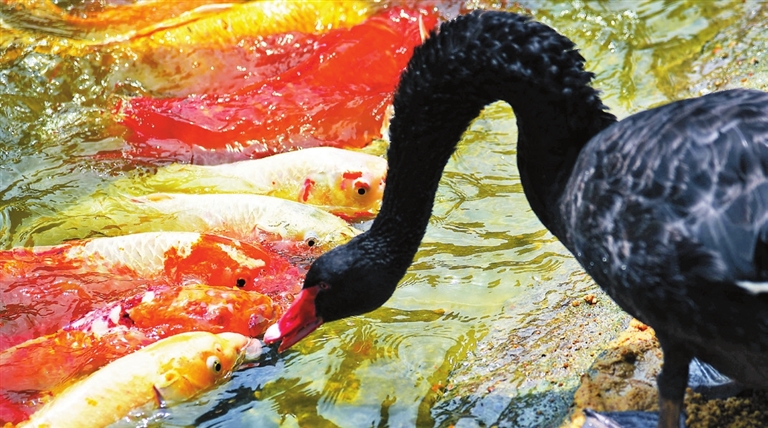 "LOOK at that! That white-cheeked gibbon plays a trick on a great white pelican again," said Li Musheng, a staffer from Shenzhen Safari Park, pointing at the center of an island in the park.
According to Li, there are several "trans-species couples" living in the park, such as a great white pelican and white-cheeked gibbon, and a black swan and Koi fish. They share life and food together and play with each other.
Li called great white pelicans and white-cheeked gibbons "quarrelsome lovers," who are neighbors in the park. Gibbons just leap and stay among trees most of the days on the island, while the pelican families soak in the lake around the island all day long. Once a great white pelican comes ashore, there will be a gibbon jumping down the tree, opening its arms to the pelican. However, the bird will open its long pointy beak, chasing the gibbon away.
Li also took a few pictures of black swans playing and "fighting" for food with Koi fish in the big lake area that is home to over 200 black swans and 100 Koi fish. "If you don't look closely, you will think these two animals are kissing each other. Actually, black swans and Koi fish have food face to face," Li said.  
(Chen Siqi)