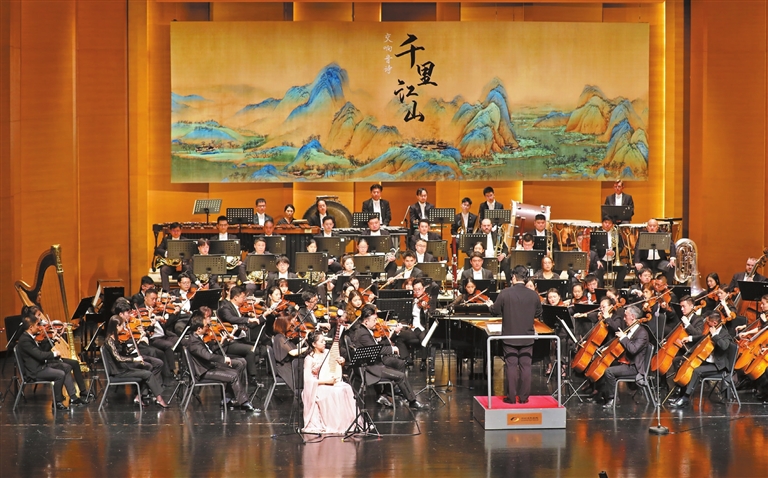 Debra Li
debra_lidan@163.com
TRUE art never loses its charm over time. In 2017, thousands of people lined up for hours just to get a glimpse of "A Panorama of Rivers and Mountains" when the time-honored painting was exhibited at the Palace Museum in Beijing.
The only remaining piece of work by artist Wang Ximeng, created when he was 18, is widely recognized as one of the most important works in China's fine arts history. The 11-meter-long scroll records people's lives and the natural scenery in the Song Dynasty (960-1279), depicting mountains, rivers, villages, ports, temples and pavilions and blurring the boundaries between realism and imagination.
In addition to a dance show that premiered in August last year that was inspired by the painting, the masterpiece also provided inspiration for composer Zhao Lin's new creation, a six-movement symphonic poem that endeavors to interpret the classic imagery with music.
Conducted by Shenzhen Symphony Orchestra (SZSO) artistic director Lin Daye, the Guangdong-Hong Kong-Macao Greater Bay Area (GBA) Festival Orchestra performed the exciting work Friday night at Shenzhen Poly Theater.
Friday's concert headlined soloists Jia Lei (sheng, an ancient Chinese wind instrument), Sha Jingshan (pipa, a Chinese plucked lute with four strings), Zhang Yueru (erhu, a two-stringed Chinese fiddle), Yeung Wai-kit (bamboo flute), soprano Li Siyin and pianist Yuan Fang.
"It's a first in China for four renowned orchestras to perform a piece together onstage," said Nie Bing, president of the SZSO.
Consisting of members of the SZSO, Guangzhou Symphony Orchestra, Hong Kong Philharmonic Orchestra and Macao Orchestra, the GBA Festival Orchestra will repeat the concert in Guangzhou on Wednesday. As this year is the 25th anniversary of Hong Kong's return to the motherland, the two concerts are dedicated to this special occasion.
Like the painting, which has been divided into six parts with portrayals of Chinese mountains and rivers, the symphonic poem also consists of six movements: an overture, four movements respectively featuring the sheng, pipa, erhu and piano as solo instruments, and a final movement highlighting bamboo flute and soprano. The final movement centers around a song based on the classic Chinese poem "Gazing at Lushan Mountain From Pengli Lake" by Tang Dynasty (618-907) poet Meng Haoran.
The composer explains that Meng's poem was chosen as a centerpiece for the last part of his work because "it's believed that Lushan Mountain and Poyang Lake (known in ancient times as Pengli Lake) are the main scenic features of 'A Panorama of Rivers and Mountains.'" It's a coincidence that Meng's poem also featured these two landscapes.
Zhang Ruodi, a Shenzhen-based composer, praised Zhao's new work as phenomenal. "With a well-contemplated and creative structure, the piece captures the essence of Chinese aesthetics, using unique Chinese music expressions," he said.
"I particularly like the third and fourth movements, in which the Chinese instruments pipa and erhu bring out the battle scenes and sentiments experienced by friends parting ways, as depicted by classical Chinese poems."
Zhao, born in Xi'an in 1973, has made a name for himself internationally as a film composer, just like his father Zhao Jiping, who wrote the music for Zhang Yimou's hits "Red Sorghum" and "Raise the Red Lantern" and Chen Kaige's "Farewell My Concubine." The junior Zhao has also worked with Zhang Yimou on "A Woman, a Gun and a Noodle Shop" (2009) as well as with Chen on "Together" (2002). After completing his studies of composition at the Central Conservatory of Music in Beijing in 1996, Zhao Lin composed for the National Traditional Orchestra of China. In 2004 he began to collaborate with cellist Yo-Yo Ma, for whose "Silk Road Ensemble" he contributed several pieces, as did his father.
While many know about the Zhaos' music traditions, not many are aware that the family also has its roots in fine arts. Zhao's grandfather Zhao Wangyun (1906-1977), known for his landscape paintings and those that record daily life scenes, was the co-founder of the Chang'an school of painting in the 1960s with two other ink painters based in Xi'an.
The Chinese fine arts tradition in which Zhao Lin has grown up has made him a perfect candidate when over a year ago, a group of 23 Chinese symphony orchestras considered commissioning a music piece together based on "A Panorama of Rivers and Mountains." The idea was proposed by famed conductor Yu Long when the League of China Orchestras held its annual forum last year.
On July 30, the piece was premiered by Shanghai Symphony Orchestra under the baton of young conductor Sun Yifan as the closing concert of the city's 2022 Music in the Summer Air festival. It was streamed online to comply with COVID restrictions.
On Aug. 3, artistic director Yu led his China Philharmonic Orchestra (CPO) to perform the piece at the Poly Theater in Xi'an, kicking off a national tour, which includes 20 concerts, with 10 performed by the CPO.
The local audience broke out in loud cheers as the musicians took a curtain call at the end of Friday's performance at Shenzhen Poly Theater.
"I don't know much about music, but it's got great melodies and reminds me of the best of the scores featured in martial arts films that represented the height of Hong Kong's film industry. The music is exciting," said a young woman in the audience.