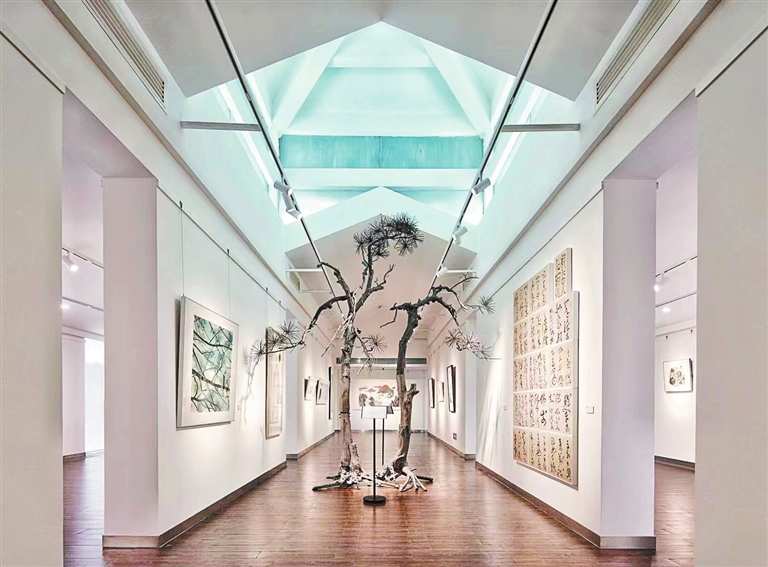 Cao Zhen
caozhen0806@126.com
WITH its renovation now complete, the Chinese centuries-old brand Rong Bao Zhai's Guangzhou shop reopened Sunday with new exhibitions featuring iconic Lingnan artists' paintings, contemporary Chinese artists' works and rejuvenated Chinese craftworks.
The Lingnan school of painting is a style founded in the early 20th century in Guangdong by Gao Jianfu, Gao Qifeng and Chen Shuren. Lingnan paintings are an important part of Rong Bao Zhai's collection. The exhibition features paintings by the aforementioned "Two Gaos and one Chen" and other Lingnan masters, including Guan Liang, Guan Shanyue, He Xiangning, Zhao Shao'ang and Li Xiongcai.
In addition, contemporary works by artists such as Peng Wei, Liang Quan and Xu Bing, as well as Jun porcelains, gold-inlaid jade craftworks and traditional costumes, are also on display.
This year marks the 350th anniversary of Rong Bao Zhai, a Beijing-headquartered painting and calligraphy brand. When it was founded in 1672, it was called Song Zhu Zhai and sold traditional Chinese stationery, calligraphic works and paintings. In 1894, its name was changed into Rong Bao Zhai, which means "making friends with art and reputation is regarded as the most precious value."
In 1952, the new Rong Bao Zhai became a State-owned company. Over the years, it has developed into a comprehensive enterprise engaged in gallery business, auctions, traditional Chinese stationery, intangible cultural heritage, publishing, exhibitions, fine arts education, e-commerce, creative products and data asset operations. It has also housed many ancient stationery treasures, as well as calligraphy and paintings.
The Guangzhou shop, built in 2013, is part of the time-honored brand's strategy in the Guangdong-Hong Kong-Macao Greater Bay Area (GBA). Its other business in the area includes auctions in Shenzhen and a Hong Kong shop. More businesses in different sectors are expected to be explored.
"Rong Bao Zhai Guangzhou is committed to the development of the calligraphy and painting market in the GBA. We are striving to promote cultural exchanges between the North and the South, and enhance cultural development in Guangdong," said Zhao Dong, Party chief and executive director of Rong Bao Zhai.
"As a window for cultural exchange, Rong Bao Zhai will also focus on the international art market and try to purchase quality artworks from foreign markets," he added.