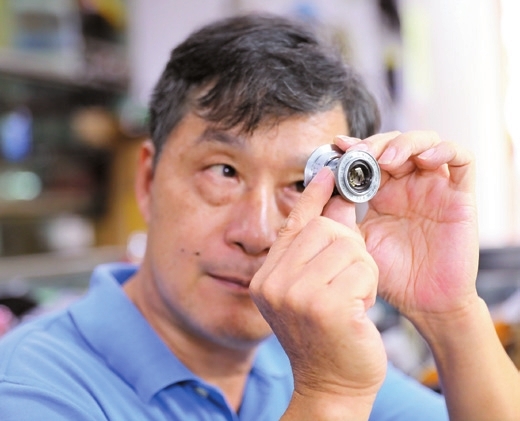 ON Bao'an South Road, Luohu District, there is a camera repair shop which has been operated for nearly 20 years. The shop owner, Liu Zhanxiong, is a camera mania and also one of the few craftsmen in Shenzhen who has the skills to repair traditional film cameras.
Liu has repaired upwards of 30,000 cameras over the past 30 years since he entered the industry, witnessing the changes of the camera industry and the city's rapid development, according to Shenzhen Evening News.
Liu's lifelong interest in camera began when he was introduced to cameras in high school, a time when cameras were relatively expensive.
In 1987, Liu came to work in a factory in Shenzhen. In 1992, at the invitation of his hometown fellow, Liu left the factory and began repairing camera in the city.
Liu told the News that at that time, apart from the maintenance departments set up by a small number of newspapers, his small booth in a shopping mall was one of the few places in Shenzhen where cameras could be repaired. Liu learned repairing skills by himself through disassembling different types of cameras.
In 2003, due to the relocation of the shopping mall, Liu opened a camera repair shop on Bao'an South Road.
His shop is about 20 square meters, with various kinds of cameras, lenses and large and small parts lined up in glass showcases on both sides of the wall and a badly worn-out repair desk and machine tool.
Liu takes each camera repaired in his shop seriously and he often works until midnight. "Traditional mechanical cameras are artworks," Liu said. In his view, repairing cameras gives him a sense of achievement and happiness.
Liu said that camera repair is manual work and is demanding physically. People who are willing to stick to it are more motivated by their love for handicraft. The two apprentices in his shop are his nephews, and one of them has been with him for 20 years. "But now few young people are willing to learn this craft."
With the popularity of digital cameras and smartphones, Liu's shop has been facing a drop in sales. Besides the rent, he also needs to pay salaries to his two apprentices. Facing these difficulties, Liu still insists that he will continue to run his business.
In his spare time, Liu also likes to record the city's landscape with old cameras. According to him, photo negatives, like old cameras, witness the city's development. (Zhang Yu, Fu Yao)