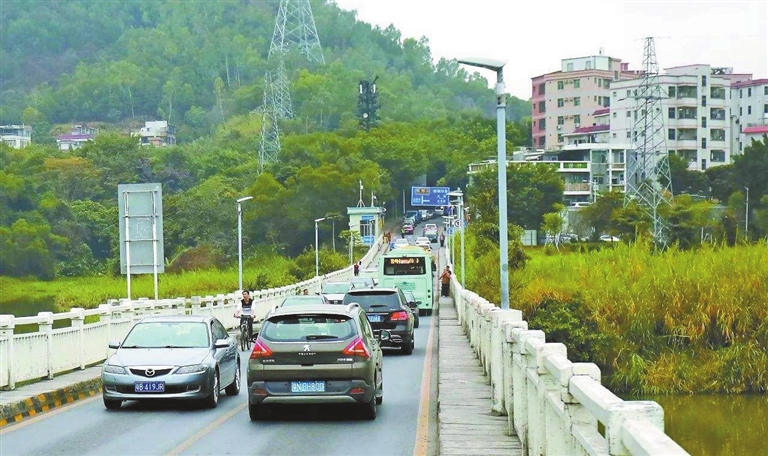 DAWANG Bridge in Luohu District was officially dismantled this July and will be rebuilt to facilitate transportation for citizens living nearby, said Guangdong provincial lawmaker Ma Quntao, who has been living and working in Luohu District for a long time.
The new bridge will be an arch bridge with two-way four lanes, and its width will be expanded from eight meters to 20 meters.
Built in 1983, the original Dawang Bridge with narrow two-way two lanes was 210 meters long. Over 30 years, it was the only bridge for more than 40,000 citizens living in Dawang and Wutong Mountain communities to go out and for residents to go to the Wutong Mountain scenic area via Shawan Road.
The bridge was also an emergency rescue safe passage for over 100,000 square meters of forest. As a result, very heavy traffic went through the bridge, especially during holidays.
In order to solve the traffic problem, local lawmakers had advised to consolidate, expand or rebuild the bridge. Through the efforts of related departments, the bridge's old barriers were replaced. However, because the bridge stretched out across Shenzhen Reservoir, the city's important water supply project, the renovation project was not able to be approved for a long time.
"Frequent traffic jams emit more exhaust gas, which is more likely to pollute the nearby ecological environment and the reservoir's water quality. The renovation is a win-win solution to both citizens and the environment," Hu Guiliang, a local lawmaker, told Shenzhen Special Zone Daily.
A proposal for the construction of Wutong Artificial Intelligence Eco Town finally made the call for the bridge's renovation more urgent. Provincial lawmakers such as Ma and Yi Fengjiao suggested to rebuild the bridge at the Guangdong Provincial People's Congress in 2020.
With concerted efforts, Luohu District re-launched research on the demolition and reconstruction of Dawang Bridge in 2020. In April 2021, the project was finally agreed upon, according to the Daily.
(Wang Jingli)