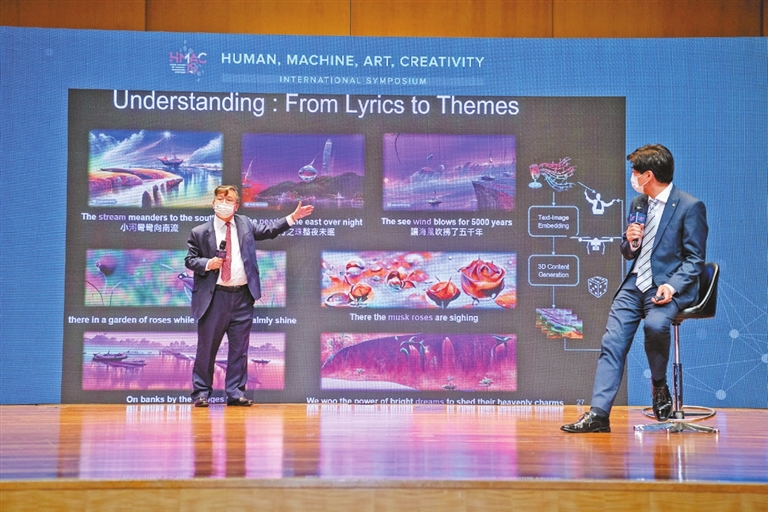 HONG KONG Baptist University (HKBU) announced last week the launch of the world's first Turing AI Orchestra as the next milestone in its visionary plan to broaden the scope and explore potential opportunities in art co-creation by humans and artificial intelligence (AI).
The announcement of the launch of the orchestra was made at the Human, Machine, Art, Creativity: International Symposium, co-organized by HKBU and the Hong Kong Productivity Council, at which world-renowned researchers and artists from academia and industry gathered to discuss the development of human-AI symbiotic art creativity.
John Lee, chief executive of the Hong Kong Special Administrative Region (HKSAR), said in his video speech that the exploration of an integration between AI and arts is in line with the HKSAR Government's policy objectives to promote the development of arts and culture, and innovation and technology.
"With the unwavering support from the motherland, together with the concerted efforts of our community, I am confident that Hong Kong will continue to achieve breakthroughs in such budding areas as arts tech and bring new opportunities to the industries and, ultimately, to humanity," Lee said.
Guo Yike, vice president of HKBU, said Hong Kong's cultural industries have a glorious history and its unique position as a hub of civilization between the East and the West can hardly be replaced by other places.
Guo said technology will play a huge role in promoting Hong Kong as an East-meets-West center for international cultural exchange.
"As a cosmopolitan city, cultural and creative industries are indispensable to Hong Kong and they could be well developed," Guo said, adding that he has full confidence in Hong Kong.
The worldwide debut of a human-machine collaborative performance was made at the HKBU Symphony Orchestra Annual Gala Concert held July 14, which featured an AI choir consisting of 320 virtual singers presenting the classic Chinese song "Pearl of the East" in collaboration with a human orchestra. (Xinhua)